When a new little bundle of joy comes into the world, a festive and fun baby celebration is in order! A particularly unique and bright motif for this event is a carousel-themed baby shower. Whether a little boy, girl, or even twins is the upcoming arrival, a carousel baby shower is full of joy and a feeling of the whimsical that a baby brings. Below are some amazing ideas that will make your carousel baby shower event unforgettable.
Carousel Baby Shower Invitations
Carousel Baby Shower Decorations
Start with the decorations! Transforming the party venue into a carousel baby wonderland is the heart of everything. The color palette you use is paramount, though think simple—pastels! Blues and greens for baby boys or pink and yellows for baby girls all pack a delightful punch and can really help you to set the stage for all your fantastic carousel décor. With pastels, you really create a canvas of décor scheme that is light and joyful, which is directly reminiscent of the magical carousel set-up.
You can fill the party space with balloons that cover the ceiling, hang garlands of flags portraying letters that spell out the new baby's name across the walls, and string up rainbow-hued lights in as many places as you can to create an incredible ambiance of the carnival. Ribbon garland hung along the event tables pair brilliantly with big chair bows and frilly, flowing tablecloths. Of course, you can't forget the most important aspect of the entire look—the carousel! Deck main and side tables with carousel figurines, statues, and musical boxes.
Adorn walls with an artwork of some of the world's most beautiful and famous carousels. Also remember those accents that pair so well with carousels, such as sweet Ferris wheels and ponies. The pastel palette of colors for your event can really be stunning if you further incorporate brass and gold accents in ways like framing signs, or even for centerpieces at the guest tables. The key is to mix soft simple with magical glamour.
Carousel Baby Shower Food
The delectable food fare is perhaps the best part of the event, so go all out with a delicious array of options! Cupcakes with thick, buttercream frosting with sugary carousel horse candies and big, warm pretzels pair together perfectly for a salty-sweet combo. Sugar cookies in the shape of baby rocking horses look amazing next to a tall, glass apothecary jar of glittery cake pops.
The main event cake has to be a carousel itself, whether you opt for a triple-decker cake, a flat sheet, or a cake that is literally shaped in the form of a carousel! A sparkling topper with the baby-to-be's name or congratulations to the mother should adorn the cake as its star. Little details on the food tables matter, too, such as striped straws for beverages, gold silverware, and serving plates and napkins with darling designs of babies and carnival together.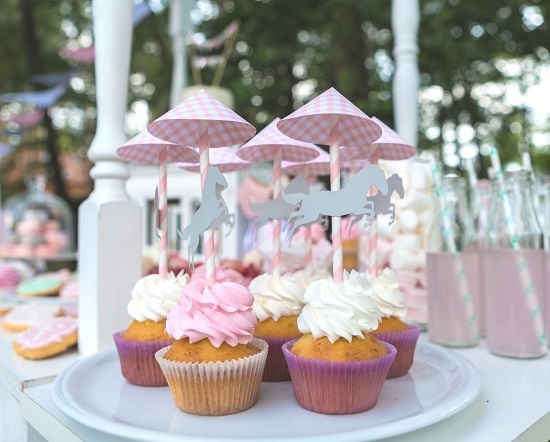 Carousel Baby Shower Favors and Games
Favors and games tie it all together—so make them good ones! You can package favors in carnival tent-shaped boxes, vintage tins with carousel imagery, or silk bags with detailed ribbons. Fill your packages with delightfully-themed favors and gifts for guests of the party, such as gourmet treats, miniature carousel wine charms, figurines, or candles.
You can also incorporate your favors into prizes for party games, which are a must have for any baby shower event. Simple yet classic activities can really be special, like Baby Bingo completely decked out in carousel themes, or even pin the tail on the carousel horse!
You can also create games that are like those found out childhood carnivals. Have fun fill-outs for guests to play "Fortune Teller" and write down fun predictions for new baby, or set up miniature editions of whack-a-mole at each guest table. Guessing games are always a blast for guests, and there are a range of options here from Guess the Baby Food Tasting Game to Guess the Price on baby items.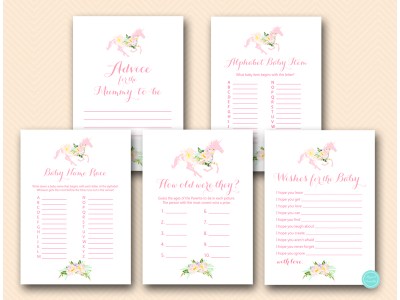 By merging all these fun ideas together, you can truly make the guests and the mommy-to-be feel like they've been transported to a magical carousel celebration, full of the nostalgia we all felt when we were young. There is no more perfect way to ring in the arrival of a bundle of joy.