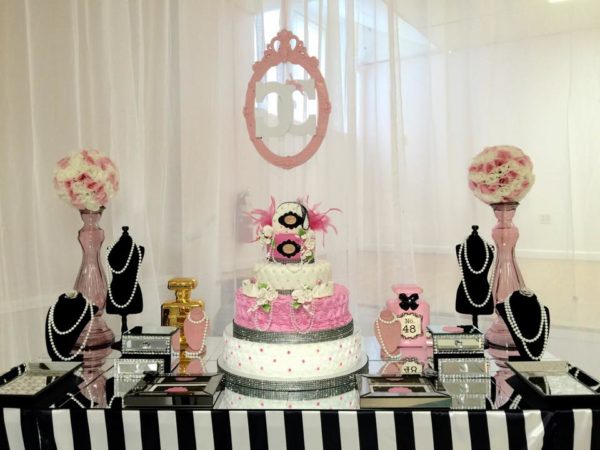 Sophistication and elegance were the spotlight of this Modern Chic Chanel Baby Shower. Incorporating all sorts of lovely details, My Little Angel Decorations created an epic gathering for this special mom-to-be. The venue used for the party was a massive room, providing plenty of space for all of the guests to fit comfortably.
Round tables were spread throughout giving everyone a cozy and roomy way to visit as they ate all of the tasty food.  Each table was gorgeously decorated with an individual look, some with soft pink covers and some with black and white striped covers.  Each had a fantastic bouquet of white and pink flowers for the centerpiece in a tall, thin black vase along with an adorable Chanel bag with a puppy and baby shoes to accent them. Black tableware gave a bold look to each table.  The chairs matched the theme as well with elegant black and white looks.
The dessert table was stunning, filled with a perfect blend of decorations and tasty treats.  Massive pink vases stood on each end with beautifully circular pink and white flower bouquets. A sheer white cloth was used as a backdrop.  Miniature mannequins sported strands of lovely pearls, ensuring that the theme was clear. There was even a fantastically large golden bottle of Chanel displayed. Each of the desserts was impeccably detailed with a sophisticated style. Cake Pops were frosted in pink and white with adorable detailing like tiny black flowers and jewels. They were placed on a mirrored tray, giving them an elegant look.
The cake was delightful, layers and layers of magnificent detailing topped with pearls and feathers and baby shoes, encompassing a sophistication that everyone was sure to love. It was set at the center of the table, making a fantastic addition to this Chic Chanel party!
Credits-
Planning/Design – My Little Angel Decorations
More Inspirations: