Kristen from Kio Kreations created an elegant party with this Nesting Themed Baby Shower. With a lovely blend of neutral colors and various pinks, the whole party had a smooth and warm connotation to it.
Right as guests walked in there was décor introducing the wonderful theme with a brilliant nest of flowers, moss and a bird that were arranged perfectly. Throughout the party there were many of these lovely nests laid out, each one done in a unique and beautiful manner.  The flowers were an array of hydrangea, stock, roses, spray roses, curly willow branches, wax flowers, callas and lilacs.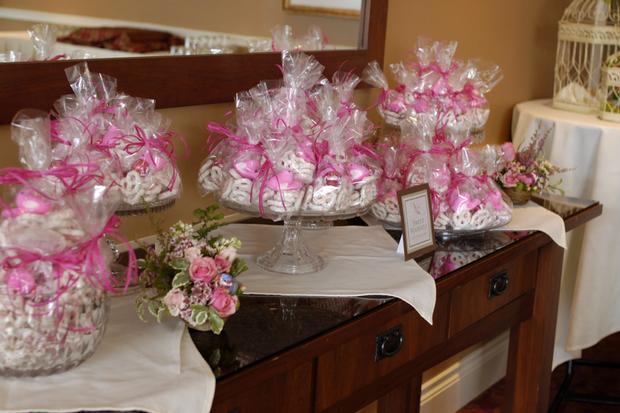 Kristen also put together this fantastic trio of birdcages that brought a vintage look to the party, all enhanced with dark ribbon and the soft pink hues of flowers. She set them up for guests to be able to leave wishes and advice for Mom-to-Be, really creating a neat method for sharing information.
The tables were lavishly decorated in crèmes and whites that drew the elegance of the theme in. Each of the guests chairs was draped in white covers and tied perfectly with ribbons. With fantastic bouquets of flowers for centerpieces the guests were welcomed with perfection.
The thank-you gifts for the guests were yummy chocolate covered pretzels with adorable pink peeps that were all individually wrapped and tied with fun pink ribbons. These were put together by Grandmother-to-be, Dawn, and she did a lovely job. All of the gifts were set on wonderful vintage cake stands that Kristen loans for her events.
The thank-you table was even decorated to match the Nesting theme with a mini-nest of pink flowers and a neat lavender bird. There was an entertaining sign made that told guests to "Tweet yourself to some yummy candy!" that brought a light-hearted touch to the party.
Credits – Kristen from Kio Kreations