Mickey Mouse Clubhouse Party by Brittany of GreyGrey Designs.
This upscale child's party theme of Mickey Mouse Clubhouse is darling and perfect for any child. Each and every detailed item has a purpose of creating the theme clear and it works really well. What I loved the most was the cake. The sheer detail that was put onto was amazing. The bottom two layers were cupcakes, making it easier to serve, a great idea for parties. Each layer sat on a pestle that looked carried the look of the show. The top layer was made to look like the clubhouse.
The overall design of the theme was well done, the Brittany stated with the color scheme of the show and built up from there. Using an amazing back drop, a black and white graphic fabric, Brittany placed wood frames that were painted the red, yellow and black colors of the show. In the frames were the letter of the child name, which creates a personal effect.
The other touches of the design were the mickey ears silhouette on the cake table, they were made from mini moon pies. They added a pop to the cake table, making it look really great.
The table top decorations where cups with grass that held the silhouette of the mickey mouse, since this was for a little girl party each had the Minnie Mouse bow to make it more fitting for the child.
This party theme is detailed oriented and makes for an adorable party theme for any child who loves Mickey Mouse Clubhouse. Using the ears was key in this theme along with colors, You can tell that the Brittany watched a few episodes of the show and did her research and it makes for a great design.
Credits –
Lollipop Favors: Hannah Chocolate Dream
Party Location:  The Boiling Point
Event Styling, Concept, and Photography: GreyGrey Designs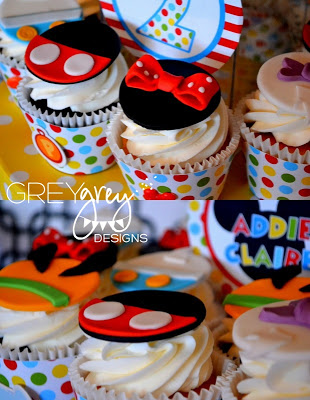 More ideas –
Mickey Mouse & Minnie Mouse Party