King Baby Shower by My Little Angel Decorations
This elegant Royal King themed baby shower was planned by My Little Angel Decorations. The party was filled with royal blue and gold decor that was fit for a king. The decorations transformed the room into a special royal palace.
The dessert table was full of treats adorned with ornate decorations. A large three-tier cake stood in the center of the table. The cake was frosted with royal blue icing and included elegant gold accents. The cake was topped of with a gold crown.
Two smaller cakes stood on gold pedestals on either side of the large cake. Each mini cake was also topped with a beautiful sparkling gold crown. In front of the cake was a gorgeous gold serving tray filled with delicious looking royal blue macaroons. A unique gold cage was the perfect place to display royally decorated cookies.
The background of this royal king themed party was gorgeous. Sheer white curtains were glowing from a royal blue light in the background. The curtains were hung through a large golden crown. Blue, white, gold balloons created a tall tower on the left side of the dessert table. A white couch with ornate gold trim served as the perfect spot for a photo opportunity or a short rest. Large candle sconces dripping with jewels were placed on either side of the dessert table.
The dessert table itself was unique and beautiful. Large white letters that spelled "Baby" served as the base of the table. The tabletop was clear glass. Sheer white curtains were bunches together on either side of the table and worked as a picture-perfect frame.
The guest tables also fit right in with the theme. Each table was covered with a royal blue table cloth and featured elegantly folded matching napkins. The centerpieces were made to look like gold crowns and included a glowing candle in the center with royal blue roses adorned around the edge. Table numbers were displayed in simple and elegant gold cardholders. The chairs were covered with a crisp white fabric and even included a small sparkly medallion on the back.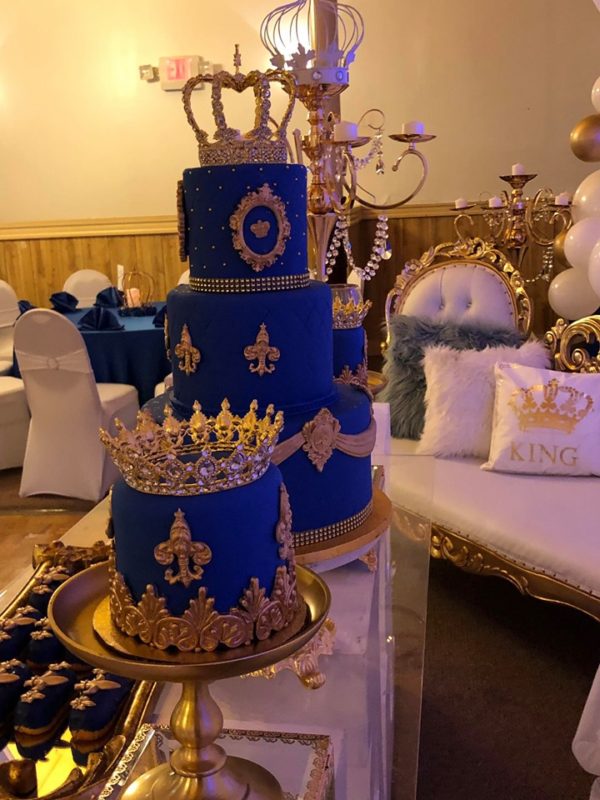 More Inspirations: Sleek Royal Prince Baby Shower | Royal Blue and Gold Prince Shower