Decorating for Twin Baby Shower
👉 VIEW TWIN BABY SHOWER PHOTOS
If you are looking for baby shower games when your friend is expecting twins, there are many games you can make yourself for a great, happy time. See below the page for some fun Twin baby shower game ideas!
When decorating for a twin themed baby shower, play up the beauty of two. Create decorative backdrops by using pairs of blows, flowers, balloons, booties or bottles. Enlarge pictures that represent how fun twins are. Doesn't have to be human babies, animal babies are cute, too.
Keep the menu clever by creating two peas in a pod desserts, carve a watermelon into an edible baby carriage or pair up olives and cheeses in squares. Drinks can be anything light, but cucumber lemonade is awesome. Add cucumbers to lemonade in a bowl, add Sprite to the mix, drop in ice cubes, and you have an amazing drink that is light, airy, and just right for a baby shower.
Twin Baby Shower Games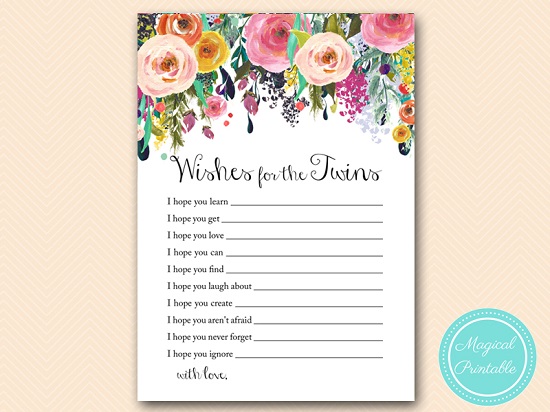 Games you might like:
Things 'n Pairs
Give your guests paper and pencil and time them. They have one minute to write down as many pairs as they can. Like socks, earrings, gloves, or whatever they can think of. The person that has the largest lists gets a prize. Give out fun prizes that are related to twins.
Pair those Socks
Pair those Socks is a game where you purchase a dozen pairs of baby socks, make them all different, separate them, mix them up and put in a pile. Guests take turns pairing up as many socks as they can in 30 seconds. The guest who has the most pairs at the end of the game wins a prize.
Don't say the word "Twins"
This game gets to be hilarious. It is tempting to say the word twins, but you are not allowed to at this shower. Hand out, to each guest, a necklace with clothespins on it. Every time you or a guest says the word twins, they lose a clothes pin, and it is given to the one who caught them. At the end of the shower, the one with the most clothes pins wins the game. Give away an awesome prize.
Play twin diaper team
This will keep the party rocking and rolling. Guests pair up into teams, and each team gets two cloth diapers. They also get four safety pins and two baby dolls. When the word, "start" is shouted out teams have three minutes to diaper the baby. Sounds easy? Nope, you can only use one hand each. The team that finishes first, of course, wins the game.
Pair-Up Scavenger Hunts
Scavenger Hunts are always entertaining. Hand each guest a bag with five items inside. These five times are one-half of a pair. Each guest has ten minutes to find the matching item. Once they have paired five things, they are done. The person who pairs up their items the quickest is the winner. You can hide the items in other bags or anywhere around the room.
Popular Twin Baby Shower Themes
Have Double the Fun with these popular twin themes:
That old saying, "All good things come in pairs" never reigned truer than when expecting twins.  Although you get double the fun, preparation for a baby shower for twins is not double the trouble as there are plenty of ideas out there that cater specifically to these two little bundles that share the love of their mother. 

When picking out a theme, it is important to be ask for ideas from the expectant mother's family if it is to be a surprise for her.  You never know what kind of ideas some people will come up with.  The most traditional theme that one may go with is simply picking things in pairs and giving them their own individual flare.
Having twins can be absolute chaos, but making a baby shower that can provide the essentials for mom and dad can make the transition from two to four much easier and more peaceful.  Let that saying ring in your head while you are jotting down all of the finer details to the shower, "All good things come in pairs."
There is always the classic Noah's Ark theme with two of each animal loading onto the boat. This idea can be thrown in several different directions.  Many people like to put together boats with assorted baby items placed inside, such as booties, pacifiers, and bottles.  For decorations, two balloons of different types of animals can be an adorable touch.  For snacks, animal cookies inside of a plastic boat add something extra.  While Noah's Ark remains a classic, there is a more modern and humorous theme of double trouble.
With a double trouble theme, set out a picture of the mother and father-to-be with a baby pacifier as a reminder that they will be getting two little people that are duplicates of themselves running around causing chaos.  For a little fun, have the guests fill out two sides of the guest book: one side being genuine advice for taking care of the babies and the other being a delightful joke about having to chase around the mischievous little ones.
Thing 1 and Thing 2 from Cat in the Hat is a perfect theme to celebrate for twins! You can stick to it's traditional colors of blue, white and bright red along with plenty of polka dots and stripes! Find out about decoration tips, inviations, favors and games for this adorable theme here.
If you want a genuinely adorable shower for a nervous expectant mother who would appreciate something a little more sincere, two peas in a pod is a great way to go.  This is a traditional baby shower theme, where you find things that are made mostly of green for decoration.  Also, pick green dishes to lay out for those hungry party- goers.  For some gorgeous favor ideas, there are two peas in a pod salt and pepper shakers that will go right along with the theme.  Or if you would rather go with something more homemade, green mints in tins go just as well.

Favors for Twin Baby Shower
Twins make it twice as exciting and amazing. Why? Because you get 2 bundles of joy to keep you on your toes and the baby shower gifts come in twos. How cool is that? A unique baby shower favor that will remain in the hearts and minds of your guests is just as important.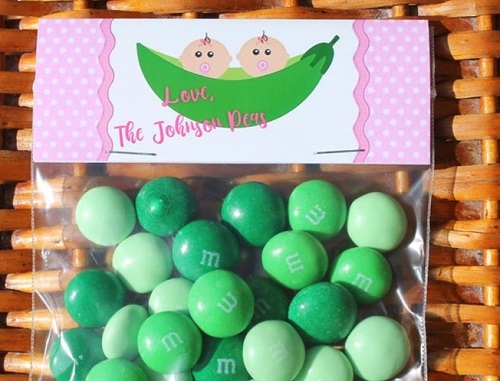 There are some factors to consider when choosing the favors. You must first look at your budget so as to determine the type of favors to dish out. However, some of the best favors are not expensive and can even be handmade DIY favors, and favors that are useful. Another factor to consider is to give favors that match the sexes of the babies. If you know that it's a girl and boy, you can mix blue and pink colors or select a neutral color. Most importantly, the favors must be in two's so as to keep in line with the party theme and number of babies coming into the world.
Handmade
One of the best types of favors is something handmade. Grab some paper bags or if you have a printer at home, you can download a Free Printable Favor Box Templates online. Print it out and assemble a favor box and place a label or a thank you tag on them. Label would include the word Twins or anything double with a thank you message. You can fill up the box with handmade brownies, cookies, cupcakes, cake slices or purchase anything that is on special that week.
Gift in Doubles
Another idea that I think is amazing is giving out gifts that come in doubles. One of the best ideas is a gift pack with Twix chocolates in them. This is because of the 2 sides of a Twix bar. Another idea is the famous chewing gum, Double Mint. A candy favor bag can be created with a pack of double mints. You can also give a pack of shower gel and body lotion. There are a number of these in many stores and even beauty shops that you can purchase. Because they come in a variety of shapes, colors and sizes, you can choose those that match the sex of the babies.
Tickets
Although costly, one of the most interesting party favor ideas for a twins baby shower is giving away tickets to an event. You can give out tickets to a sports game, a movie, a concert or even a play. Of course, you need to keep into consideration of your budget and if your guests are fans of any of the above.
Item in Pairs
Other ideas include fun pairs of earrings and socks as a pack that you can give to your attendees who are couples. You can also think about giving guests twin mugs packs or salt and pepper packs with the names of the little angels printed on them.
Whatever you decide to give as party favors at a baby shower, you must remember to create packs that match your guest's preferences and personalities. You do not have to give identical favors; In fact, giving party bags that match their tastes will make the gifts more personal and memorable to guests. As long as all this matches your budget, then you can go ahead and have a great twin baby shower.
Cake for Twin Baby Shower
Having twins is like a miracle. It is rare for two eggs to be fertilized or for one egg to slip. Something so rare should be celebrated big! One great way to add a fun element is to use the cake!
The cake is the one element of the party that can be made into anything that you want it to be.  So have a little fun with it. Three most popular twin themed cakes are Noah's arc, two peas in a pod and Thing 1 Thing 2. You could have a baker draw a pea pod with two smiling peas with "two peas in a pod" written on it. You could go with a drawing of two bassinets facing each other if you wanted to.  These are ideas for the simpler sheet cakes with writing or drawings on the top. For a slightly fancier cake option would be by using fondants or cake toppers.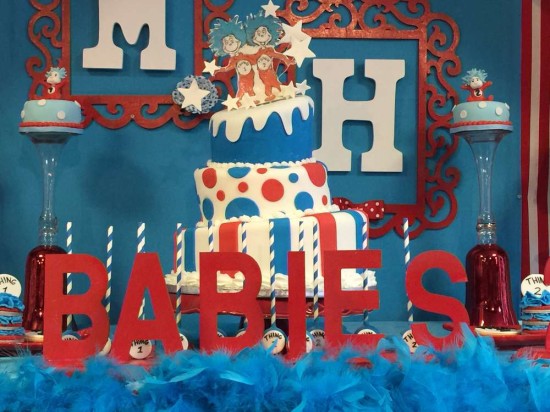 You can get very creative with the cake by using fondants. You could have two baby rattles, booties, or little diapered bottoms and baby feet coming out of the cake. If you know the genders, you could even color their diapers to match them. You could go a little further if they already picked their names out by writing the name on their little diapers. There are so many cute and fun ideas that you could try!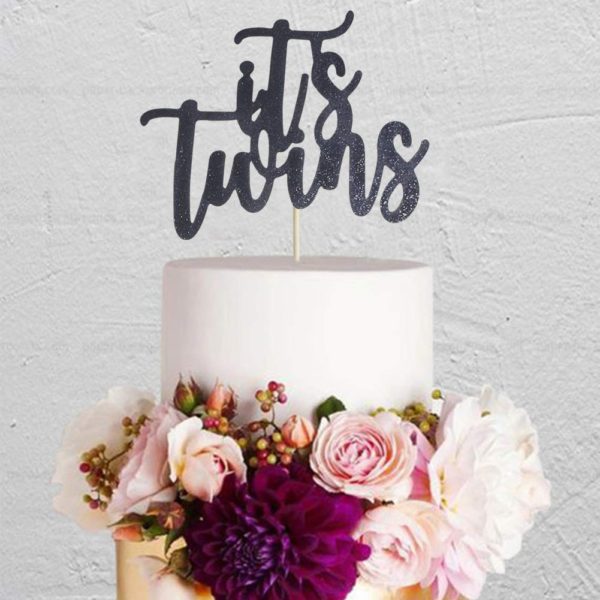 You could have two different cakes, one representing each baby. They could be shaped like bassinets or have two cakes that look like little onesies, even two cakes shaped like a baby. There are really endless possibilities for cakes. Bakers can make almost anything you can think of. There was even one set of cakes shaped like baby foot prints in almost a yin yang shape, so they fit together, one for each baby, but never separate. That is a perfect idea for identical twin babies.
You can have tiered baby shower cakes, round or square, with a baby name on each tier, and you can put sleeping babies on the top. If you don't know the names only the gender of the babies than you can do the same thing with one blue tear and one pink or both blue or both pink, depending on what she is having. You could top a cake with baby shoes made of fondant in the proper colors. Another idea would be to have a tiered cake, maybe 3, and have vines drawn all over the sides in green leading to the top. At the top, you can put a pea pod with either babies or smiling peas in it.
Depending on how much you have to spend on the cake itself there really is no limit to the fun you can have. Make sure to customize it to the information you have about the babies and the mother. You want her to love this cake and know that you did it all for her so make sure to be creative and keep her taste in mind.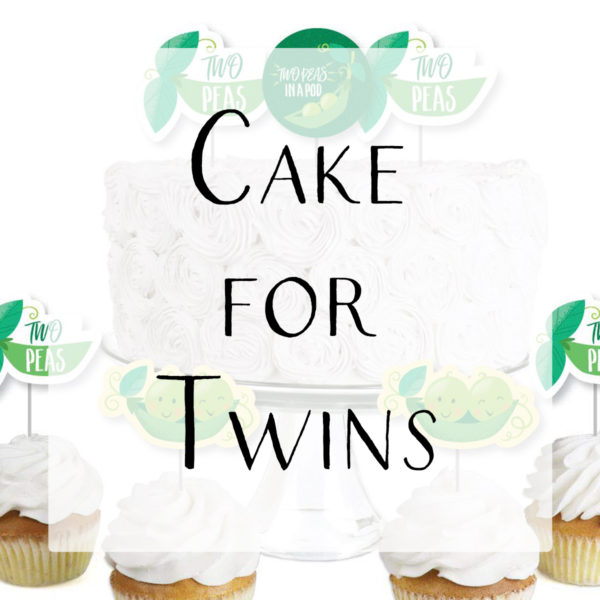 Follow My Mess's board Baby Shower Cake for Twins on Pinterest.