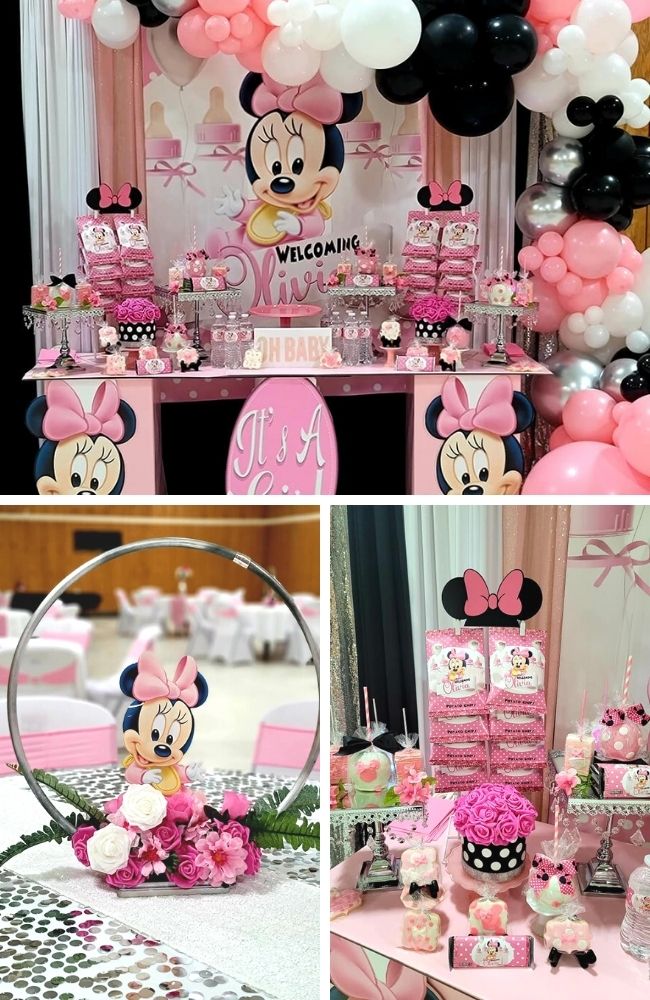 This gorgeous pink and silver Minnie Mouse themed baby shower was decorated by Sugar Sweet Events N Prints. The party was filled with pink and silver decor in true Minnie Mouse fashion.
The dessert area for this party was incredible! A pink platter with an "Oh baby" sign reserved a special spot for the cake. Two stunning pink floral bouquets were beautifully displayed on either side of the large cake platter. They were wrapped in black and white polka dots and looked absolutely gorgeous.
Cookies, caramel apples, and Rice Krispie treats were all individually bagged for guests to enjoy on the go. Cookies were creatively displayed on a mini acrylic picture stands.
Each caramel apple featured an adorable Minnie Mouse bow. There were even chocolate bars with custom-themed wrappers. Guests looking for something salty to go along with their sweets could grab a bag of potato chips that were designed to fit with the party theme.
The background of the dessert table was equally incredible. A large Minnie Mouse banner was designed with the name of the baby being celebrated. The banner was framed with sheer pink and white curtains. Sparkling silver curtains on the outside edge completed the perfect background. A cascade of pink, white, and black balloons matched perfectly with the party decor.
A sitting area near the dessert table made the perfect area for photo opportunities. The background was covered with gorgeous sparkling silver curtains. Sheer pink and white curtains were elegantly draped across the silver curtains. Two large white throne chairs were decorated with sparkly pillows. The floor was even covered with a soft gray rug.
The guest tables were also decorated to fit with the theme. Every table was covered in a sparkling silver tablecloth and table runner. The centerpieces included gorgeous pink floral arrangments with a Minnie Mouse cutout in the center. The chairs were covered in white and included pretty pink accents.
Credit:
Decorations: Sugar Sweet Events N Prints
Treats: Tina Robinson