Cookies make an appearance at almost every baby shower. While cookies can be a work of art on their own, if you add an element of creative presentation guests will ooh and ahh over your tasty treats before they even take their first bite.
A simple tray might be your display of choice, but make sure to consider all of the other creative opportunities to display your gorgeous cookies.
1. Mini Easels
Mini easels are an affordable and time-friendly way to take your cookie display to the next level. You can find miniature easels at major retailers such as Amazon or Walmart. Search for words like "Mini Natural Wood Display Easel"
The easels come in a variety of sizes and colors, so you're sure to find the perfect match for your party. While easels are the perfect display for an art themed baby shower, they can be adapted to just about any theme.
2. Cake Stands
Cake stands are not just for cakes. Consider using your favorite cake stand to creatively display cookies at your next baby shower.
If you don't have a cake stand in mind, cake stands can be purchased at just about any retailed in a variety of sizes and colors. You can even purchase a multi-teir cake stand to display different cookies sets. Lofthouse Cookies used a gorgeous white cake stand to display tasty sugar cookies. The bright pink frosting on the cookies popped against the white.
3. Rustic Wood
Rustic-themed baby showers are all the rage right now! May retailers make rustic-themed displays designed for cookies. Popular retailers for rustic-themed cookie trays include Oriental Trading Company and Etsy.
With Etsy, you might even be able to order a custom tray for your party. If you're on a budget, you can also make your own rustic cookie tray by using cuts of large logs.
My Little Angel Decorations used plain cuts of wood on cake stands for her Rustic-themed party.
4. Creative Packaging
Cookies make excellent party favors for guests to enjoy on the go. If you're planning to use your cookies as party favors, consider using creative packaging to make your cookies a part of your dessert display.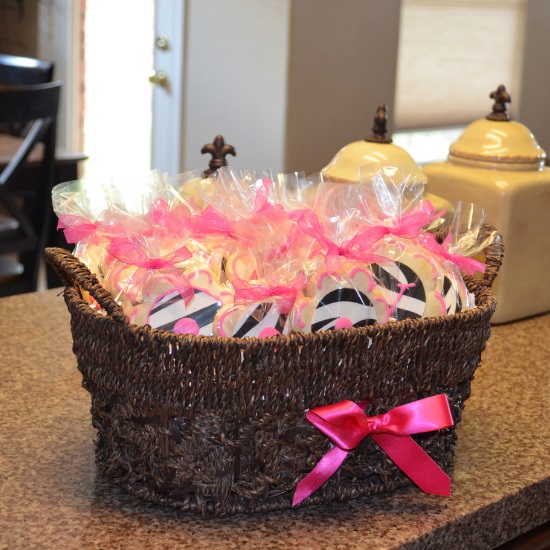 A classic and affordable way to package cookies is to use clear cellophane bags. Cellophane bags make it easy to convert tasty creations into on-the-go party favors.
Instead of tying your bags shut with twist ties, consider using a ribbon that matches the rest of your party decor. Both the bags and ribbon can be purchased at just about any major retailer.
If you're looking to take your cookie packaging to the next level, you might consider packaging your cookies to look like lollipops on a stick. Once your cookies are on sticks they can be placed in a bucket, wrapped in cellophane, or just simply laid out on a table for guests to enjoy.
The Pioneer Woman features directions on how to make adorable cookies on sticks.
If you're short on time, you can order custom cookie bags to display your tasty treats. Bags are perfect if you're using your cookies for baby shower favors or just did not have the time to create gorgeous creations.
If you do create some intricate designs for your cookies you can find many bags that have a clear window so that guests will still see the beautiful creations. There are thousands of packaging options available on sites such as Etsy and most of the options can be customized for your shower.
These adorable Marsla Rose bags can be personalized with your baby's name and the date of the shower. If you want to save some money, you can use your bags and purchase custom stickers to seal or decorate them.
5. Glass Jars
If you want to keep your cookies fresh all day long, a glass jar or two makes for the perfect way to creatively display your cookies. You can use clear candy jars or any other jar of your choice that fits your tasty creations.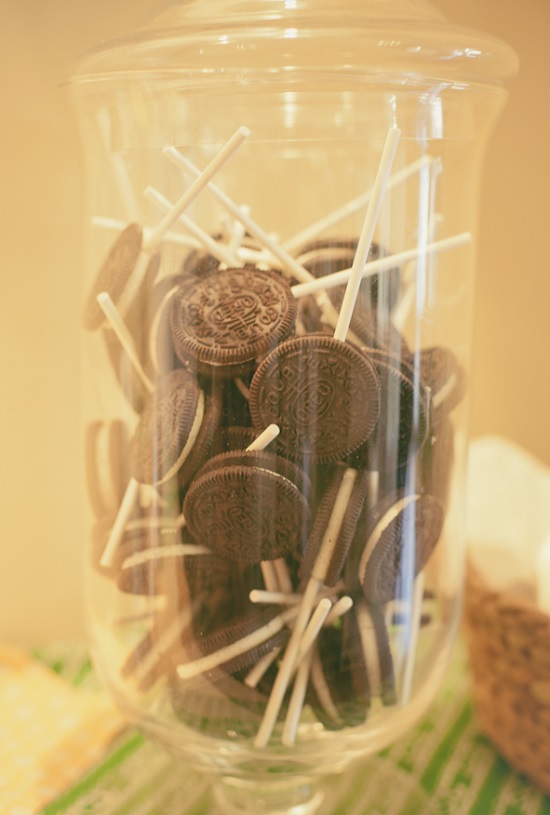 Since the jars are clear, guests will still be able to see all of the hard work that you put into the cookies. You can even decorate the jar with a custom message and/or matching ribbon. If you have the extra time and are feeling creative, the jars can even be painted or decorated to use as decor in the baby's room after the party.
6. Mini Acrylic Picture Stands
These Mini acrylic picture stands are a perfect way to display and make your favorite cookies stand out. These gives a more elegant feel to the dessert table. You can easily find them at Amazon.
7. Decorative Trays
This is one of the most popular way a event planners would display cookies. There are so many different types of trays and designs to fit with your theme. The best part is that they keep the dessert table very organized for a neat look.
8. Photo Frames
Photo frames aren't just for photographs! Have them laid out on a dessert table to display those amazing cookies!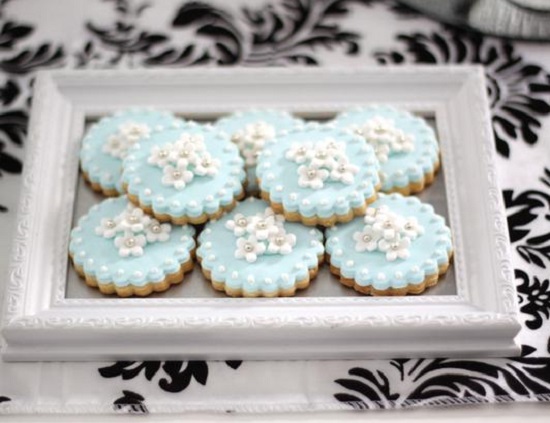 9. Dry Cookie Mix in a Jar
If you're looking for something a little bit different than the traditional cookie for a party favor, consider this dry cookie mix by Life in Wonderland. Using glass mason jars and provide your guests with ingredients to make their own tasty creations.
You can decorate the jars with ribbon, stickers, custom tags, etc. You can also attach a small recipe card to the jar to help guests embark on their cookie-making journey. Consider giving guests a favorite family recipe or even a simple recipe for classic chocolate chip cookies. Your guests will love the creative favor and you can even add ingredients that match your party decors such as m&ms and other candies.
Conclusion
No matter how you choose to display your cookies, guests are sure to enjoy your delicious creations. Taking the extra mile in the presentation will allow for amazing photo opportunities and amazing memories! With so many options to consider, you're sure to create the perfect display that will fit your baby shower theme.