Magical Purple Princess Party by Imary of Papilot. Thanks Imary for the share! This stunning party has so much to offer! The whole table has a gorgeous fairy tale feel. The purple is beautifully offset with the white, so the whole table and backdrop looks full but not overly done.
The hanging decorations are adorable as well, be the white flowers that cascade down the backdrop or the purple balloons that make the borders.
Even the chandeliers have delicate touches to them, with crystals hanging from each one. My eyes are drawn to the decorative mirror behind the treats table and the gloves that drape off the boxes.
There are carriages filled with flowers of all colors. All of these things add to the Princess Ball feel. The surrounding of the tables and the backdrops.
The pink heart tiara topped treats are a lovely touch for any one attending. They have an adorable appeal nestled in their square scalloped treat boxes.
There are other small gifts offered as well. Pies with little flower cut outs, cupcakes with crowns, meringue boats with purple bows, doughnuts in purple cones, and other small delights with pink tulle on top. There are even treats hiding in the many jewelry boxes that cover the table. All of these surround and lead to the cake that acts as the centerpiece of the table. With a silver tiara, pearls, and flowers the cake is a work of art!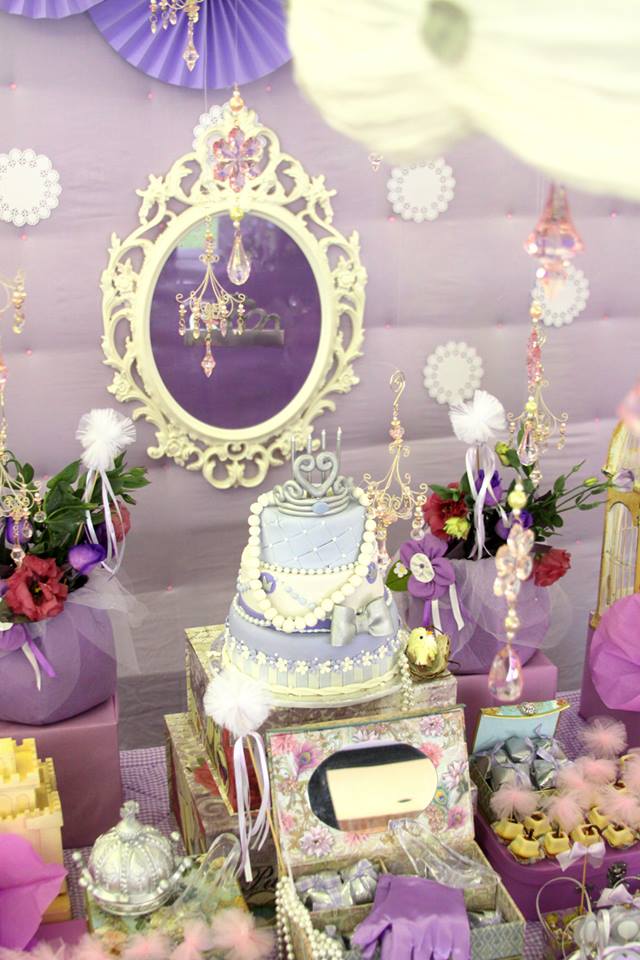 All the guests can sit at a table decorated with castles, flowers, and small boas. Each plate is decorated as well, with a light purple cover fastened in the center. The purple and white table cover gives a soft feel and offsets the white chairs.
All the tiny details, ranging from the many slippers to the mini owl atop the charm box, add up to a wonderful party for any young girl or anyone who wishes for a little magic!