A rocking horse themed baby shower is a precious and sweet way to celebrate the upcoming arrival of a little bundle of joy. A rocking horse itself is one of the most timeless baby gifts that represents the nostalgia of childhood, so incorporating it into a baby shower celebration is a wonderful idea. Guests will absolutely love this theme, and it sets such a pretty scenery for the party itself.
Rocking Horse Invitations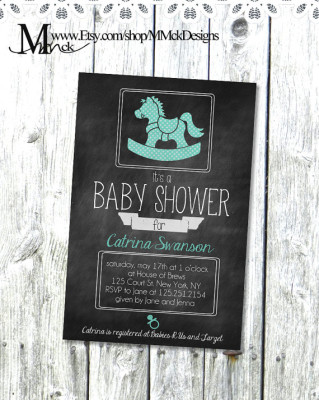 Rocking Horse Theme Decorations
Soft Pastel colors mixed with shabby chic essence is the overall feel and look of a rocking horse baby shower theme. Powder blue table cloths with miniature rocking horse centerpieces and ivory hydrangea floral arrangements are beautiful, while wooden rocking horses placed throughout the venue give off a serene and sweet vibe.
Ribbon tassels and paper lanterns can be used to illuminate the ceilings and walls, and garland of cutout rocking horses look great strung up along doorways and chairs.
Burlap and distressed wooden accents blend seamlessly with the theme, and a large backdrops of baby rocking horses with the baby-to-be's name are great behind a main event table. Baby Pink and butter yellow giant pom poms made of tissue paper are also wonderful accents to the venue.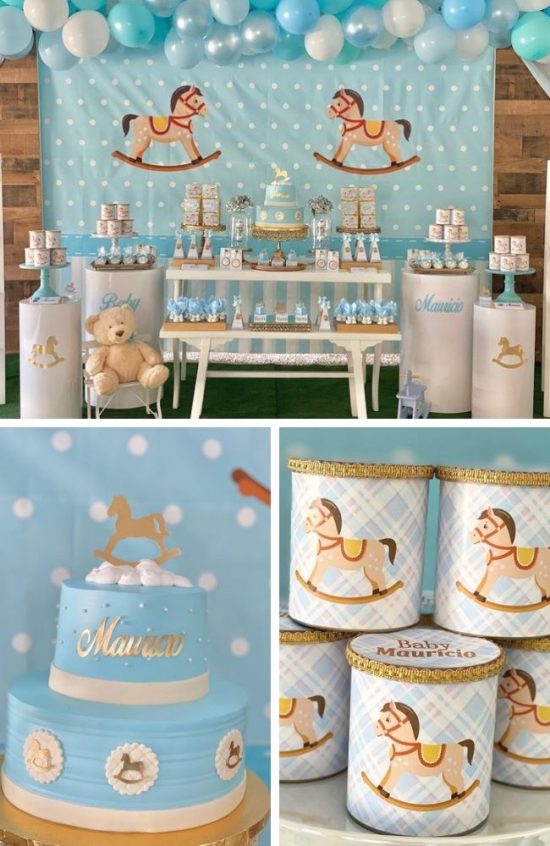 Children's books that feature rocking horses are aplenty out there, so why not grab up a bunch of these and have them placed around on tables for guests to flip through?
Instead of a guestbook, perhaps you can provide a real wooden rocking horse for the guests to write on their well wishes for the little bundle of joy, and it will be a very special keepsake.
Rocking Horse Party Food
The food offered can be equally sweet, such as a main event cake that is multi-tiered with pretty sugar fondant images of rocking horses and tiny babies. Rocking horse sugar cookies with thick mint frosting and copper painted mason jars full of Jordan almonds are delectable treats that are also gorgeous to the eyes. Sparkling cider in flutes with rocking horse charms and cakepops in the shape of baby blocks are charming and sweet. For salty fare, opt for easy to eat things like mini-barbeque sliders, nuts, and fruit parfaits. Pink lemonade with fresh fruits is also a delightful and refreshing beverage that pairs well with all the food and the theme at the same time.
Rocking Horse Baby Shower Games
Guest games for a rocking horse themed baby shower can really be fun and engaging, whether you stick with age-old activities such as Baby Mad Libs and Wishes for Baby, or newer games like Who Knows Mommy Best, you can really show your guests a great time by getting them involved in fun activities. Using the rocking horse necklaces, you can play a game called ' don't say a word'.
Rocking Horse Favors
Guest party favors can really be fun to put together with a rocking horse themed baby shower, as you can fill boxes or bags full of yummy treats with a personalized thank you tag featuring a baby rocking horse.
Glass ornaments or figurines of rocking horses, personalized blocks, and rocking horse stamps are all wonderful ideas that guests will really enjoy. Classic favors like candles, coasters, lip balms or keychains are also great favors that your guests will actually be able to use and admire.