A baby shower is a super special time for the mama to be, and it's even more special if she is expecting twins! A theme is a must for any baby shower event, however with twins, it's definitely a must. A Noah's Ark theme is perfect for a twins' baby shower, as it wonderfully represents just how gorgeous the world becomes with a good pair of hearts.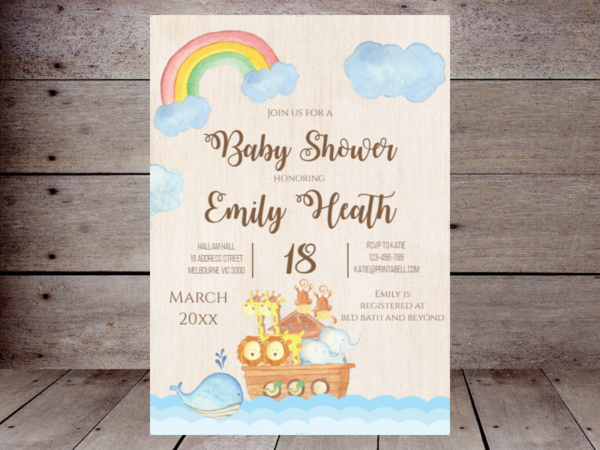 Noah's Ark Baby Shower Decorations
Decorations for a Noah's Ark baby shower are so much fun and sweet to put together. You're going to want tons of pairs of cute baby animals, so incorporate these into wall decals featuring the ark, banners with the two new babies' names, and ceiling garland. Create centerpieces for tables out of little wooden boats filled with baby petunia flowers and tie up bright balloons of yellows, blues, and whites. Blue door tinsel is also a great addition as it looks so much like the glistening sea. Have a table set up with a flowy, cotton tablecloth where the gifts for the mother can go, along with a multi-tiered diaper cake with plenty of baby animal accents.
Noah's Ark Baby Shower Food
For the food table, instead of a big event cake, why not opt for carving out a huge watermelon into the shape of the ark and accessorizing it with twins of baby animals. Have a cupcake tower filled with circles of big chocolate cupcakes with wave-like, blue frosting and candied animal face toppers. Put out big jars of Swedish fish, gummy sharks, and goldfish snack crackers, and have yummy cold cut sandwich trays and mason jars of raspberry lemonade for everyone to enjoy.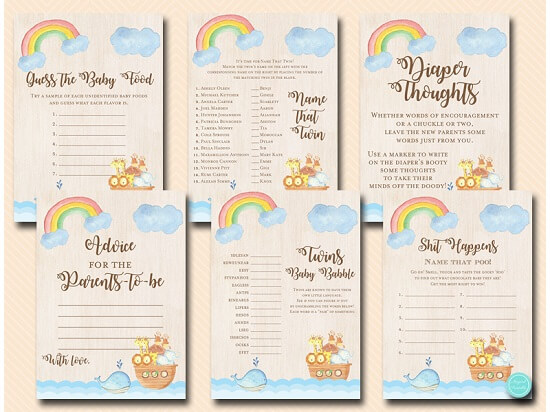 Noah's Ark Games & Favors
Favors are the best for this themed shower, as you can wrap up pairs of so many kinds of goodies. Personalized pairs of candies, candle holders, or big baskets full of delicious smelling toiletries—all in two's just as the twins will be! Activities should be just as twin-centric, so you can play piñata animal games, or double boards of baby bingo.
MORE INSPIRATIONS: