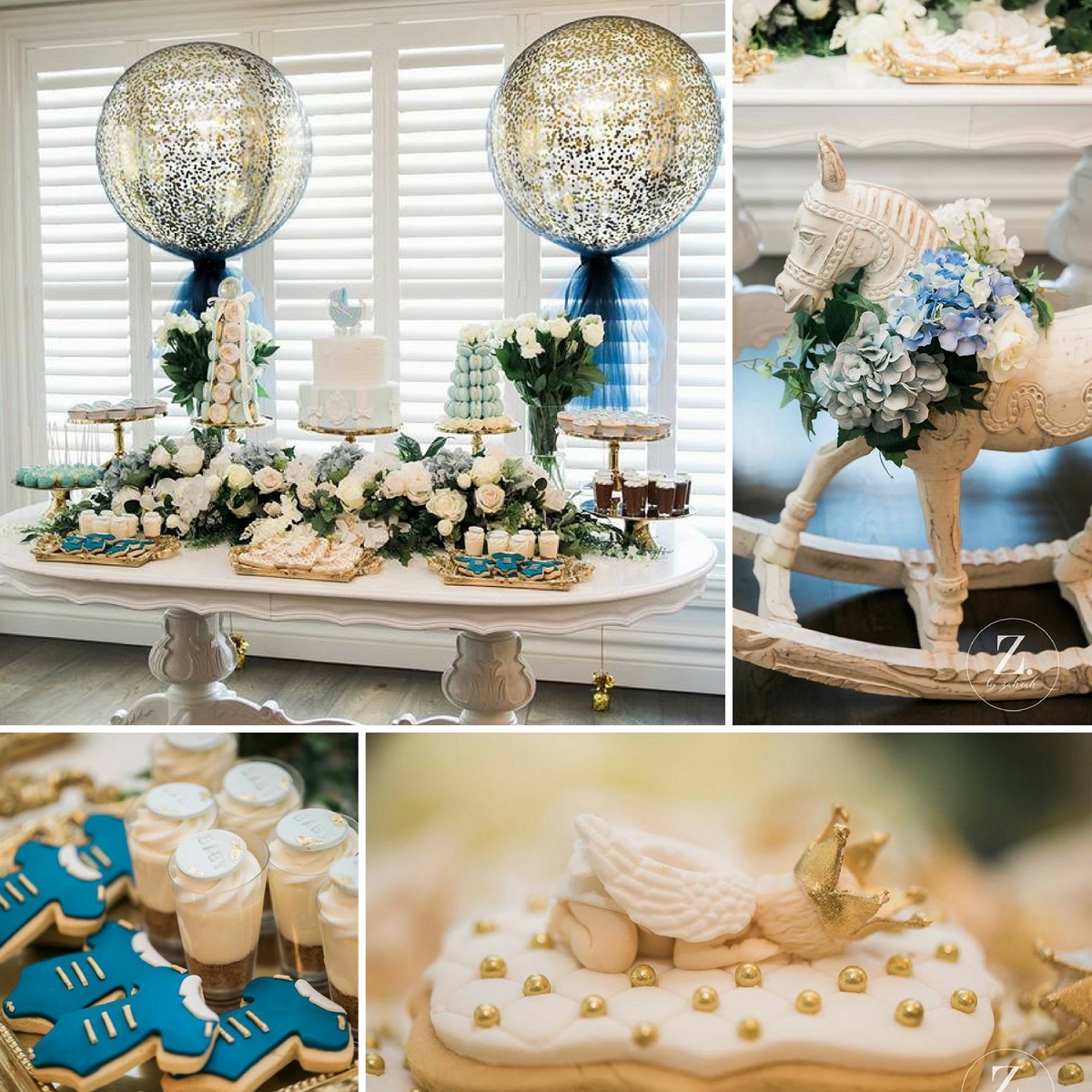 It's a Boy Prince Baby Shower by Luxe Couture Events:
Luxe Couture Events knows how to take a baby shower to a whole other level, and they recently did so with a very special, incredibly opulent event. This baby shower celebration boasted a unique theme of Blue and Gold Prince, and it was absolutely beautiful.
From extravagant, almost magical bulbous balloons decked in gold and navy, to billowy pastel blue ribbons and overflowing ivory roses everywhere, this party was truly one for the books. Platters of antique, brushed gold presented the decadent food, and a golden framed mirror stenciled with white letters presented a welcome to the guests.
A big, white wicker chair (fit for a queen!) sat to the left of the main table, ready for the mama-to-be to sit and enjoy herself. An ivory, shabby chic oval table held the large assortment of treats, while a gorgeous wooden rocking horse was displayed in front.
The food itself spared no eye for beauty, with gourmet cakepops dipped in frosting the color of robin's egg, and sprinkled with sparkling edible glitter and gold pearls. The main event cake was out of this world, with light white and blue button bows, three tiers, and a topper of a little pastel blue baby pram.
Cookies in the form of rich cerulean onesies, cupcakes frosted in complementing light pink and blue hues, and chocolate pudding cups topped with a gold-foiled coin decoration that read "BABY" adorned the table, fit for royalty. But perhaps the most impressive thing on the table, however, were the sugar cookies. Dripping in gorgeous, immaculate detail, these cookies were frosted white with gold details and a baby angel prince sleeping.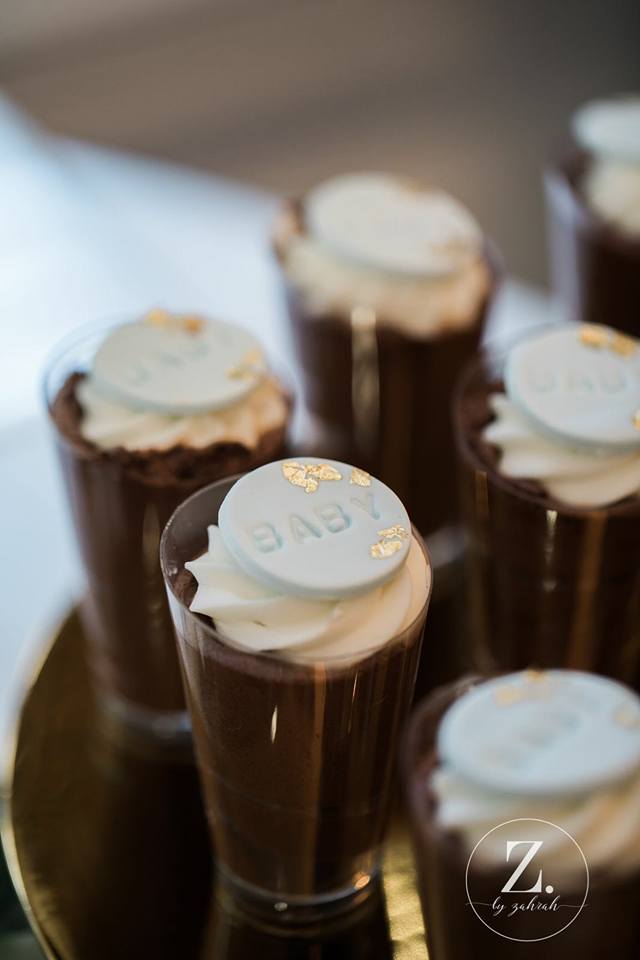 With a bright atmosphere, a chic design, and all the right aesthetics, this Blue and Gold Prince baby shower made guests feel as if they had just walked into a palace.
Credits:
STYLING & PROPS by @Luxe Couture Events
PHOTOGRAPHY| @Z by Zahrah
BALLOONS| @Boutique Balloons Melbourne
Donut Tower & Macaroon Tower @Aynets cokkies and Treats
CAKE | CUPCAKES|COOKIES| Dessert cups @Danis treats n Sweets
DECALS @Jane and co crafts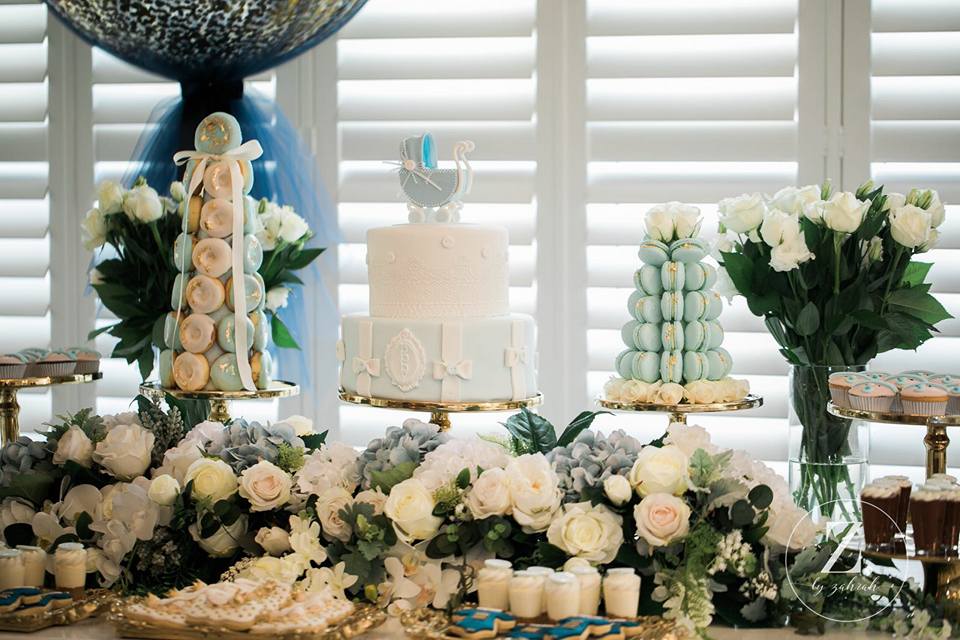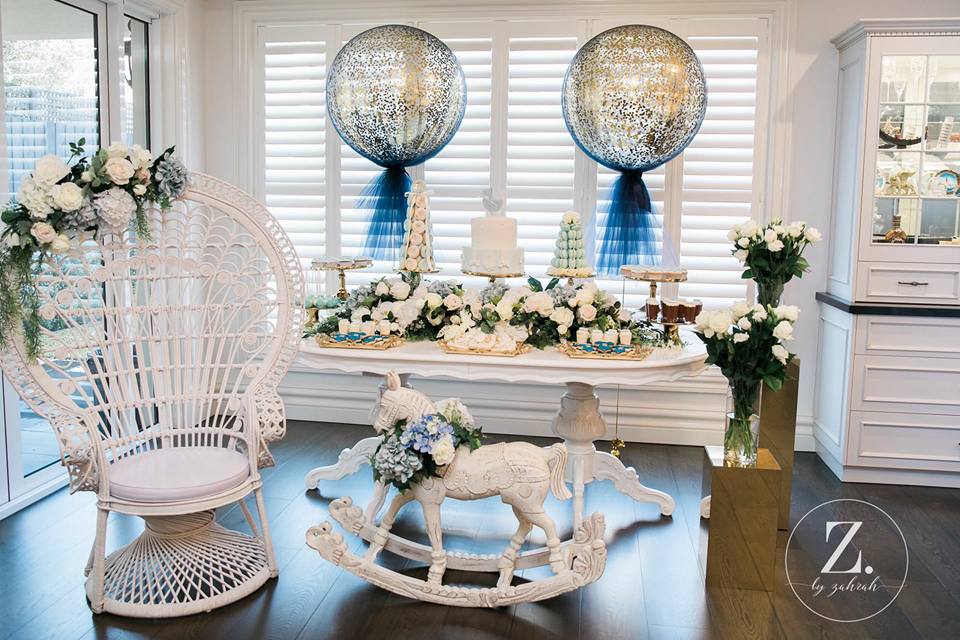 MORE INSPIRATIONS