Most important part I believe to a perfect baby shower theme parties are the decorations for the food table. Matching plates, cups and napkins provide quick decorations for the table by stacking them attractively on a buffet table, however the focus point of the table is the centrepiece and I think a lot of attention is needed in creating a great centrepiece that will wow the guests.
A centrepiece can be a diaper cake, edible cake, an arrangement of flowers (real or fake), cupcakes, candy buffet, a bunch of balloons, a basket filled with baby shower favors or a purchased centerpiece decoration. You can also decorate the surrounding of the centrepiece with confetti and make sure that guests are still able to see each other around the table.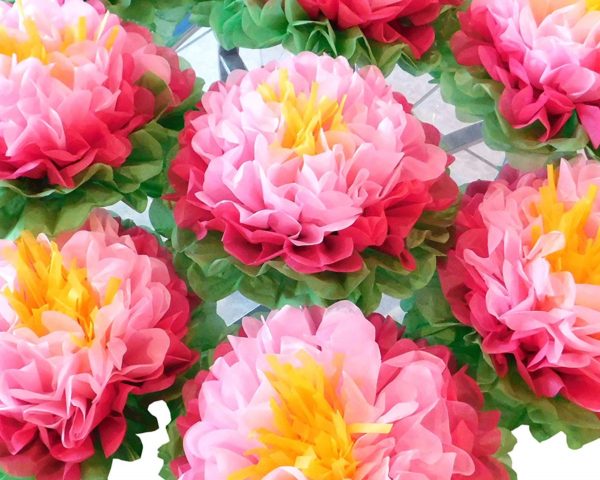 Diaper Cakes
Diaper cake is an arrangement of rolled diapers stacked in such a way as to look like a multi-layered cake, which you can decorate with many baby essentials such as rattles, lotions, bibs, toys, T shirts, towels, socks, pants, soft toys etc. You may go through as much as 50 ~ 100 diapers depending on the size and how many tiers.
Diaper cake can be easily found and purchased online, but if you are a crafty person you can get diaper kit or a plain diaper cake and decorate it yourself to match the theme.
If you like to make your own diaper cake from scratch, watch the How to Make Diaper Cake Video to learn how to make a diaper cake. It is actually not as hard as it looks.
Candy Buffet
A candy buffet or a bar can look very attractive on a table. You can have all sorts of candies in jars such as glass or plastic apothecary jars / boxes  and placing them on a candy stand or cupcake stand would truly look spectacular. Candies you can use are frooties, sticklettes, lollipops, pearlized candies, and Jordan almond candies. Basically, candy can be anything from what you find at your local store to online stores, but I think by decorating your jars or boxes with candies that your guests hardly gets to experience eating would be a great idea. You could shop online for variety of candies, jars and candy scoops.
By having take favor boxes  | FREE Printable Favor Box Templates or favor jars the guests will be able to take them home as baby shower favors.
Here are the complete list of commonly used candies for the Candy Buffet:
Frooties
Sixlets
Candy Sticks
Lolly Pops
Gumballs
Mini Gumballs
Gummy Bears
M&M's
Licorice Sticks
Diamond Candy
Chocolate Coins
Licorice Pastilles
Ribbon Candy
Unicorn Pops
Sour Power Straws
Twist Pops
Swirled Lollipops
Chocolate Balls
Puffy Poles
Petite Suckers
Candy Balls
Tiered Cupcakes
As an alternative to a cake, serving cupcakes can be a great idea especially since they can be given as favors as well. Cupcakes can be made a centrepiece by using decorated cupcake wrappers and putting it on a 3-tier cupcake stand. Cupcakes can be further decorated with pearlized candies or with a cupcake pix on cupcake frosting for your theme.
Balloons
Make a special balloon centrepiece with wonderful balloons. You can find large varieties and many themed balloons such as mustache, giraffe, owl, teddy bear, butterfly, zebra, cow, jolly giraffe, monkey, puppy, buggy, pirate, hula girl, sea critters and so many more. They have sizes ranging from 1 foot to 6 feet tall! You can put them together to create a baby shower balloon bouquet for a perfect baby shower balloon centerpiece. You can even find solid-colored, 11-inch latex balloons in almost every color.