Rustic Owl Baby Shower by Savvy Event
This baby shower had a wonderful combination of rustic qualities and charm that created a unique party that A Savvy Event originally designed as a coed event.
The entire room set aside for this party was decorated with an abundance of neutral tones that helped accentuate the lovely colors of the owls that were displayed throughout the area.
One entire wall was covered in a lovely light colored drape that held a lovely banner of photos and owls that drew attention with the details. Hung by  twine each decoration was individually hung with a miniature cloths pin that really created a rustic feel.
There were even decorations hanging from a lovely chandelier, little painted balls that looked fantastic and blended very nicely with the theme. There was a small table set up with little owl books and flowers that had adorable little chalkboards hanging from the knobs with fun phrases on them for guests to check out. The decorations at this party were just great!
The buffet table was very rustic with a thick burlap laid out as the table cloth, really embracing the theme with a nice muted tone. There was a lovely flag banner spread across the front with patterns and colors that added a nice touch. The food looked fantastic, a wide array of options for guest to choose from in bright colors and arrange nicely.
On the back of the table was a lovely setup of birdhouses that had a family of little owls perched out front really showing the detail of the work at this party. Surrounded by little vases of pretty little flowers, this look brought nature and charm indoors with ease.
Even the chairs were rustic and beautiful, wooden wonders with green and blue interchanged cushions bringing comfort to guests while they got to enjoy the party fun.
Credits – A Savvy Event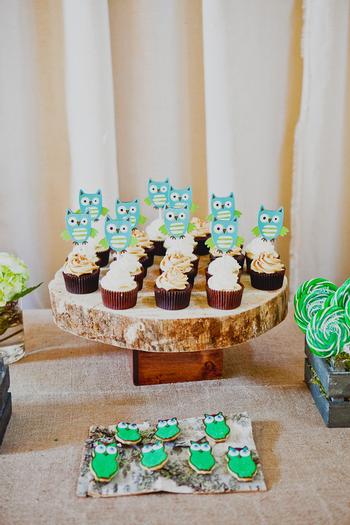 Look for more ideas –