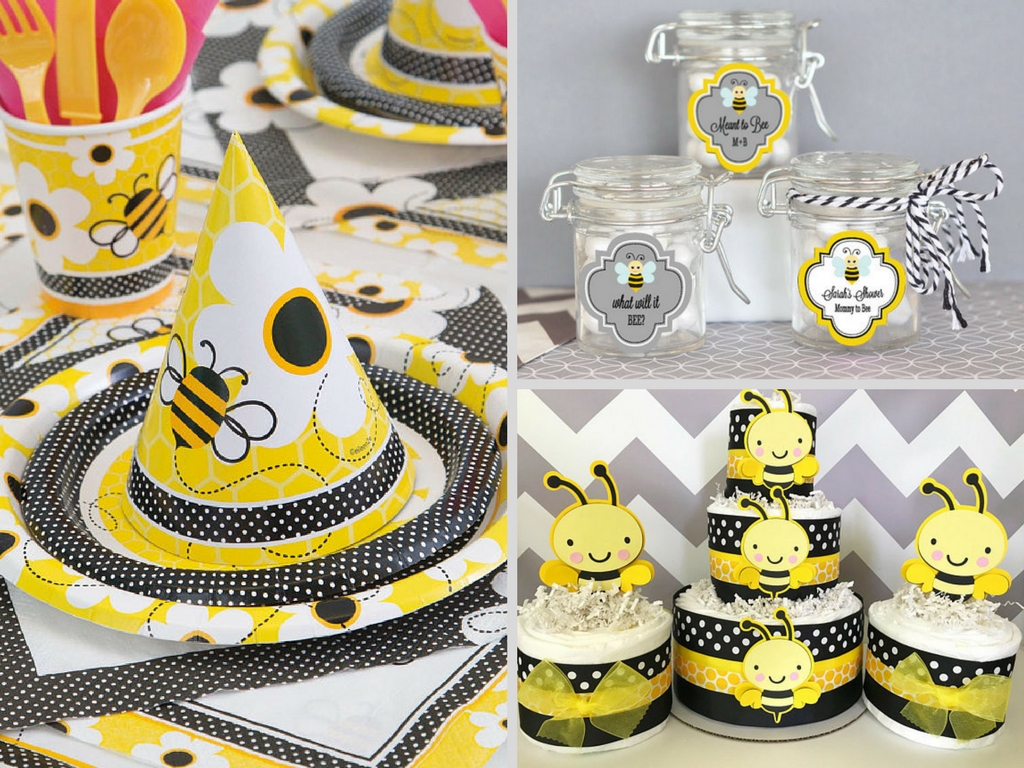 A bumble bee baby shower is the perfect theme to celebrate your new baby girl or boy. Black and yellow will without a doubt be the main colors that you will use to decorate. With thousands of decorations to choose from it will be easy for you to find the perfect decorations to celebrate your little bumble bee. It is time to start buzzing around because there is a baby shower to plan. Below are a few ideas to get you started!
Bumble Bee Garland
This bumble bee garland will be the perfect way to add an extra special touch to your party and can be used later in the nursery if desired. The bees and honey combed shapes are made from high quality cardstock. The garland measures approximately ten feet long and is machine sewn together with high quality, white thread. This garland would look lovley draped over a fireplace or strung across an arhway to welcome guests. You can even customize your order to match the rest of your party.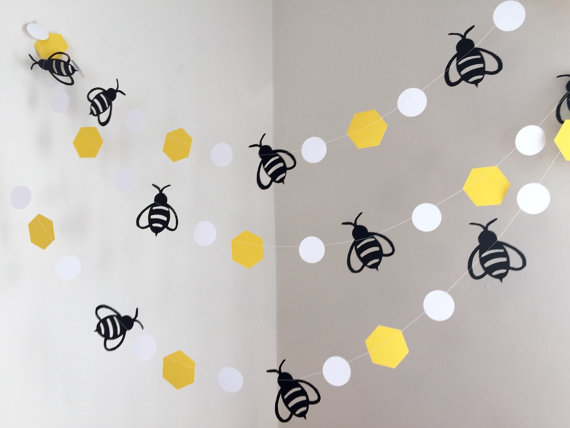 Bumble Bee Confetti
Confetti is an easy way to transform any table into the life of the party. This confetti features black and yellow bumble bees and a cutout that reads "mommy to bee." The package includes nintey black and yellow bees and 30 pieces of "mommy to bee" in yellow. The confetti is made on high quality cardstock, so it will look great for the entire duration of your party!
Bumble Bee Cake Toppers
This unique decoration will look lovely displayed on your tables or as part of a display. Each diaper cake is made with three tiers of diapers. All together you will receive forty to forty-five usable, high quality Pamper's diapers. Ther larger diaper cake measure approximately ten inches wide and foruteen inches tall. The smaller diaper cakes measure approximately four inches wide and eight inches tall. These diaper cakes would also make great, useful gifts for the mother-to-be. 
Bumble Bee Party Supplies
If you are crunched for time, make your party planning easy with this set of bumble bee party supplies. The set includes eight nine inch plates, eight seven inchdessert plates, eight cups, sixteen napkins, eight party hats, and one table cover. This package includes everything you will need to plan a party and the materials are elegantly decorated with bumble bees. 
Party Favor Jars
Every party needs party favors! These jars are adorable and can store anything from popcorn to candy. How cute would it be to fill the jars with honey? The label can even be personalized to match the style of your party!