"Look Whooo's Having a Baby!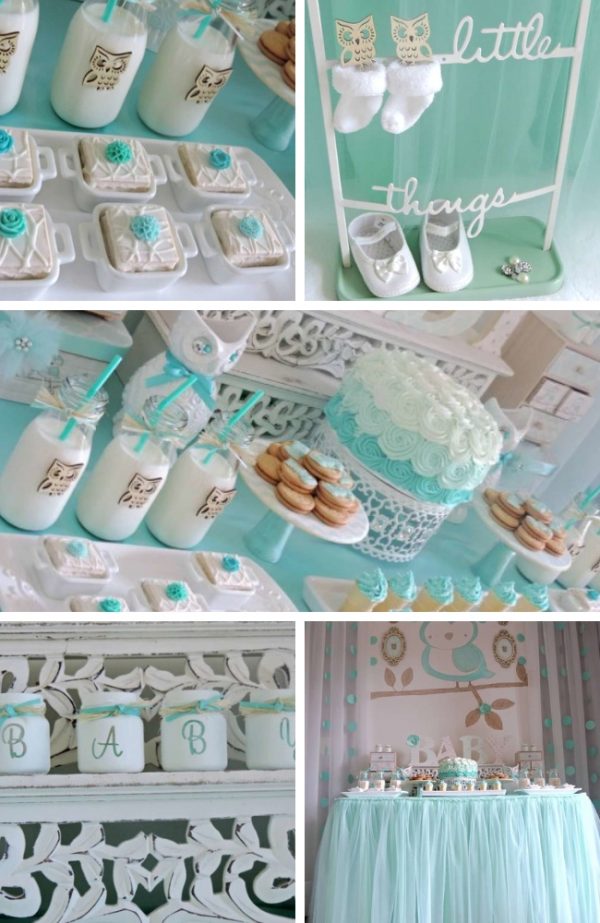 An owl themed baby shower is the perfect theme to celebrate a new baby girl or boy or even twins! While owls have a mystical appearance, they also look adorable on cupcakes, balloons, and almost any party decoration. An owl themed baby shower can accommodate a variety of different color themes and styles. Whether you prefer rustic or modern, an owl themed baby shower is sure be the perfect theme for your party!
To start off, choose a color theme for your Owl baby shower. I usually find that 3 colors combination is easy to work with. For instance, for a sweet and elegant theme, you could choose peach, mint and blue tones, or for a more vibrant and fun theme, you could choose, green, orange and brown tones! Below are a few ideas to get you started!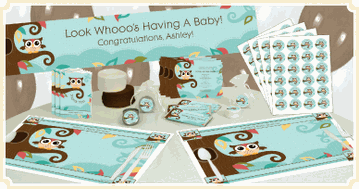 Owl Invitations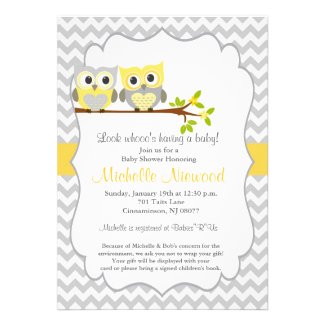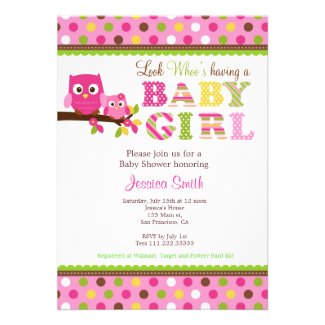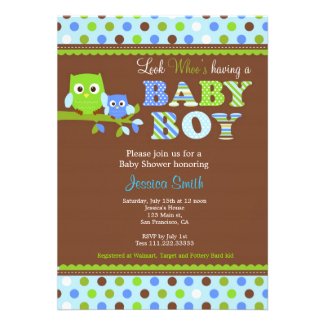 Food and Cake
The cakes go from very simple to crazy elaborate so check your budget and see what you can afford but here are a few options. You could have a traditional flat rectangular cake with an owl and some leaves and branches drawn on or put on with fondant and frosting. You could go for tiered cakes with an owl or owls for twins sitting on top of the cake.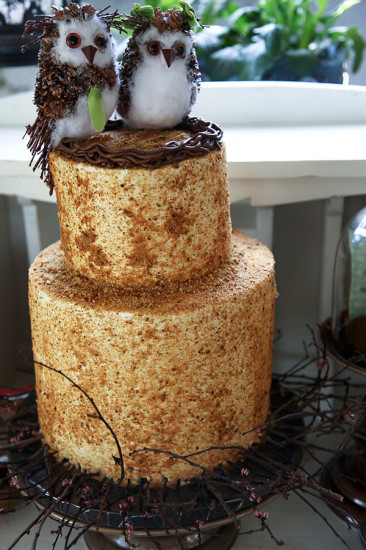 If you want something a little more adorable, you could go for mommy and baby owls nestled together on a branch, both drawn on and on top made of fondant to it looks like they are sitting on a branch coming out of the cake. There are a lot of ideas, so find a cake that you love, and fits in your budget and go for it! Don't forget to try making the Oreo Owl Cupcakes! This would look amazing for the dessert table. You'll need to make a chocolate cupcake or even pink colored for a girl and split the Oreo biscuit carefully so that the oreo cream is split evenly. Add M&M chocolate eyes and nose! You could decorate the food table with owl cupcakes! You could look for tree branches outside and sit some handmade owls on it too. Their eyes could be wide open or closed like a sleeping baby.
How to Make a really easy Owl Cake by Sew White via youtube
Decorations
For decorating the party room, you could have a banner or wall decoration made of big adorable owl eyes with a little yellow nose. You could cut out a large circle on a white paper and paste it on a thick paper or card stock with a smaller circles cut out from black paper to be pasted on the white circular paper you just cut out, then finally another smaller white circle to be pasted onto the black circle. Repeat for the second eye. There you go, you have owl eyes! Grab a yellow paper for a triangular nose to be pasted between the eyes. If you are looking at pom-poms, go for either brown and yellow scheme or grey and yellow for neutral. If it's a boy, then two tones of blues, and tones of pink and purple for baby girl.
Use Coupon "50baby" to get 50% off!
Pink Owl Cupcake Toppers
These adorable cupcake toppers come in pink pirouette and pink polka dots. The owl toppers are sold in sets of twelve and are double sided. Each topper measures approximately two inches long and is assembled to a four inch long Wilton lollipop stick. You can find other color options in the same design!
Owl Cake Topper
If you are serving delicious cake instead of cupcakes, this beautiful cake topper will make your cake stand out. This especially adorable owl is made in hues of pink and grey. The owl features a white tulle bow on the top. The topper measures approximately six inches.
Owl Themed Banner
This elegant owl banner is perfect to celebrate a baby girl or boy. The banner includes an adorable owl onesie and also spells out the word "baby." Each onesie measures approximately six inches long and the entire banner measures approximately thirty-eight inches long. There is plenty of ribbon on each end of the banner to make for easy hanging.
Handsanitzer Label Favors
If you are planning to treat your guests to small hand sanitizers or lotions, these labels will take your favors to the next level. The labels are designed to Bath and Body Works PocketBacs, however, they will fit other small containers. Each label features a beautiful design and customized message that is printed on sticker paper.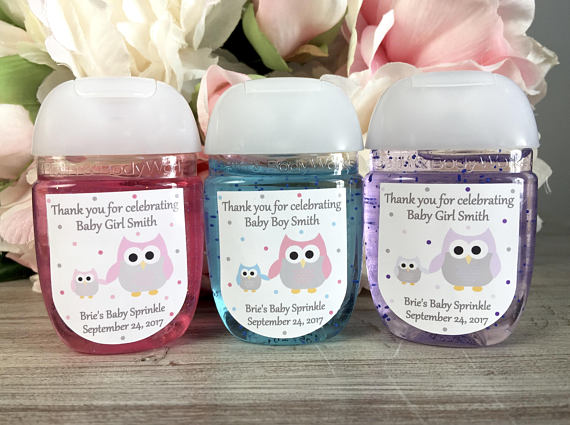 Owl Baby Shower Set
The Baby Shower Set is great for when you want every item of the decoration to coordinate. This set includes a sweet golden crowned Owl Cake Topper, Owl Cupcake Topper, Owl Confetti, and an owl banner.  You will receive 12 cupcake toppers and 100 piece confetti. Confettis are a wonderful way to decorate the guest table. You can sprinkle them around the plates or near the centerpieces to accentuate the theme.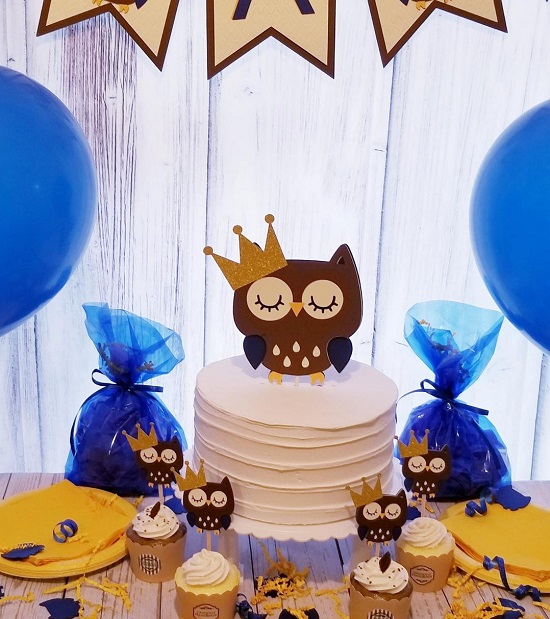 Owl Baby Shower Games 
There is perfect and cute baby shower game that will fit into an owl theme with a snap. You take a spool of yarn, and prepare a sign made of a folded cardstock paper(like the way you fold the paper when you want it to stand up). On the front of the folded paper, draw some cute owls or add some stickers and next to it write a phrase, "Whoo Can Guess How Much Yarn We need To Get Around The Belly."  The guests will cut a piece of yarn to the size that they think will fit around the mommy's belly. The pieces of yarn will then be compared to the mommy's actual belly size and the closest guess will be the winner!
Owl Baby Shower Favors
Follow My Mess's board Baby Shower Owl Theme Inspirations on Pinterest.