"Look Whooo's Having a Baby! Owl Themed Baby Shower Ideas: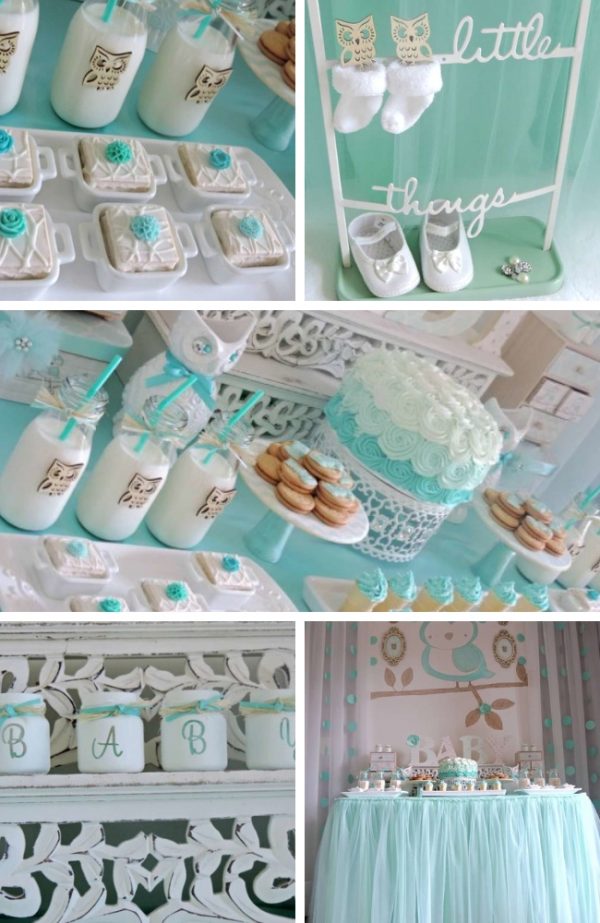 Owl Baby Shower Tableware
No one can deny that owl themed baby showers for little girls or boys or even twins are really cute! There is the option to go big or small at every turn, and plenty of ideas out there, so no need to worry about having to come up with all of the baby shower ideas on your own.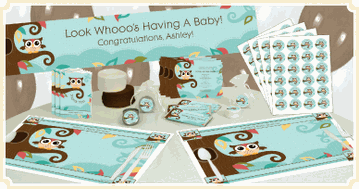 Owl Theme Invitations
Owl Baby Shower Food
The cakes go from very simple to crazy elaborate so check your budget and see what you can afford but here are a few options. You could have a traditional flat rectangular cake with an owl and some leaves and branches drawn on or put on with fondant and frosting. You could go for tiered cakes with an owl or owls for twins sitting on top of the cake. If you want something a little more adorable, you could go for mommy and baby owls nestled together on a branch, both drawn on and on top made of fondant to it looks like they are sitting on a branch coming out of the cake. There are a lot of ideas, so find a cake that you love, and fits in your budget and go for it! Don't forget to try making the Oreo Owl Cupcakes! You'll need to make a chocolate cupcake or even pink colored for a girl and split the Oreo biscuit. Add M&M chocolate eyes and nose!
How to Make a really easy Owl Cake by Sew White via youtube
Owl Baby Shower Decors
For decorating the party room, you could have a banner or wall decoration made of big adorable owl eyes with a little yellow nose. You could cut out a large circle on a white paper and paste it on a thick paper or card stock with a smaller circles cut out from black paper to be pasted on the white circular paper you just cut out, then finally another smaller white circle to be pasted onto the black circle. Repeat for the second eye. There you go, you have owl eyes! Grab a yellow paper for a triangular nose to be pasted between the eyes. If you are looking at pom-poms, go for either brown and yellow scheme or grey and yellow for neutral. If it's a boy, then two tones of blues, and tones of pink and purple for baby girl.
You could decorate the food table with owl cupcakes! Owls are very easy to make with an Oreo and brown M&Ms for the eyes and yellow M&M for the nose on top of brown icing. You could look for tree branches outside and sit some handmade owls on it too. Their eyes could be wide open or closed like a sleeping baby.
Owl Baby Shower Printable 
Use Coupon "50baby" to get 50% off!
Owl themed Advice the mommy to be at ETSY SHOP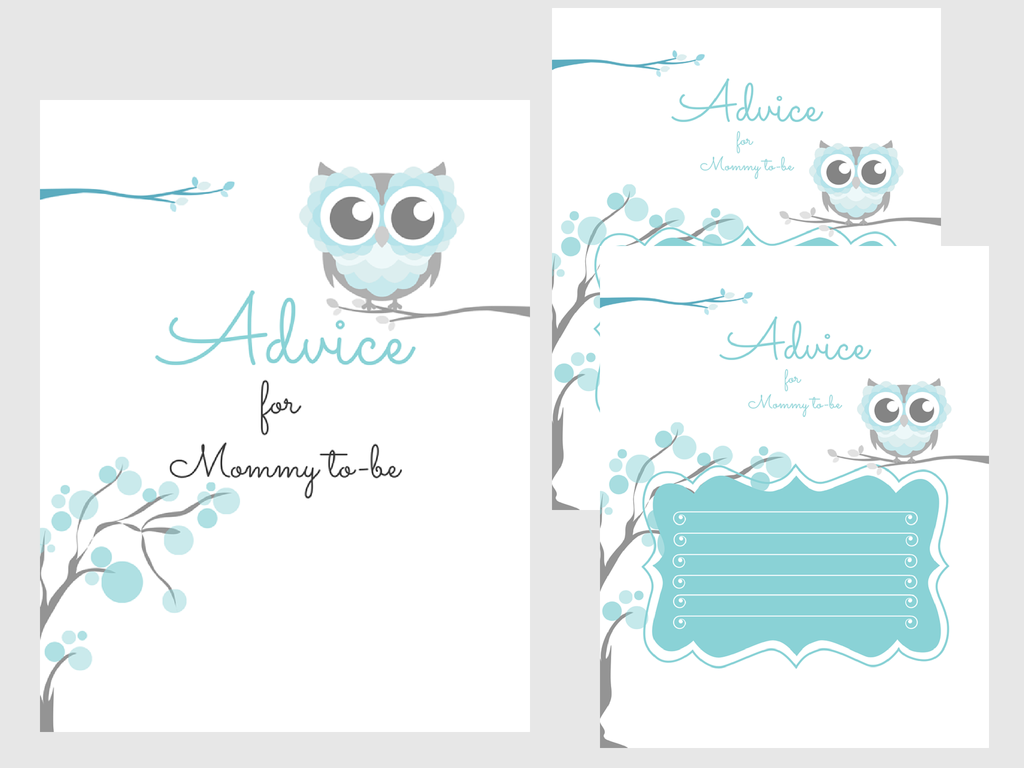 Owl Baby Shower Games 
Owl Baby Shower Favors
There is perfect and cute baby shower game that will fit into an owl theme with a snap. You take a spool of yarn, with a folded paper about six inches long next to it, (like the way you fold the paper when you want it to stand up). On the paper (which should start out about 6×4 or 5 before folded, your standard construction paper or thick stock pink paper would probably do just fine) is an owl sticker and next to it was the phrase, "Whoo Can Guess How Much Yarn We need To Get Around The Belly. All of the ideas are really sweet so you can't go wrong.
Follow My Mess's board Baby Shower Owl Theme Inspirations on Pinterest.