"Showered from above" Shower Baby Shower Theme by Justine of Pretty Little Vintage.
Baby blue is a delicate, soothing and dreamy color, and although it is predominantly the uniformed 'boy' color, it can be also be used universally. The delicate white meshing with pale blue polka dots creates a fun and sophisticated design, which is perfectly suited for a baby shower.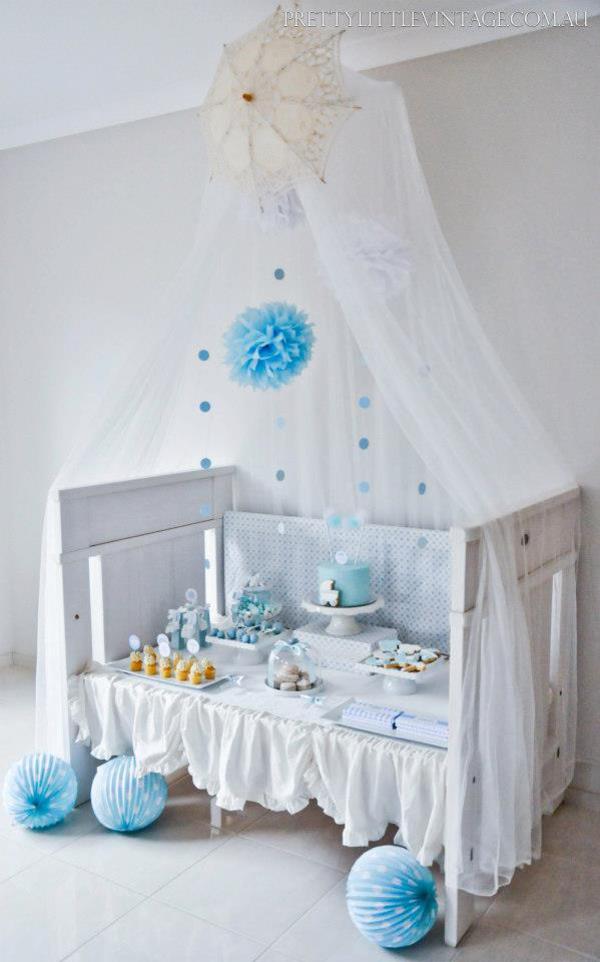 The blue polka dots also mock an image of rain droplets which is what this coordinated theme is trying to achieve; additionally the baby shower comes with funny labels that says "thank you for DROPPING by the baby SHOWER" that feature umbrellas for a witty play on words of the term 'baby shower'. Another aspect which I find clever about the labelled bags is that they are personalized with the person's name, which makes it more special and informal.
I love bright objects and things that stand out from the crowd and unique cake is evidently that. This matching blue cake hides wonderful individual layers, ranging from a vanilla yellow to an ocean blue, inside its delicious icing. I adore the mini tulle pom pom bunting topped on the cake. This beautiful cake along with other treats sit on a baby cot which was used as a dessert table. Simply creative! This dessert table is draped with an elegant lace bed canopy and pom pom clouds and rain drops made of circular cutouts.
The creative cookies also accompany the cake and are just as astounding with their relevant shapes; the professional looking biscuits are cut in the shape of bibs, baby onesies, strollers and cute little umbrellas which is suitable for the occasion. They are also decorated with pastel pink and blue icing which gives it neutrality and impartial to the baby's gender.
'Keep calm …' sayings are ridiculously trendy in today's fashion; these nifty little photo frames express the slogan with their own little twist by relating to the baby shower. Also, little ornaments give it a cozy and an organized presence, which is a great impression to give for parenthood. Besides, keeping calm is something guests can snicker about and start a conversation as it is highly ironic.
Credits –