A polka dot theme is the perfect theme for an upbeat party! Nothing is more exciting than a newborn baby, so show your excitment by celebrating with polka dots! The best part about a polka dot themed baby shower is that your not limited to a certain color scheme. You can choose one color or multiple colors. This is the perfect theme for a baby girl or boy! There are hundreds of polka dot themed decorations and party favors for sale! Below are a few ideas to help get you started!
Polka Dot Beverage Cups
These cups have just the right amount of polka dots to look stylish and fit with the theme! Depending on if you're having a boy or a girl, the cups will read, "it's a boy," or "it's a girl." The cups are sold in sets of ten and can be ordered with matching napkins if desired. The cups are sturdy enough that your guests could save them if desired. Your guests will love the special touch of themed cups!
Polka Dot Hair Ties
These hair ties are currently the latest trend and your guests will love having such a stylish gift! Every time your guests throw their hair into pony tails, they will think of the special day. The pony tails are fastened to a white card which reads, "thank you." There is another line of text that can be customized as desired to fit with your baby shower. All of the hair ties include gold dots, but the base color of the hair ties can be customized. The hair ties come ready to gift in cellophane packaging. You have the option to order anywhere between one and seventy-five hair ties depending on the size of your party.
Decorative Mason Jars
If you're having a baby girl, these decorative mason jars will make th perfect addition to you party. These jars would make beautiful centerpieces for tables or elegant silverware holders. The jars are quart sized, so they can fit a variety of items such as flowers, utensils, or twigs. Imagine how beautiful fresh cut flowers would look? If you want to create a cozy atmosphere, you could even fill the jars with candles.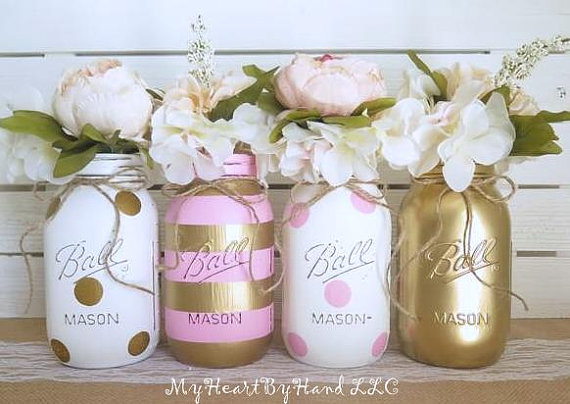 Rainbow Oragami Stars
If you are planning to incorporate all of the colors of the rainbow into your baby shower, these orgami stars are the perfect party decoration! These stars are sold in sets of forty and measure approximately 3/4 inch across. The ways in which to use these stars are endless! You could simply decorate an empty table or could place the stars in a glass jar or vase. These stars would even make a lovley garland if strewn together. All of the starts feature the same print and can be custom ordered to match the colors of your party. The stars are handmade and intricately folded to make for a decoration that your guests will remember.