If you're hosting a baby shower in the spring or summer you might opt for the popular butterfly-themed baby shower!
This theme is an ideal choice for summer garden or outdoor tea baby showers, but it will work just as well indoors. A butterfly is a perfect theme to celebrate a baby girl. Read on to learn how to plan a gorgeous butterfly-themed baby shower on a budget.
Butterfly Baby Shower Invitation
No matter what you choose for a theme, invitations will be an important part of your party planning. You can even incorporate the wording on your invitations into the theme.
Wording for the Invitation
If making your own invitations, you might say something like,
"We're fluttering with excitement that a baby girl is on the way "
" A little butterfly is on her way."
If your short on time, there are a plethora of invitations available for any budget.
This adorable Butterfly invitation from NamiBear Art Studio is the perfect budget-friendly invitation that still includes plenty of butterflies and sparkles.
If you're having a smaller shower and are feeling crafty, these easy butterfly pop-up cards will have your guests in awe. The card can be assembled in three different ways and is the perfect way to get the whole family involved in the planning process.
Butterfly Baby Shower Decorations
Decorations are essential for any party. There are thousands of butterfly-themed decorations available for any budget.
Fancy and Budget Butterfly Balloons
Adding cutout paper butterflies on plain balloons will make the balloon stand out whilst keeping it a budget-friendly decoration.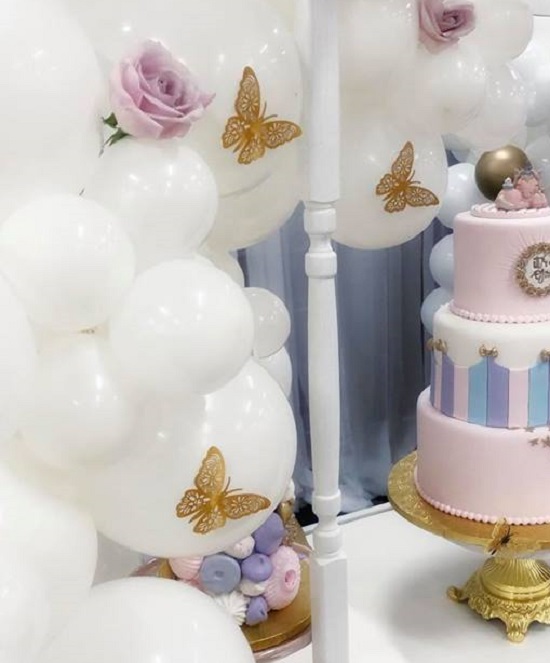 Butterfly on Flowers
Butterfly Paper Cut Outs
If your budget is tight, consider creating some of your own party decor. You can use colored paper to cut out butterflies that can be hung from the ceiling or used as confetti for the dessert area.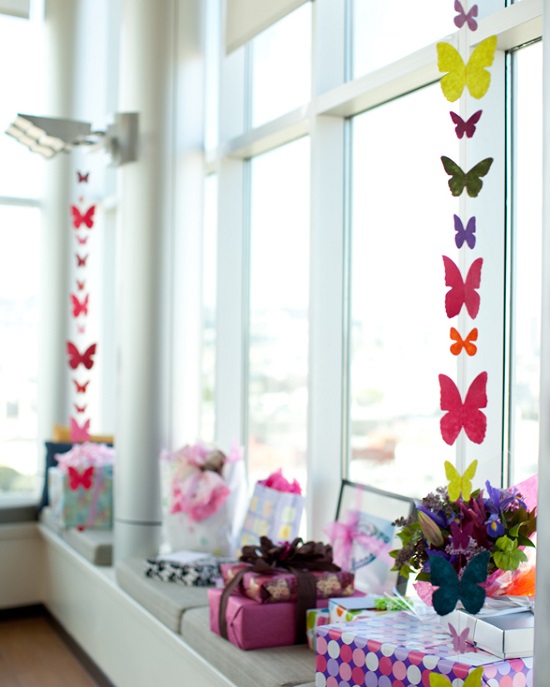 Butterfly Party Favors
For table decor you can try making these adorable butterfly party favors. Directions can be found at Party Delights.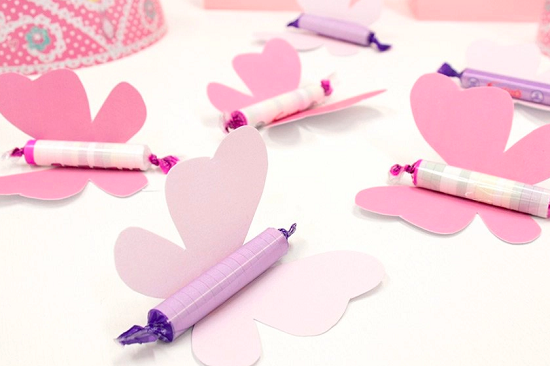 Butterfly Baby Shower Centerpiece Ideas
In addition to the general decor, you will also want to consider centerpieces for your guest tables. A centerpiece doesn't have to be pricy. You can reuse glass mason jars and paint them in colors that match your theme. The jars can be filled with colorful flowers and butterfly cutouts.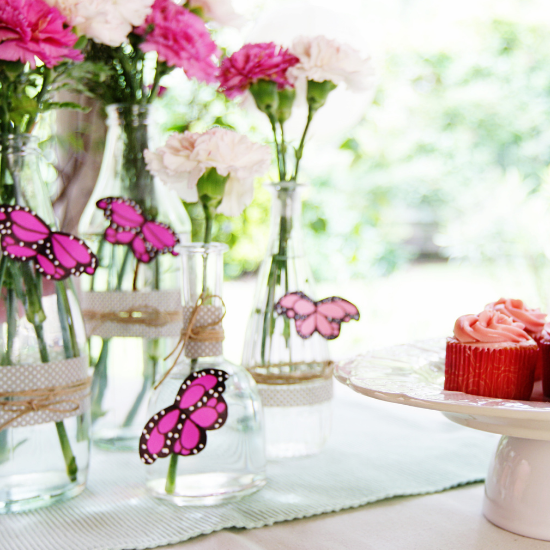 Partytogogo pulled this off and used a section of wood for the base to provide a rustic appearance.
Butterfly Tree Centerpiece
If flowers are not an option consider, creating a butterfly tree. Yvette Decorations used simple paper cutouts to create a stunning butterfly centerpiece on a budget.
You might also consider adding a few classic decor pieces that match the color scheme of your party such as balloons, streamers, and confetti. Many of these items can be purchased on a budget in pastel or bright colors from local party stores or online. There are many online tutorials that can help you take simple balloons and transform them into something gorgeous such as an arch or even a butterfly.
Butterfly Baby Shower Games
While not all games have to fit with the theme, there are many butterfly-themed games available and even some options to create on your own. If you're on a budget, instant download games can help stretch your money.
Butterfly Game Packages
These instant download games from WeDoHoney come with 19 games all in an elegant butterfly theme! There are sure to be plenty of games to keep guests busy all day long. Some of the games include "The price is right" and "celebrity baby names."
Free Butterfly Themed Games
If you're having a small party and only need a couple of games for entertainment, consider checking out for free baby shower download games to save on your budget. You might also consider scrolling through Pinterest to find other freebie printable games.
Butterfly Onesie Station
If you want to get guests up and moving, consider having a table where guests can color their own onesies for the baby. Offer bright colors that fit with the theme. You can even include some butterfly stencils. The onesies will be the perfect gift for the newborn and mom will cherish the memory of a very special day.
Butterfly Baby Shower Favors
If you're running short on time, you might consider ordering pre-made party favors. These adorable butterfly hairbands are budget-friendly and will be appreciated by your guests for years to come.
Whether your party favors are small or large, you will want to consider themed packaging. For larger gifts, you can purchase simple gift bags and decorate them with colorful paper butterflies or stickers.
For smaller gifts such as candy or food you can use cellophane bags and tie them shut with a colored ribbon. You might even consider cutting out a butterfly to use as a custom tag. If time is not in your favor, these adorable butterfly-themed gift boxes are the perfect way to display gifts and can be customized for your shower.
No matter what your budget is, you are sure to find plenty of ideas to plan the perfect butterfly-themed baby shower. The mom-to-be and guests will enjoy this sweet and adorable theme. Often the leftover party decor can even be used as nursery decor to serve as a special reminder of a special day.