What better way to celebrate a coming winter baby than having a fantastic Silver and White Snowy Baby Shower theme? SugarPartiesLA was the mastermind behind this delightful theme, bringing all of our favorite elements of wintertime indoors!
The dessert table was an adorable blend of wintry decor that was only missing the cold! A lovely DIY backdrop was creatively designed,  with a sweet saying "Baby It's Cold Outside." The one on top had a fun silver glitter look and the bottom was white with the silvery glitter letters. To really draw the eye, long strands of snowflakes and cotton ball snowballs added a perfect touch.  Large silver snowflakes made a glamorous addition beside the banners.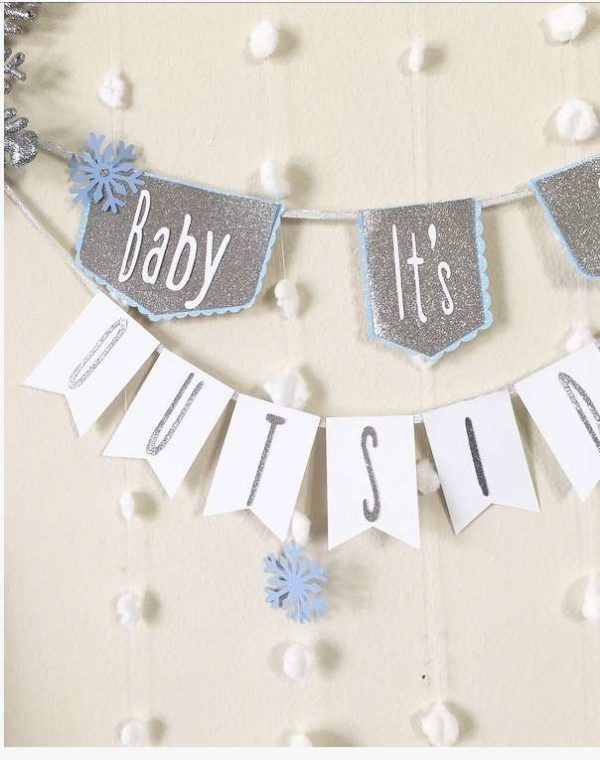 The table looked scrumptious with wintry goodies for all to enjoy.  At the very front a strand with silver icicles drew the eye. A white cover made a snow-like base for the treats, setting a winter stage for all the cute decorations. A white reindeer in a seated position laid behind a tray of delicious chocolate-covered pretzels.  
Tall white trees stood at the back of the table, adding to the wintry vibe.  Jars of candies in blue and white were on one side of the table looking tasty.  Cupcakes were frosted in light blue and decorated with cute snowflakes and boy labels. At the back of the table a tall polar bear in a gray scarf stood tall beside a sweet little white cake.  The cake even had a mini banner on it saying, "Little Snowflake," in glittery fashion. Set on a tall white tray, this cake made a sweet centerpiece for the table.  There was even an adorable little snow globe at the back of the table to add to the decor perfectly.
MORE INSPIRATIONS: