This Flowery Green Mint and Silver Baby Shower had a lovely mixture of whimsy and charm, giving a special mom-to-be a celebration that was sure to be cherished. With the styling, props and concept beautifully executed by Sweet Heavenly Events & Party Hire, this party was a gorgeous success.
A stunning marble column-style table made a fantastic stage for the food display, offering a modern look at this venue that matched the theme tones beautifully with its white and gray blend. White balloons made a unique backdrop cascading down the wall in voluminous design. The display of balloons actually spread to the bottom of the table, giving a fantastic dimensional look.
To one side of this table, a white rocking chair made a cute seating option for a special VIP.  It was accented with an adorable arrangement of white flowers and mint, white and silver balloons, giving it a delightful pop of color. On the other side of the table, a gorgeous white rocking horse stood in proud formation, making a perfect addition to this lovely shower.  It was also decorated with an arrangement of mint and silver balloons as well as white flowers.
The dessert table had fantastic, unique elements that made it a one of a kind display.  Large silver rings were used to draw the eye to beautifully designed treats.  Each ring was adorned in a mini bouquet of flowers and mini balloons as well, pulling the theme together elegantly.
A tree was created with green macaroons and at the bottom, a circle of white flowers made a beautiful ring around it.  There was also a tree of flower blooms and green treats that stood tall too. The center of the table was a vision with a layered cake that was smoothly colored in green and white and had an adorable tag at the top and a single large bloom to accent it on the side.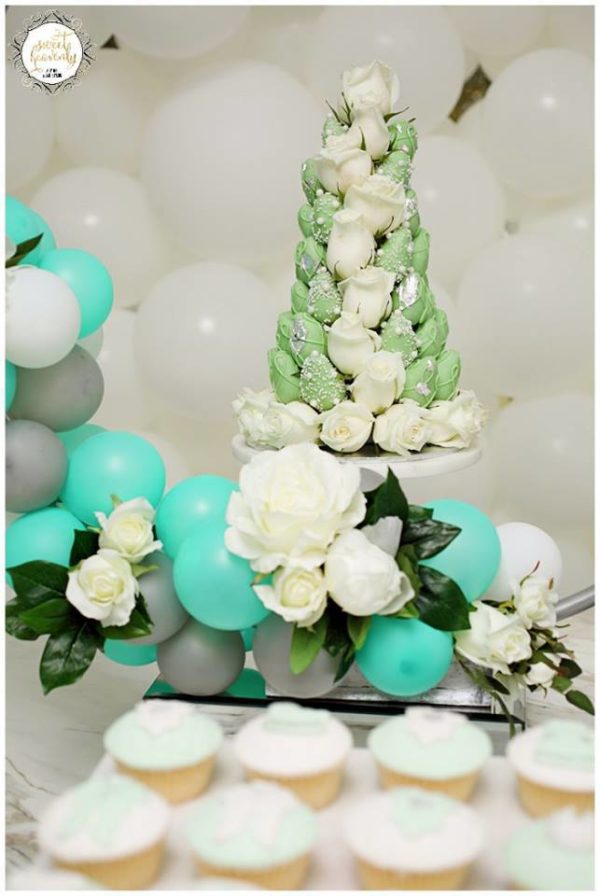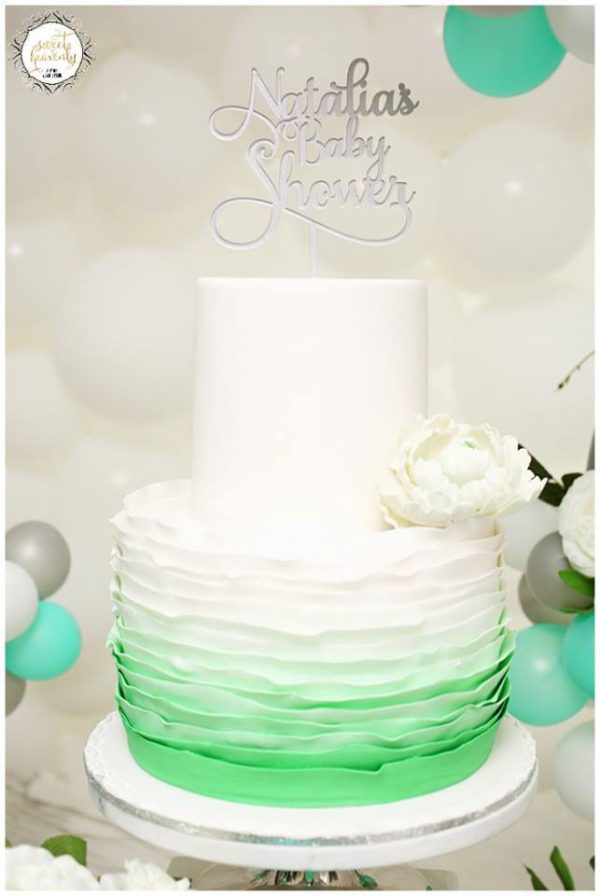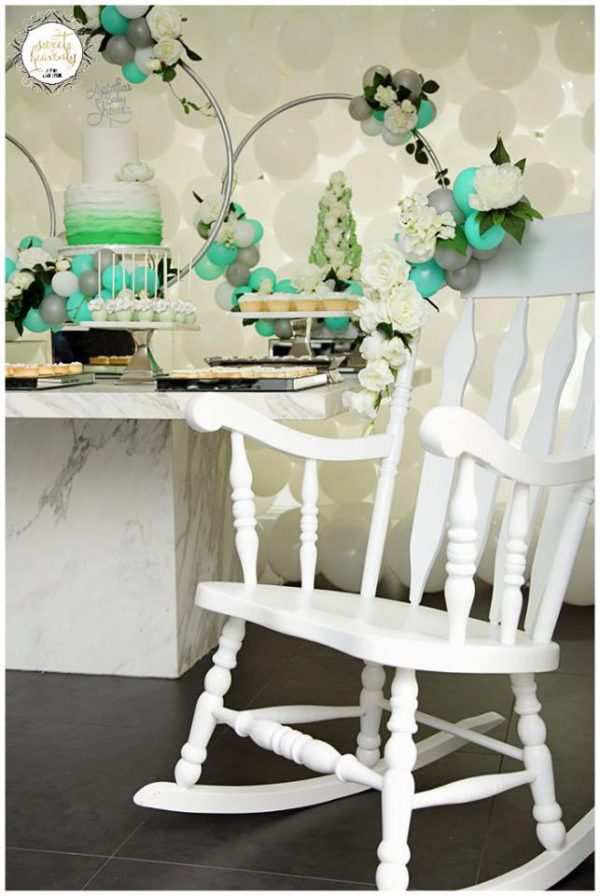 Credits –
Styling,Props & Concept by Sweet Heavenly Events & Party Hire
Cake by The Cake Studio
Cake Topper by À la Roch
Balloon Artist Bubble Moo Balloons
Strawberry/Macaroon Tower By Dom's Strawberries Delight
Macaroons by One Bite
Cupcakes & Cookies by TasTeeTreats4U
Cakepops by Oh Sugar
Oreobites & Gananche Tarts by Sweets With Love
Photography By Captured By Kirri