A Fun Space Baby Shower Theme by Imary of Papilot. Thanks for letting me share these inspirational baby shower photos on my blog.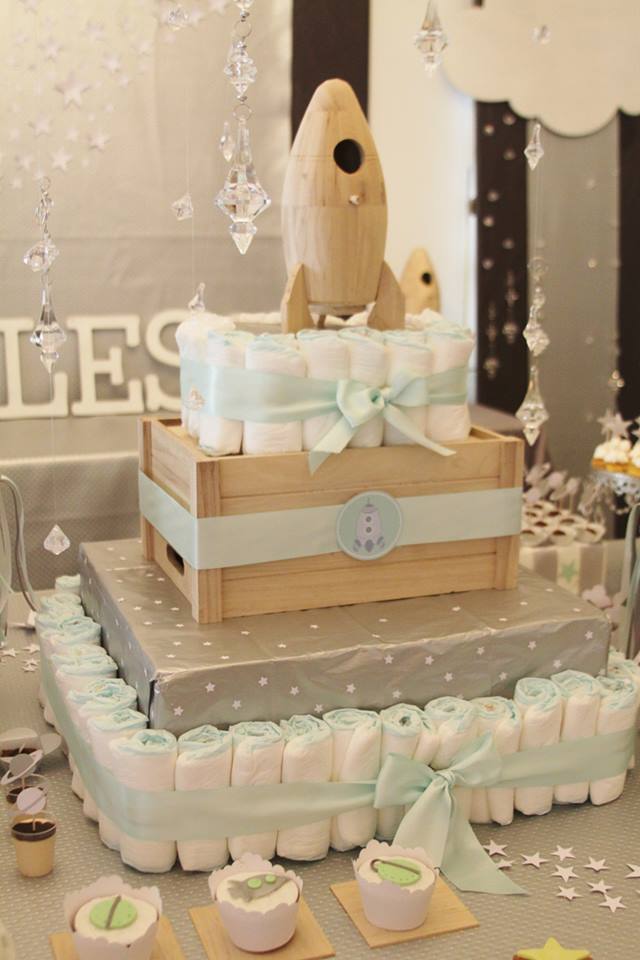 Wow!! This is the best word to describe the Baby Shower space shuttle theme for this baby shower display. This is really a nice theme for any parent that has a boy or a girl. Typically the space theme is for a boy but the simplicity and color scheme in this display makes it a very gender-neutral way. The wooden rocket surrounded by little baby diaper wrapped in a nice baby blue satin bow is such a great idea. I especially love the way the wooden display box is surrounded by tiny little stars. It really has a star effect with the crystal hanging tiers that are surrounding the space shuttle piece. The best part is the shooting stars that fall across the front of the display. The pattern on the display background and table really help bring out all the details in the display. I think the silver, pastel green, and white colors are befitting for a baby and the silver for the spaceship is wonderful.
The mini brownies topped with comets of toasted meringue and space themed toppers are a really fun treat. I love the iridescent colors of the stars and planets. The white moon cake with the frosting rocket is so inventive. I love the little details that went into this cake. It is so well decorated it almost goes unnoticed amid all the innovative dessert ideas.  I must say this is the best part of the display for me. The meringue treats also looks amazing especially sitting on a silver star shaped plate makes it look even better. A really nice touch. The Silver frosted moon shaped cookies are a simple and fun way to adorn the table and play up the theme of the shower.The splash of bright yellow in the desserts is a cool way to include the sun into the solar system theme without taking away the space shuttle focus. So many creative space baby shower theme ideas!