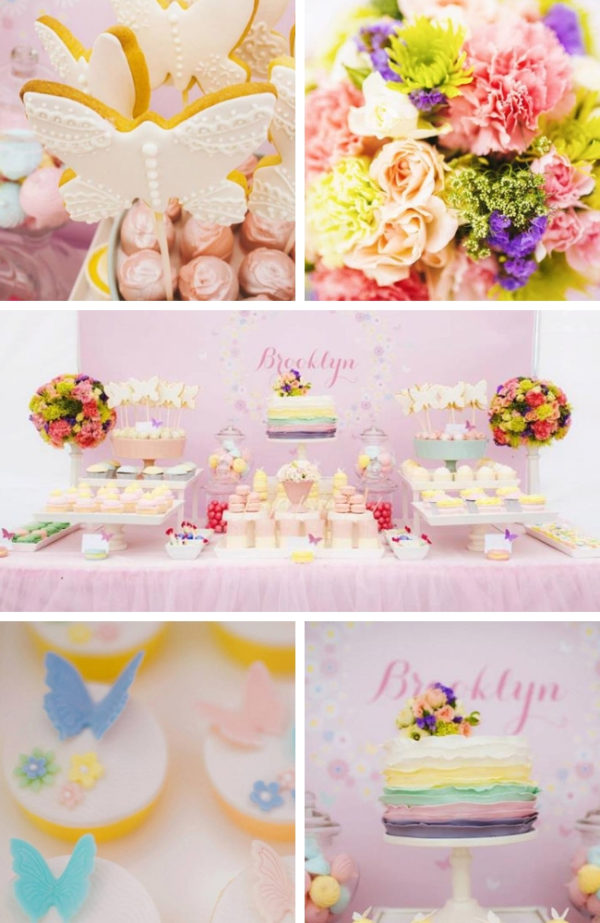 This Butterfly themed first Birthday for Baby Brooklyn display really looks as if it is the display window of a corner sweet bakery or even a fairy store display. Thanks Sarah of  Sugar Coated Mama for letting me share these amazing inspirational photos to my readers.  I really adore your styling! Everything looks surreal but delicate. The Pink Pastel Oreo pops look very appetizing. The design and coloring give the shape of a bouquet of pink baby roses. The perfect added touch is the Butterfly placard. It almost looks as if there is really a butterfly sitting in a field of flowers. I really love the message on a butterfly bottle idea. The name labels on the glass bottle look very sweet especially against the backdrop of the blue sky and the tiny purple glittered butterfly topper. At first glance the centerpiece ruffle ombre cake is so intricately designed it almost looks as if it was one of the display bouquets.
The pastel colored frosting layered design of the cake really has a 3-d effect. Each layer looks as if it were blowing in the wind. The Frosted Butterfly cookies with the Oreo Ball base looks lovely with the pale pink and cream colors. The lace pattern on the cookies really gives definition to the Butterfly shapes. The most inventive display item to me is the vanilla and lemon push pops with the tiered cream and cake layers. The tiny little butterfly tops are so perfect and befitting for the mini satin skirts attached to the display glasses.
How adorable is the soft pink tulle skirt on the dessert table! I love tulle so it's no surprise that I also love the mini tulle pom poms in a ceramic milk bottle alongside the pinwheel decoration and the larger pastel tulle pom poms throughout with huge floating balloons. I really love the way the whole display looks like an outdoor vision indoors. The Brooklyn gifts bags are also a very nice touch to a beautifully put together display of everything that sings Butterfly. These ideas would work perfectly for butterfly themed baby shower party as well!
Vendors:
Styling – Sugar Coated Mama
Photography – Jordan Kowalski Photography
Cake, cupcakes, mousse, lemon meringue pie, push pops – Get Frosted
Flowers – Rosehip Flowers
Backdrop - Style Me Gorgeous
Butterfly Cookies – Mad Midnite Baker
Oreo cookies – My Sweeties
Macarons – Wild Rose Sweets & Styling
Balloons - Balloonaway Broadmeadow
Treat Bags, Garland, Peanut Butter Balls, Oreo Truffle Balls – Sugar Coated Mama
Tulle Table Skirt - Enchanting
Tulle Pom Poms – Pom Pom Princess
Tissue Pom Poms – Ah Tissue
Pink & Purple Gumballs, Plates & souviettes – Little Big Company
Treat Boxes & Cupcake cups- Invite Me
Wooden Chairs – Cupids Corner
White Platters – Freedom
White stands & table cloth – Ikea
Pink & White Seersucker table cloth – Pillow Talk
Pink & Mint Green Compotes – Peters Of Kensington
Push Pops – Raspberry Butterfly
Milk Bottles – Reject Shop