Pink and Gold Christening by Tara of Haute Sugar.
Tara put together a momentous occasion with this Pink and Gold Christening Reception and it was so lovely I think it would be a wonderful idea for a baby shower as well! With  an elegant and lighthearted approach, this party really brought a warmth to the event.
The party was thrown on a gorgeous October afternoon that allowed for an outside gathering that was tasteful and fantastic. The dessert table brought an array of pastels and florals that embraced the elegance of the party and was laid out in perfection. There was a giant letter A that was painted and decorated, making it really stand out as a focal point on the table.  On each side of the dessert table there were large, lovely vases filled with gorgeous pastel flowers that stood out magnificently.
For treats, this table had a wonderful arrangement from cookies to the beautiful cake. There were light yellow macaroons that looked delicious on a neat tray, there were also individually wrapped truffles in a jars that stood out, adding layering to the table.
The cake was a vision with three tiers of pure decadence wrapped in a lovely yellow bow. The detailing on the cake was perfection.  Along with beautifully frosted cookies there were yummy looking cupcakes that had little A's on the top, emphasizing the very first letter of Aurora's name, whom they were celebrating for.
The guests table was set up to match the dessert table and looked flawless with a neutral toned tablecloth and featuring lovely pastel bouquets in clear vases. The chairs were even covered in a pretty white cloth that added to the elegant feel of this beautiful party.
As a brilliant touch to the party, Tara created a champagne punch station that had a spread of fresh fruits to enjoy as well as the fantastic beverage choice.
Credits –
Tara Noel – Haute Sugar
Pink and gold cake, cupcakes, and embroidered cookies by Sabrina of Haute Sugar
Lemon and Raspberry Macarons by Pattisserie Poupon
Mini Pastries by Desserts By Gerard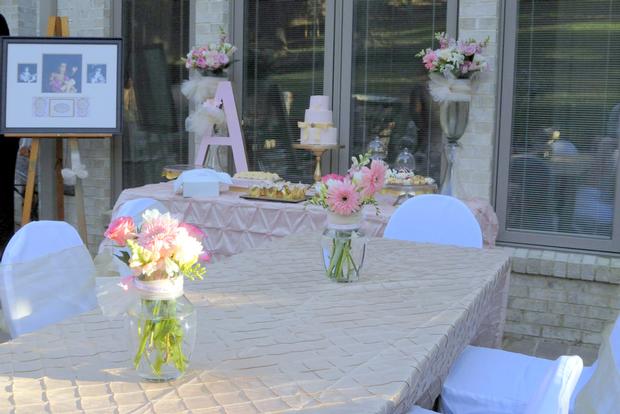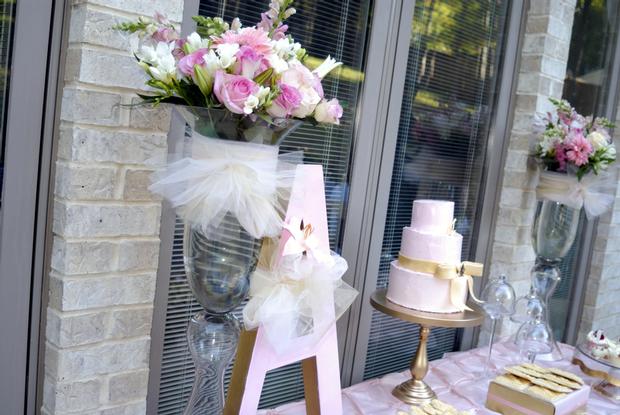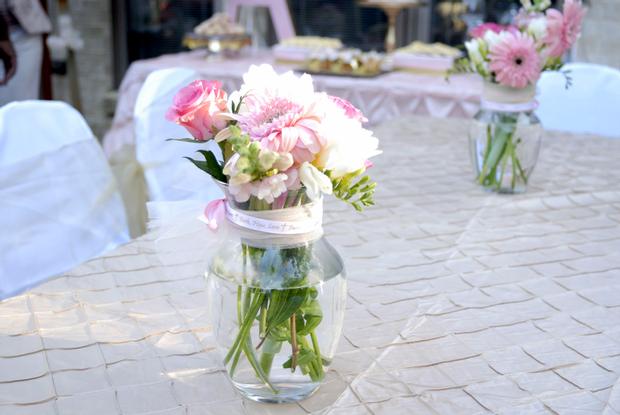 Look for more ideas –