To celebrate this special expecting mom, a Springtime Boho Baby Shower was a perfect way to go! Using brilliant pastels and taking advantage of a lovely afternoon, this party was a boho success.
With styling and concept as well as printables from Sweet and Clever, the event had a professional look that every guest could enjoy.
An outdoor table was set up for the snacks, it was covered in white which set the tone for all the cute pastel decor and edibles placed on top. The front of the table had fantastic dream catchers on each side that matched the theme tones beautifully.  In between, a string of pastel, paper feathers was hung, showcasing the bobo vibe sweetly. The top of the table had varying levels of trays and stands for the treats, so it was easy to grab a snack as well as visually appealing.
The front of the table had three white trays with goodies on them. Rice krispy treats stood on the center tray with sticks that had adorable pink, paper feathers on them.  The side trays held scrumptious cupcakes in pastel cups for a fun effect.  They were topped with paper art arrow ends.
At the back of the table taller trays held more tasty rice krispy treats, these were frosted, giving a delightful look to the table. Cake stands holding cupcakes were placed on each end of the table on a box, allowing them to draw the eye with ease.  At the center, a delightful layered cake stole the show with pink frosting and fantastic little flower decor and a dream catcher topper.
For extra decor, a teepee was placed to the side of the table, decked out in dream catchers, it even had an fantastically embroidered pillow inside with a blanket, giving a relaxed look.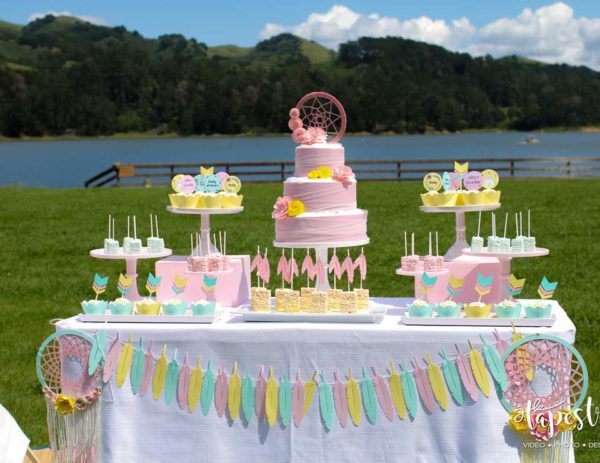 Credits –
Styling and concept – Sweet and Clever
Printables – Sweet and Clever
MORE INSPIRATIONS