Hear ye, hear ye! The royal family invites you to celebrate the arrival of their little prince or Princess with a baby shower to honor their highnesses!
It's not every day you get to welcome a little prince or little princess into the world! And when you throw a party for royalty, you need to make sure that the theme is consistent across the décor. But buying those decorations from a party store can get expensive quickly, and you may not have a royal treasury to dig into!
Not to worry, faithful subjects; I've got you covered. You don't need to buy tons of costly decorations when you have printable ones at your fingertips! If you need some décor and game ideas for a baby shower, check out this free, printable package – yep, it's completely free!
This package of printable decorations includes everything you need to throw a proper shower: menu labels for the food tables, cupcake toppers to welcome the little prince, banners, cup labels, favor boxes…you name it, you've got it! Just download this printable package and you're ready to go!
Check out the printable below and prepare to welcome the newest little prince or little princess!
We also have plenty of ideas on our blog for Prince baby shower as well as Princess baby shower parties!
Free Royal Prince Baby Shower Pack
For the curly little prince:
For a navy prince:
Some photos for inspiration: We used cupcake toppers, menu, water bottle wrappers, and banners.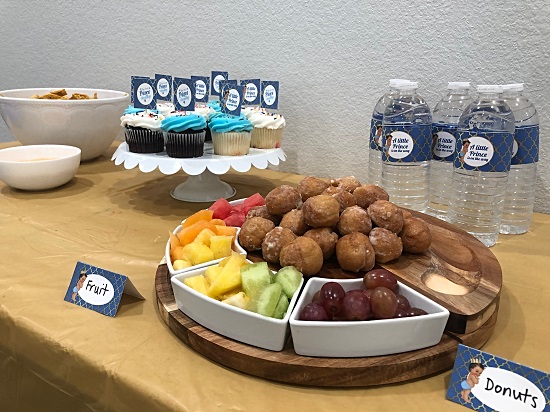 Free Pink & Gold Princess Baby Shower Pack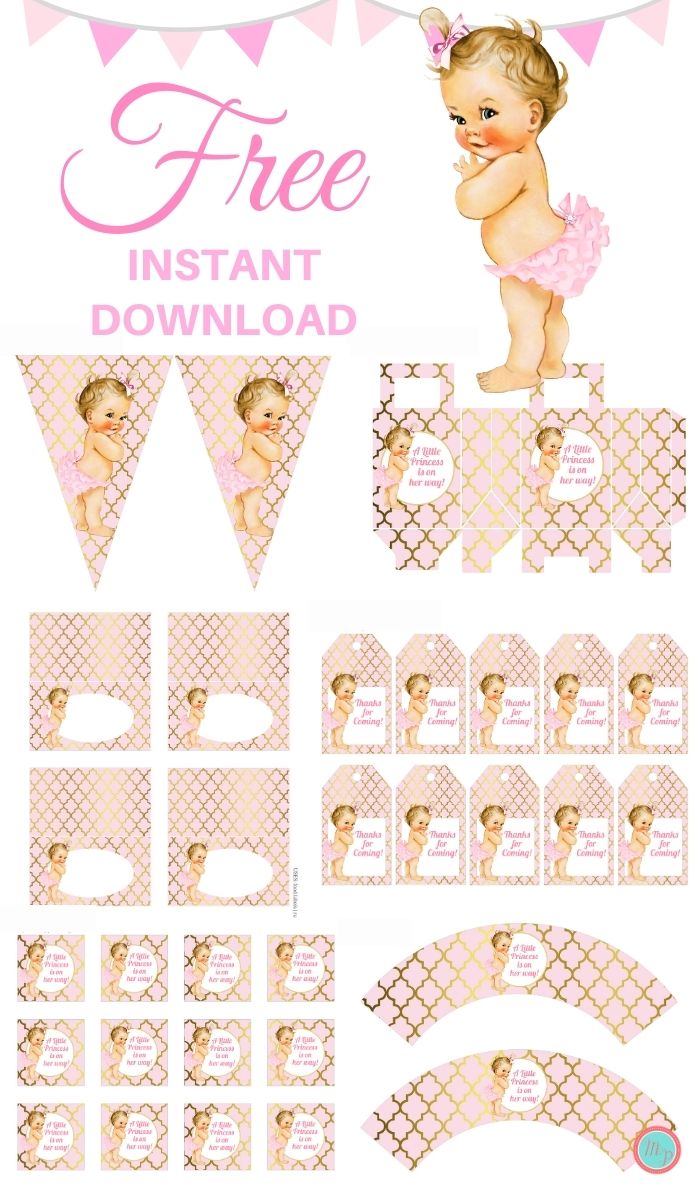 Free Blue What's on your Phone Template
In addition to the décor items, we have included a game called "What's On Your Phone?" Your guests will break out their mobile devices for a fun (and eye-opening!) game where they can score points for the contents of their phone. For example, if they have the Pinterest app downloaded on their phone, they score one point, But if a guest has the date and time of the baby shower saved on their phone, they score a whopping 20 points! Not only does this printable equip you with plenty of decorations, but it also helps get you started planning games for the big day.
Free Pink What's on your Phone Template
Free Don't Say Baby Game Templates
As your guests arrive, give them a pacifier necklace with an instruction not to say the word, "BABY". If a person catches someone saying the word, the person who said the word will need to give the necklace to the person who caught her. The person with the most necklaces at the end of the baby shower wins the game!
Free Prince and Princess Digital Papers
You can use these free digital papers to make crafts to match the theme! These are 12×12″, they are perfect for invitation creations, patterned buntings and such. Enjoy!