The cold weather is upon us, but that doesn't have to put a damper on your upcoming baby shower! Instead, use the cold weather in your favor and have a themed baby  shower in the fun idea of "Baby, It's Cold Outside!" You can turn the party space into a sweet winter wonderland without so much as giving the guests a chill! Snowflake shaped invitations are the perfect way to get everyone enthusiastic about braving the cold for a darn good time celebrating the mommy-to-be!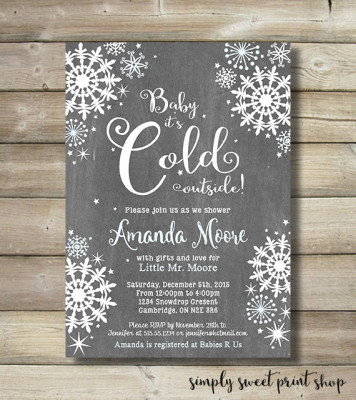 Decorations should be full of loveliness and a bit of nostalgia, so think pale blue and dim lighting, along with plenty of twinkling fairy lights to transform the party venue. You simply cannot have enough cutouts and garland of paper snowflakes, and you can even make this an activity for guests to do as well. Silver and light blue balloons and shiny tinsel on chairs and doorways practically gleams in the cool lighting, and blue tablecloths with white bows and lace overlay bring everything together.
Centerpieces of branches sprayed with canned snow and small ice luges simply create an atmosphere of elegance and magic. Of course, you cannot forget a big backdrop congratulating the mommy-to-be in big, sequined lettering, too.
Food can be really fun, as you can do a punch bowl with dry ice that both tastes delicious and looks amazing. A tiered cake with snowflake fondant adornments and a sparkler topper is also extremely magnificent. Crystal platters and bowls filled with candies, cookies, and elaborately frosted cupcakes and cakepops are regal and a true delicacy. Set up a hot chocolate station as well with all sorts of fun fixings for guests to be able to create the ultimate mug of cocoa. Salty fares should be just as exquisite, so opt for such things like pumpkin soup and tartar pinwheels. Fusing flavors into all of the food such as pumpkin, mint, or mocha is a perfect way to make people feel the true warmth of the winter season, too. Comfort food is also always a great idea, so mac and cheese cups or even miniature grilled cheese sandwiches are a big hit.

Activities can include snowflake crafts or even learning to make homemade ice cream! Don't forget to have guests write down sweet wishes for the baby, and be ready to hand out beautiful party favors for the guests, too. White fur bags full of gourmet treats, tree ornaments for the upcoming holidays, or even gift cards to the local Christmas shop are all fabulous ideas that guests will ultimately love.
Winter Baby Shower Favors