This sweet, Sky Blue and Gold Royal Baby Shower was created by the wonderful Maryam's Cakery who gave the elegant theme an inviting style that guests and vip's alike could enjoy.
The dessert arrangement was spectacular, rather than using a classic table for the buffet a whole set of tables was used to display all the goodies, giving a full look. Each table had a matching white covered with a pleated styling that added texture in a smooth way.
A lovely backdrop in light blue and white made a fantastic centerpiece to the set up with a pattern in the background and a large crown in the front, advertising the theme beautifully. On each side of the main table circular tables were used to hold a diaper cake on one end and baskets of adorable baby items on the other.
A smaller table was set in front of the main dessert buffet with the sweet baby's name spelled out in large golden letters.  This table also had a cute framed crown picture and golden candlesticks for a lovely decorative look.  
For the guests, little containers filled with tasty blue macaroons were tied with adorable blue ribbons and even had little labels on them.
The large buffet table was adorable with two massive, thin, golden vases holding lovely white flowers. Golden crowns were used as fillers along with cute little baby decorations like stuffed bears and baby shoes.  The treats looked scrumptious, all frosted perfectly to match the theme tones.  Cakepops stood on flat trays covered in blue with a golden shimmer.  
The center of the table held chocolate bars were personalized wrappers in blue and gold.  There were also cake trays holding sweet cupcakes frosted in white with cute little blue flags on them.  This party had all sorts of charming additions to the decor that made it unique like a golden ornate framed work of art and a gorgeous personalized candle.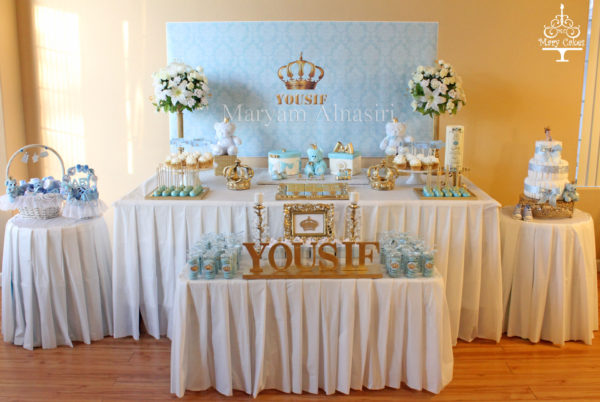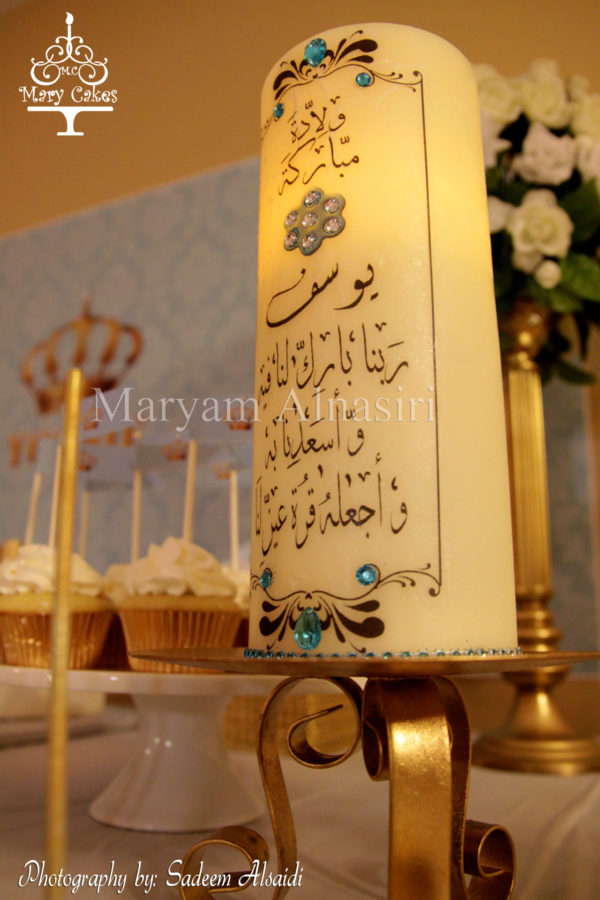 MORE INSPIRATIONS: