A Refreshing Ahoy It's a Boy Themed Nautical Baby Shower by Joanne of Cakes by Joanne Charmand.
A baby is already an occasion for happiness, for both family and friends. However, to walk in on the baby shower or the birth and espy the display shown is a joy on its own.
The Ahoy It's a Boy Setup, as the given photographs show, is designed for the baby boy, both newborn and expected, and follows the traditional sailor lad theme.
It is the trappings which instantly catch one's eye: the upright boat shelves in bold colors, the white wooden sailboat sculpture and lifesaver against the ocean blue backdrop, and the stark tablecloth which calls attention to the sweets are marvelous. And what sweets!
The cupcakes on the bigger shelf are inside themed wrappings and come in two varieties: with deep blue frosting reminiscent of the open sea, and with white foamy frosting with small edible lifesavers on top. Some are even inside glass cloches, to give a ship-in-the-bottle effect.
On the smaller shelf, miniature raspberry jelly shots in a rich blue are positioned with strawberry tarts both above and below them, with the strawberries "drowning" in the jam.
Goodies galore encompass the entirety of the table, from macaroons – red with black anchors or white with small lifesavers – to small donuts with lifesaver frosting; white buoy cake pops with red and blue flags; cookies in the shape of sailor uniforms, anchors, sailboats, lifesavers and baby sailor faces; and teal frosting-covered "shell" strawberries. Most interesting of all was the "sand" – crumble underneath the cookies and the strawberries.
Following the color scheme of red, white and blue is the focal point of the configuration is the layered cake. The bottom tier features a blue anchor against red and white vertical stripes, with a white layer with blue frosting in varying colors depicting waves above it. A baby sailor boy in blue stands on top, completing the arrangement.
From the main display down to the tiniest little details – such as the paper lighthouses inside the boat shelves to the ropes attached to the anchors and the lifesavers – this whole setup is courtesy of Cakes by Joanne Charmand.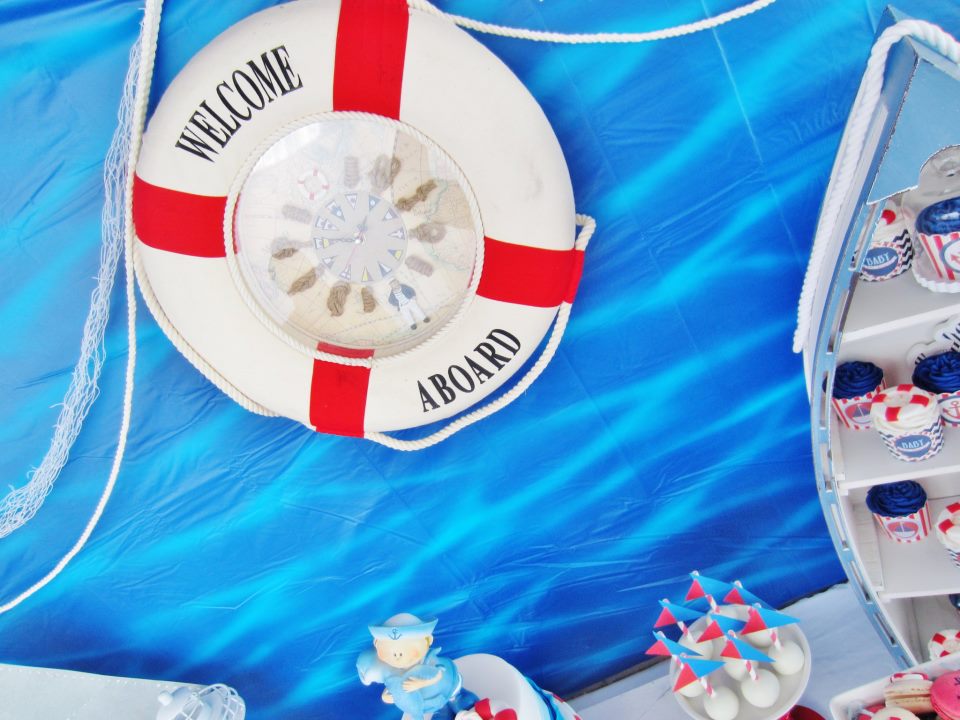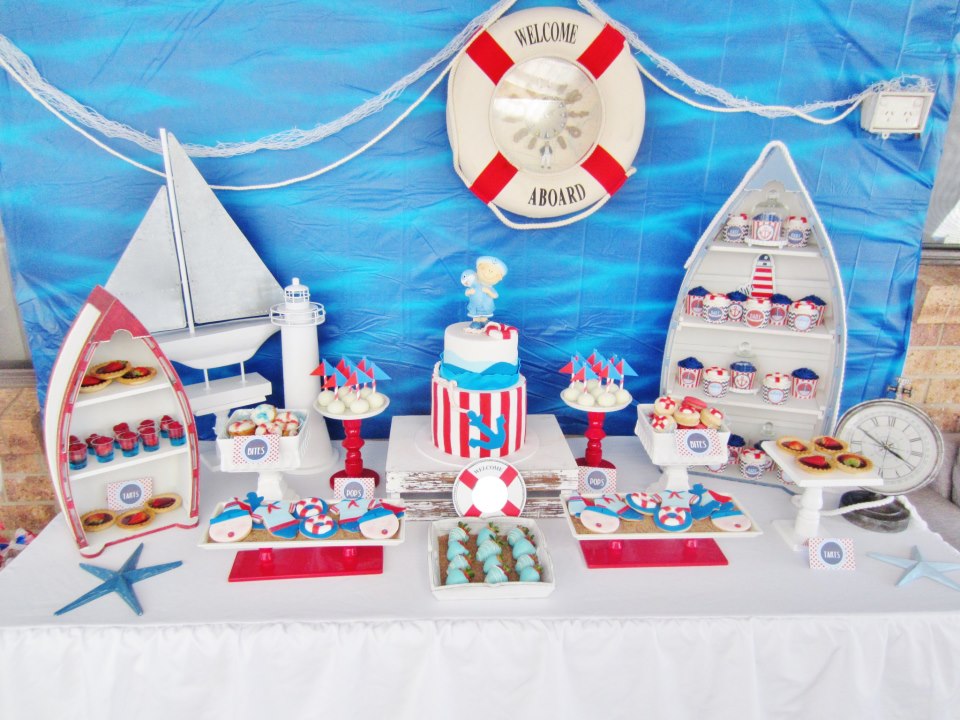 Look for more ideas –