Throwing a baby shower for an upcoming little baby girl can be as fun as ever with the right kind of theme. Minnie Mouse is just such a motif that is pretty, playful, and full of the nostalgia of childhood. With so many options for sweet shades of pinks, reds, and ivories, along with delectable treats and plenty of chic decorations, you just can't go wrong with a Minnie Mouse party.
Minnie Mouse Baby Shower Invite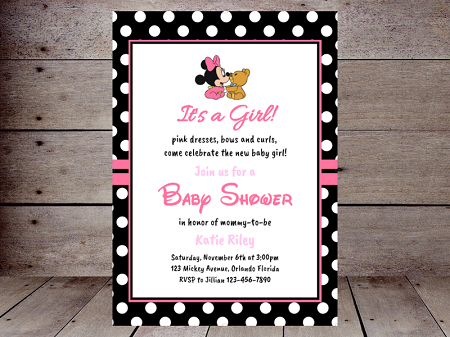 Minnie Mouse Baby Shower Decors
Arches of balloons in baby pink and bright red with stripes and polka dots make a perfect entryway into the party for guests, while keeping with the Minnie Mouse theme. Flag banners in bright pink that spell out the new baby's name, purple and violet streamers cascading from the walls, and big paper lanterns with Minnie's image on them hanging from the ceiling all really pull the fun decorations together. Cutouts of Minnie Mouse posted on doorways, along with chair sashes in the form of Minnie's hairbow look really flirty and fantastic around the venue. Rose colored tablecloths with tiny bow accents compliment table centerpieces of lavender. Miniature diaper cakes wrapped in pink ribbons and topped with Minnie Mouse figures look absolutely fabulous on the gift table. Make a Minnie Mouse wreath out of precious bows, ribbon, and pink buttons. String up sweet Minnie Mouse baby onesies on clothespins along a clothesline that serves as its own cute garland. Of course, you can't forget a big Minnie Mouse backdrop to go behind the main event table welcoming the guests.
Minnie Mouse Baby Shower Food
Try to keep your food table to about three main colors, so that guests don't get lost while looking at all the delicious treats. White, black, and pink are great, standard Minnie Mouse colors to go for. Elaborately detailed sugar cookies in images of Minnie head or with baby onesies are fun to look at and a sweet treat to eat. Cupcakes with bright pink frosting and dancing Minnie toppers, gummy lollipops in the shape of Minnie's hairbow, and rice crispy treat bars dipped in pink chocolate with white sprinkles are all fabulous treat table additions. A multi-tiered cake with each tier being in a different color with fondant designs of Minnie, polka dots, and baby hearts is a beautiful way to say congratulations to the mother-to-be and to wow your guests. Baby bottles filled with candies and tied with red ribbon and a sticker of Minnie Mouse on the front are also extra creative for guests to grab up. Pink lemonade is a perfect choice for your main beverage, and you can serve this in Minnie Mouse tumbler cups which the guests can take home with them as favors.
How to make Minnie Mouse Cake by MyCupcakeAddiction

Minnie Mouse Banner
Minnie Mouse Baby Shower Favors & Games
Speaking of favors, go for a feminine touch with miniature nail kits, jars of handmade pink soaps, containers of ingredients for cookies, or a basket full of miniature "baby" foods and toiletries.
Activities for your guests are also important to keep them entertained and engaged, so opt for classic games such as Baby Bingo, a memory game, or even an activity in which guests write down well wishes for the little baby girl to be.
Minnie Mouse Baby shower gift Ideas
MORE INSPIRATIONS: