Born to Be Wild Baby Shower Theme by Debbie of Rental Time General Rental
This baby shower theme looks very adorable in an outdoor environment. It plays upon the idea of the "wild child" in a cute and fashionable way.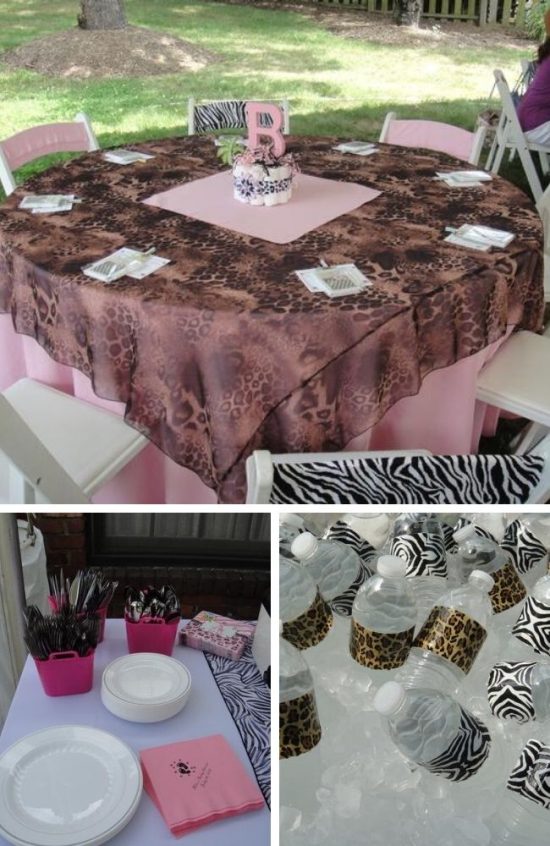 White garden tables are draped with pink linens to set the base color for a baby girl. Over the pink table cloths sit the animal print table overlays, which perfectly match the custom made alternating zebra, pink and leopard print fabric covering the chair backs. The zebra and leopard print designs adorably communicate the double meaning of the wild animal and a the wild woman, an idea subtly carried over to the cake cutter in the shape of a high heeled shoe in zebra print.
The animal print motif is carried throughout the party decor to tie the whole yard together. Set under a 10 foot by 20 foot white tent, the food and gift tables were also adorned with zebra and leopard print overlays. Pink and wild animal print balloons grace the perimeter of the tent. Pink icing-topped cupcakes surround the shower's cake, which itself is cheetah print wrapped in a pink frosted bow.
Since this Wild affair is held outside, keeping the mother-to-be and her guests hydrated was a priority and for that reason water bottles wrapped in animal print duck-tape take a prominent place among the other food and drinks offered.
Perhaps the most adorable, and a practical touch to the entire affair are the individual table centerpieces. Each table is decorated with a diaper cake, diapers cleverly assembled to resemble little white cakes adorned with zebra print. Sitting atop each diaper cake is a single letter, one for each letter of the eagerly anticipated baby's name.