This "A Night in Paris" party was elegantly put together by Maylene of Malu Boutiques. Maylene created a warm and inviting event that guests would definitely enjoy.
There was a lovely personalized sign that guests could check out as they entered the party area, it introduced the theme with a cute border of pink and black.
The welcome table was a marvel of tiny tulips and large, fluffy feathers, really emphasizing a glamorous effect. With a mirror as the backdrop, the table looked much larger. There was also a neat portrait of Mom-to-be for guests to sign so she can always remember who came to her special event.
With soft, dark lighting this party definitely brought a relaxing element.  There was a mini-Eiffel Tower that was lit up, showing off the beautiful bouquet of flowers beside it.
There was a fantastic silver backdrop used for the dessert table that really reflected light well.  With a dangling bouquet of flowers and a personalized Paris ribbon, this backdrop was a one-of-a-kind.
There was a wide-spread of delicious food, ranging from cute marshmallows on sticks to delicate croissants.
The decorations spread throughout the party area were magnificent. Tiny candles were lit on chandeliered candlesticks, creating that elegance you expect in Paris.
The guest gifts were very cute, Eiffel Tower cookies frosted perfectly in pink and personally wrapped and tied with little pink ribbons.
There was even a personalized menu printed out so guests would know what their food choices would be, framed in a glamorous pink frame.
The silverware was quite unique, wrapped in damask black and white with white lace.  Placed on the guests tables that were covered with black tablecloths, the warm atmosphere was accented with these little touches.
The cake at this Night in Paris was very grand.  With layers of delicious looking frosting and precise detailing, it was certainly the showcase of this fantastic event.
Credits –
Malu Boutiques / ETSY SHOP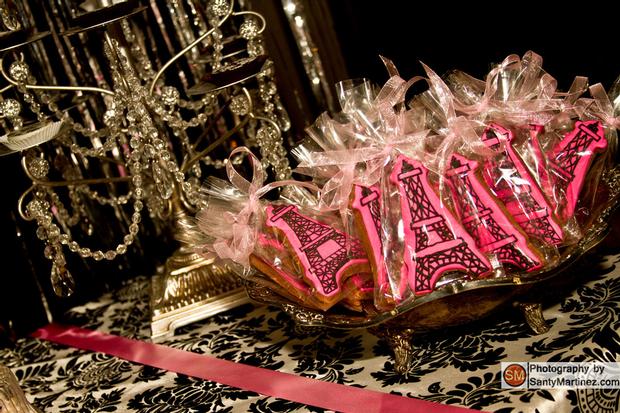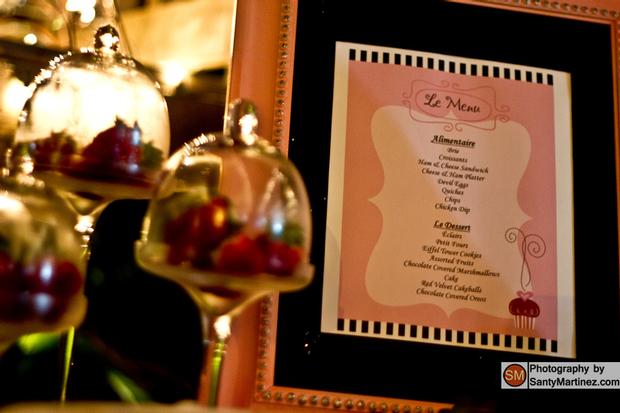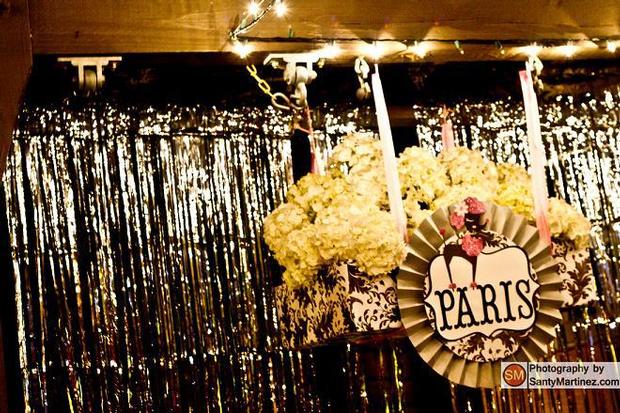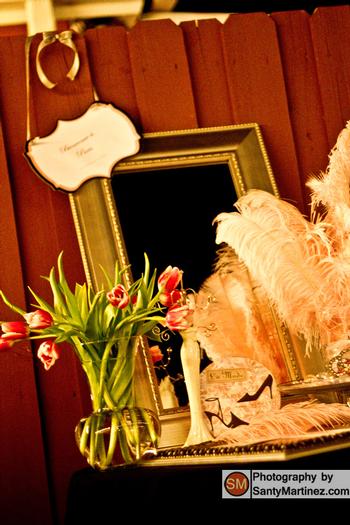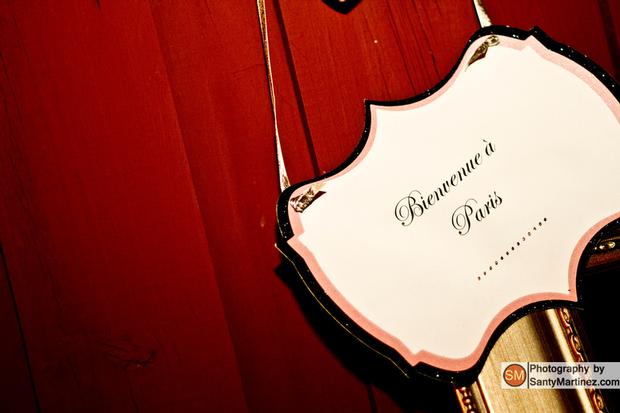 More ideas –