Diaper cakes are becoming more and more popular due to their adorableness and usefulness. Diaper cakes can also add some creativity to your baby shower decor. While diaper cakes can be very simple, there is also the potential to get creative. Read on to see some of the most creative diaper cakes!
What is a Diaper Cake?
Diaper Cake is an arrangement of rolled diapers stacked in such a way as to look like a multi-layered cake. You can make a simple diaper cake using colored ribbon to match the theme along with some artificial flowers or just a themed soft toy topper.
If you want to go a bit further, you can decorate the cake with pacifiers, lotions, bibs, rattles, toys, towels, socks, pants, baby nail clippers etc.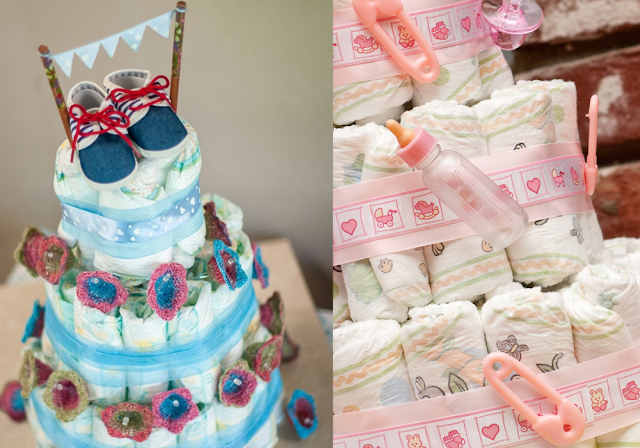 Diaper Cake Decoration
If you're planning a diaper cake for party decor, consider incorporating a stuffed animal or doll to fit with the theme. This adorable teddy bear diaper cake would make the perfect eye-catching piece of decor for any baby shower.
The cake uses a simple tiered system, however, unlike some diaper cakes, this cake uses a large stuffed bear in baby clothing as a part of cake. It appears that the bear is climbing up the cake. The double ribbons holding the diapers together also adds a lovely touch.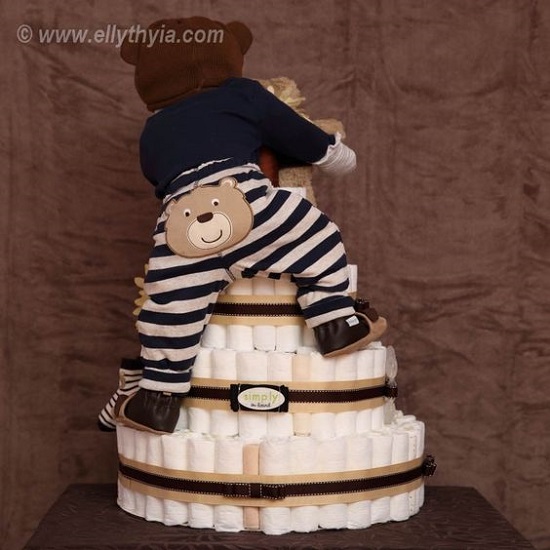 Easy Diaper Cake Tutorial
In this video, we used 56 diapers in total. It is very easy to follow I hope you'll give it a try. I personally think that this is one of the easiest and also the fastest way to make a spectacular diaper cake! Instead of rolling each diaper, we will be layering each diaper which saves you heaps of time and also time for mommy-to-be as she won't need to unroll them afterward. .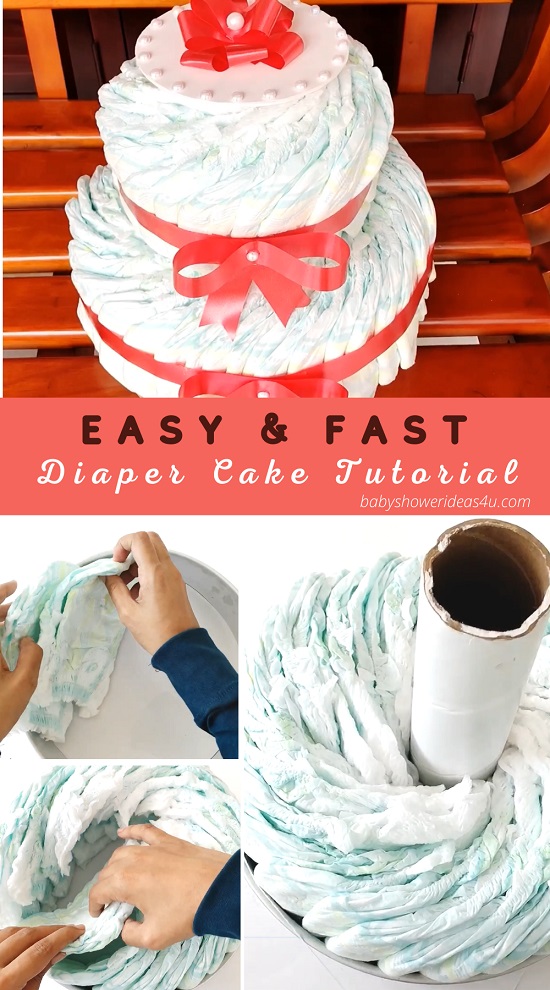 What you need:
Top Layer: 19 diapers
Bottom layer: 37 diapers
1.5″ Ribbon
Cotton Thread
Paper tube
7″ and 12″ baking pans
*Instead of cotton thread you can use large rubber bands and also pots if you do not have baking pans
Creative Diaper Cakes!
This rubber ducky diaper cake was creatively made to look just like a bathtub. The diapers look like soap suds around the edge of the tub. This gift is not only creative but also practical. A mom-to-be could use the container for storage and the rubber duck for bath time. The cake even featured a small rag and diaper pins to complete the design. This diaper cake would make an excellent gift or decor piece.
Sleeping Baby Diaper Cake
This amazingly creative sleeping baby diaper cake creatively used diapers to create the head and body of a baby sleeping in a basket. The cake's decor featured several usable items in addition to the diapers such as a romper, knit hat, and binky. Even the basket could be used for storage in the nursery.
Sleeping Baby Diaper Cake Tutorial
Sleeping baby diaper cake tutorial by SoBelle DIY
Guitar Diaper Cake Tutorial
Guitar Diaper Cake Tutorial by Thom's Crafts and Treats
Stork Diapers
These adorable diaper cakes would make the perfect decor for a gender reveal party! The diapers are neatly wrapped in pink and blue cloth and decorated with the famous stork ready to deliver the diapers. What a creative way to store the diapers! These would be perfect for a gender reveal or as a part of a larger gift basket.
Motorcycle Diaper Cake
This sweet elephant-themed diaper cake was created by Angel Blessing Baby Creations. The cake was creatively made to look like a motorcycle and featured all sorts of useful materials.
Diapers made up the wheels of the motorcycle. The front of the motorcycle included a pink sippy cup and elephant bib to be used after the party. Pink and blue plush elephants served as the passengers. The back of the motorcycle included a special brush for cleaning bottles. This picture-perfect diaper cake would make the perfect gift for any mom-to-be or even a centerpiece for an elephant-themed baby shower.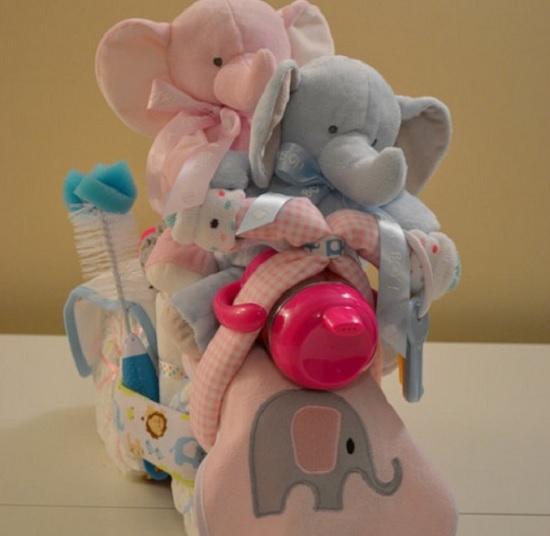 Rubber Duck Bathtub Diaper Cake
If you need the perfect gift for your next baby shower, you might consider making this adorable diaper cake bathtub! This diaper cake used diapers to make the base and faucet of a bathtub. The tub was filled with fluff to look like bubbles and a variety of useful gifts for bath time such as lotion, powder, a washcloth, and a rubber duck. This would make an adorable and useful gift for any mom-to-be.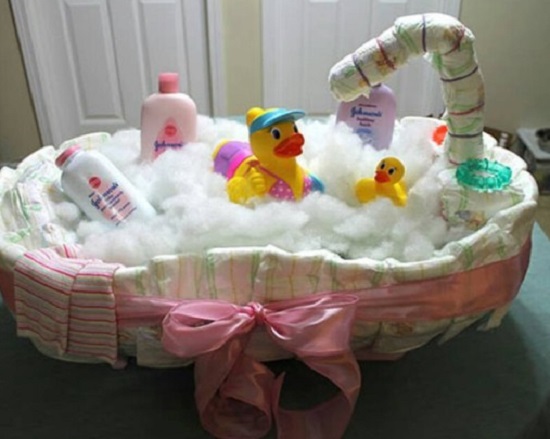 Cupcakes
These miniature diaper cupcakes take a fun twist on the classic diaper cake. Each cloth diaper was wrapped perfectly into a pink cupcake liner. This is the perfect way to gift reusable diapers to the mom-to-be. Reusable diapers come in a variety of shapes and colors, which make them the perfect gift to fit with any theme.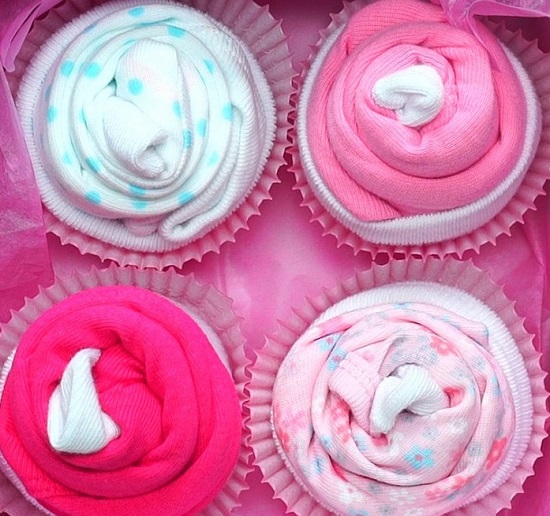 Princess Ballerina Diaper Cake
This extravagant diaper cake was creatively made to celebrate the arrival of a little princess. The bottom of this cake featured a pink tutu with a satin bow. The tiers of the cake were decorated with elaborate paper and jewels and filled with diapers. A pink crown with a shiny jewel in the middle topped off the cake. This cake would be the perfect addition to the decor of a ballerina-themed baby shower.
Sweet Baby Girl 
This cake took the classic tier approach to the next level. With four tiers, this cake would provide the mom-to-be with plenty of diapers for the arrival of her baby. The most creative part of this cake was the lifesize baby stretching over the cake. The baby was also made from diapers and featured an adorable outfit for the new baby to use. The diaper baby was even holding a sweet plush elephant. What a great gift idea!
Bassinet Diaper Cake
Wow! This diaper cake is creative and adorable! The cake was made from diapers and shaped to look just like a baby crib complete with lace edging and a sheer curtain. Inside of the crib included useful items for the mom-to-be such as soaps, a bath poof, and a matching baby doll. This cake is so gorgeous it would almost be difficult to take it apart to use the diapers!
Princess Carriage
This spectacular diaper cake used a variety of creative materials to make a carriage. The carriage of the cake was made from a beautiful pastel pink and blue paper lantern and topped with an adorable tiara. The diapers filled with pink paper flowers made up the wheels of the carriage.
A great part of this cake is that the inside of the carriage was filled with essential items for the baby! The cake was also pulled by an adorable teddy bear with strands of pearls for reins. This would be an adorable centerpiece for any baby shower.
Surprise Gift Box
Diaper cake with a surprise gift box for twins is sure to amaze the parents-to-be. Diapers made up the top three tiers of the cake. Inside the gift box were a variety of gifts for the babies such as shoes, toys, and belly stickers. What a unique way to wrap a gift!