The decorations at this Charming Gender Neutral Baby Shower were a mix of vintage charm and stunning creativity all masterminded with the expertise of Events by Janelle. 
The entryway to the party was adorably decorated with a giant white balloon that had ribbons down the string. This was displayed behind a fantastic chalkboard welcome sign that had a green garland draped around the top to give it a natural look.  A sweet photo of the special couple and a miniature bouquet of flowers made perfect finishing touches to the small table in the entryway.  A large wooden door with a banner of burlap and laces along with two tricycles made this section rustic and fun.
A wonderful light wooden table held gifts of candied apples for the guests and a lovely naked cake for the guests to enjoy.  This cake was sweetly decorated with red flowers and babys breath on a fantastic clear cake tray. Several bouquets of colorful flowers added a bright look to the venue.  As a backdrop a lovely contemporary picture gave the room a warm and inviting vibe. To add to the charm of this party, below the table an arrangement of pretty vases stood tall.  The treats were displayed with crates at varying levels to create a dimensional look on the table.
One of the best decorations at this party was the diy fabric flag banner that said, "Twice Blessed,"  It had a blend of neutral tones that matched the theme beautifully. 
For guest seating a rectangle table allowed for family style visiting.  White folding chairs matched the white tablecloth, adding an elegant touch to the decor.  An ornately detailed runner ran down the center.  For centerpieces, several bouquets of flowers that matched the others throughout the venue to bring the theme together. 
Credits: Planning/design - Events by Janelle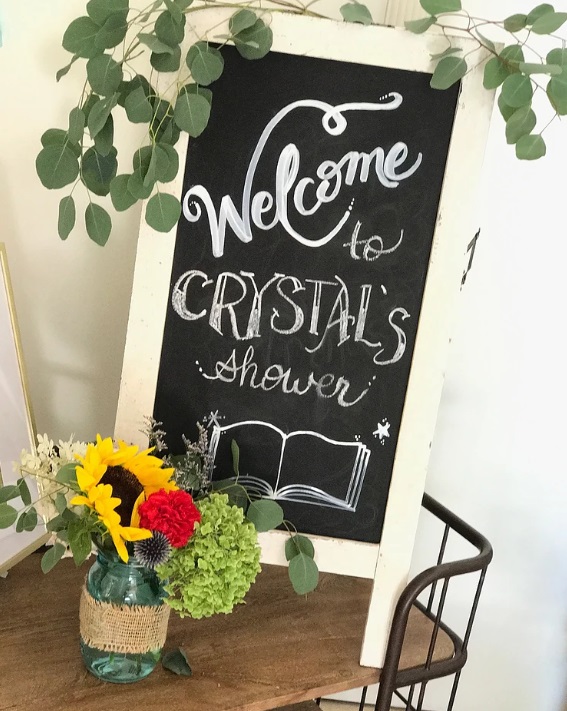 MORE INSPIRATIONS: