This Chevron Elephant Baby Shower table created by Yoliez Creative Candy Buffets had all the elements one could want in their sweet celebration. With a superb mix of gray, yellow, teal and white colors, the decor stood out stylishly.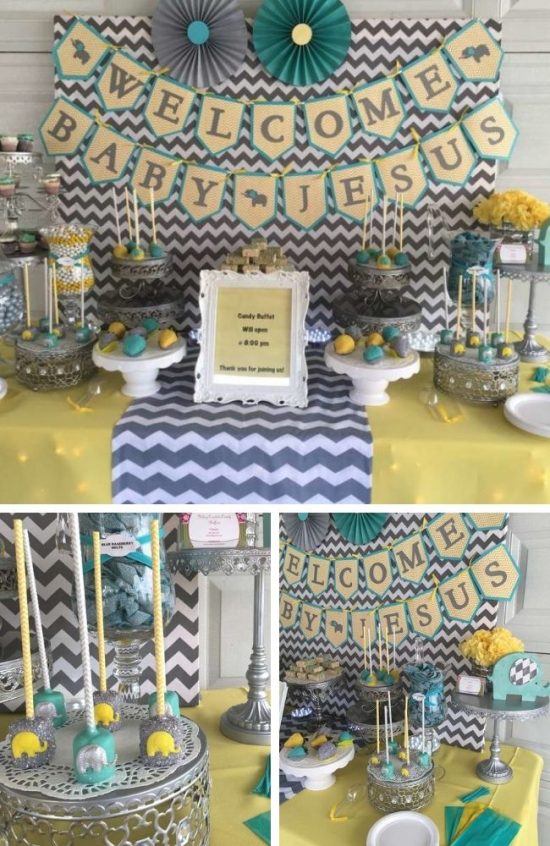 A lovely backdrop was made with a gray and white chevron patterned base that gave a bold look while accenting the banner over the top of it perfectly.  Pinwheels looked quite flashy at the top of the board while the flag banner was a beautiful chevron patterned addition to the decor saying, "Welcome Baby Jesus."
The table had a soft yellow cover that looked very modern with a gray and white chevron runner accent piece.  The trays and cake holders used for the sweets were very beautiful, an arrangement of vintage styles and detailing that stood out.
At the front and center of the table a white picture frame advertised this candy buffet while letting everyone know what time it would be open to visit. On each side of the frame adorable white cake trays held delicious goodies that match the theme smoothly with yellow, gray and teal colors. One favorite dessert on this table were the cake pops which were stunning in their detailing. Each had an adorable little elephant on them and the sticks had swirly patterns that match the theme tones.
On one side of the table a fantastic wooden elephant stood on display on a tall silver tray, ensuring that the theme was clear to all who visited. Mini cupcakes were on a sweet chandelier type tray that gave an elegant look to the table. They were frosted in varying shades.
For a bit of a natural touch, a small bouquet of yellow flowers were a perfect addition to the decor on this delightful buffet.