This Rustic Chalkboard Themed shower turned into an elegant party with a fantastic color palette that incorporated calligraphy in a creative and unique way.  Utilizing the skill and innovation that Laura Hooper Photography has, this shower has everything a mom-to-be could want on a day celebrating her precious life.
The custom invitations for this event used a blend of black and white with brown that looked neat and had different textures to keep the guests interested as they found out who this awesome celebration was for.
Using white calligraphy on a black back ground was part of the theme that was wide-spread throughout the party area, creating a unified look that was classy and detailed. The beverage containers were absolutely adorable, mini-mason jars with black and white swirly straws that had baby flags and each was labeled with a lovely calligraphy name so the guests would know who they belonged to.
There was a beautiful chalkboard set up with a menu written out in calligraphy as well, informing the guests in an artful manner of what their delicious food choices would be. This board was set directly beside the fantastic buffet style table.  With a fun scattering a of balloons in soft colors, this area was ready for a celebration. One beautifully unique idea at this party was using the balloons to hold gorgeous little photos that were sure to draw interest and really held to this baby shower theme.
The cake at this party was a vision of perfection on a lovely white tray that definitely stood out on the table fantastically. With a muted grey tone for the frosting on this cake, the yellow and blue colored onesies and buttons stood out fabulously.
Even the guest tables were wrapped up in this wonderful theme with each place setting tagged with the lovely calligraphy names of each visitor. This party definitely encompassed a grace and elegance that looked fun and inviting.
Credits – Invites, Print Materials, Signs, Labels: Laura Hooper Calligraphy
Photography: Ashley Ilic
Rentals: White Night Design
Desserts: Rafi's Pastry & Cakes
Chalkboard Stickers: Purely Papers on Etsy
Chalkboard Tags: CCN designs on Etsy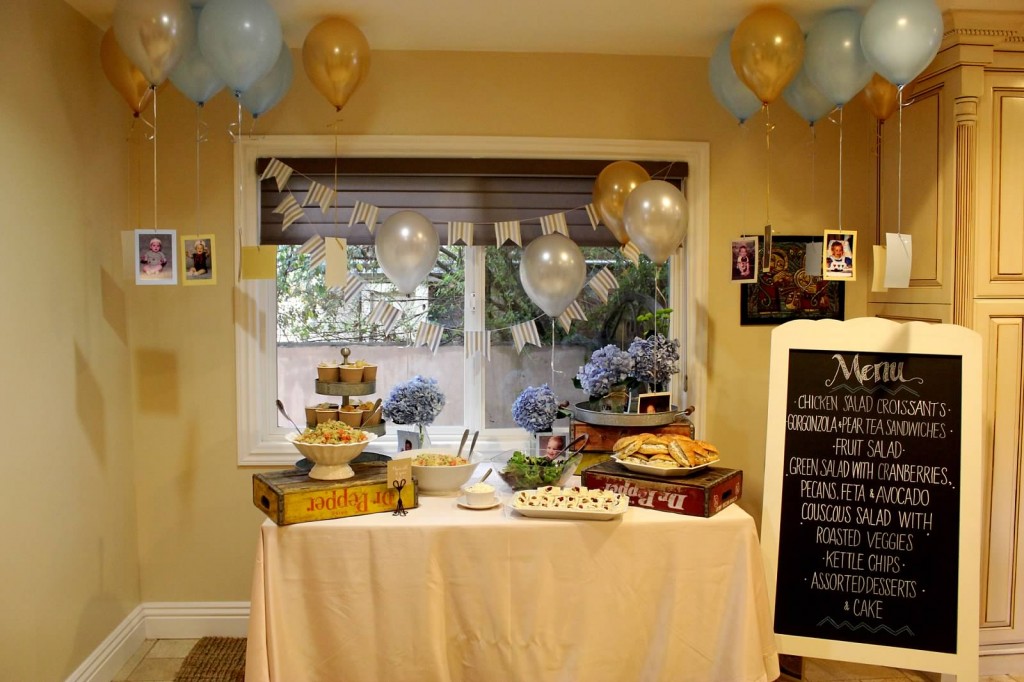 MORE INSPIRATIONS: