Whether you're throwing a fantastic party or celebrating all October month long, arguably one of the best things about Halloween is the food! From the sweetest of treats to amazingly creative beverages, there are limitless options when it comes to the array of delicious eats you can play with this Halloween season.
Halloween Sweets
Let's start with everyday meals, such as breakfast—yes, breakfast! What's a more perfect way to start out a lovely Halloween day than with fun, spooky pancakes? Big, fluffy flapjacks are Halloween perfected with pumpkin flavors and a sliced banana and blueberry combo that poses as eyeballs!
Speaking of sweets like this, let's move on from early morning to desserts or late night snacks with delectable treats such as chocolate cupcakes with gray and white frosting and eyeball sprinkles, or mummy macaroons! Did you know that you can take just about any type of cookie and turn it into a spook-tacular treat for your sweet tooth? Sugar cookies with baked-in candy corns, Oreos topped with jello mold brains, and chocolate snicker doodles sprinkled with Halloween themed Reeses pieces are just to name a few.
Halloween Cake
Want to go even bigger? You can go all out with creative cakes, such as a super green Frankenstein frosted single layer cake, or a sheet cake decorated with its very own graveyard.
Halloween Healthy Treats
Looking for maybe some healthier options? Try fruit salad with peeled grape eyeballs, banana ghosts, miniature mandarin pumpkins, apple biters complete by putting some little marshmallows between two slices of shiny red apple, or a yogurt parfait with layers of strawberry brains and kiwi slime.
Halloween Drinks
Beverages are also a super fun way to celebrate the month of frights, and there are tons of ways to do so for both adults and kids alike.
Adult Drinks
Black martinis served with edible dry ice, goblin green jello shots with chocolate ball accents, and delightfully terrifying bloody marys are all fun ways to get into the spirit with, well, your spirits!
Drinks for Children
For kids, pumpkin orange punch served with its own cool edible dry ice, or purple koolaid served in little skeleton head cups are sure to be a hit. If this October is finding the weather a little chilly, you can also transform hot chocolate with little ghost-shaped marshmallows, or even amp up some spiked cider with a glittering pumpkin-orange sugar rim.
Non-Sweet Fares
But what about the non-sweet fares? So many options here for ghoulish goodness, it'll be hard for you to pick just one! Like cookies, scrumptious pizzas also have limitless options when it comes to transforming them into Halloween-themed dinners.
Make your own for the most fun and coolest turn-out, starting with plenty of blood-red marinara sauce, mozzarella pieces in the shape of ghosts, and whole black olives posing as little spiders. Or, opt for a garlic based sauce with blobs of cheese topped with black olives in the form of eyeballs, bacon bits forming a big brain in the middle of the pizza, and roasted red peppers topping it off as entrails.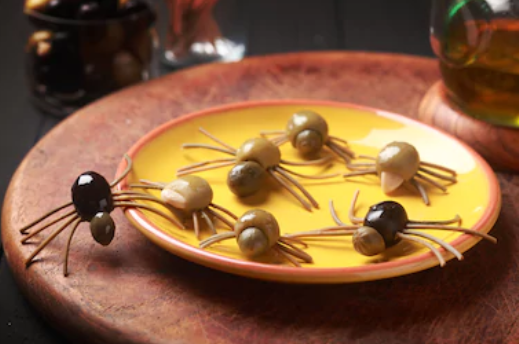 Speaking of olives, you can also utilize olives stuck together with toothpicks to form the bodies of bugs, with little bread sticks as legs and tails. For other dinner dishes, whip up pasta with eyeball meatballs, or spaghetti with that blood red sauce and meatball monsters. Make a healthy side dish with celery witch fingers, or add an extra savory option with bone bread sticks.
Remember, every Halloween food and drink you make can be turned into an interactive activity. Take a break from pumpkins and turn bell peppers into little jack-o-lanterns. Grab up some Halloween picks from the craft store and pile on cheese and veggies. Turn stuffed jalapenos or pigs in a blanket into mummies, and stick costume vampire fangs into some deliciously fresh homemade whoopie pies. Whip up a delicious party dip and serve it in a witch's cauldron made from a hollowed out bread loaf, and experiment with fizzy blood orange mimosas.
Halloween Molds
Did you know they make a mold for just about any type of food, so you can turn a cheeseball or a pan of brownies into a brain or a werewolf head! You can even use molds for ice cubes in drinks, such as oversized skull. Need a last minute idea? Make food dye your best friend and infuse orange, black, and purple colors into rice krispy treats, soups, dips, punch, and cakepops!
Regardless of how many themed food and drink ideas you want to put into play this October, use your own creativity to take normal, everyday munchies and turn them into unforgettable seasonal goodies. Happy Halloween!
Halloween Food Photos