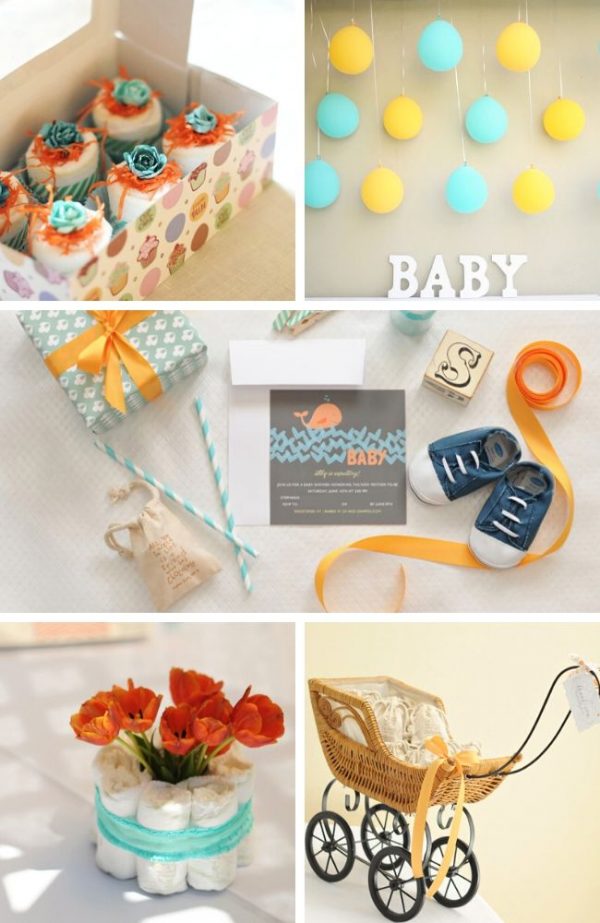 This lovely Orange and Aqua Baby Shower was created by Stephanie of My Party Parade. With an innovative arrangement of orange and aqua distributed throughout the party area, this theme really brought a fun and creative memory for everyone who was able to attend.
The invitations were absolutely adorable, with a background of dark grey, the pastel orange and aqua really stood-out, giving a neat effect.
On the wall, balloons were actually hung upside down with light ribbons, really filling up the area and giving a light-hearted effect. Set right below these adorable balloons were large letters spelling out, Baby, ensuring that everyone would remember who they were celebrating at this wonderful event.
At the guest tables each place setting was set up immaculately with fantastic white square plates that were topped with packages of yummy jellybeans for everyone to enjoy. With centerpieces of bold flowers that had diapers wrapped around and tied with aqua ribbon, these tables were show-stoppingly gorgeous. Even the beverages had a touch of fun with blue and white swirly straws.
One fun feature that was sure to make guests feel involved was the Baby Pool that was set up for everyone to guess the date, length, weight and time of little one's arrival, giving them an opportunity to make a little money for an accurate estimation.
Another neat touch that really brought a unique effect to this celebrations were the Baby-to-Go bags that Stephanie found on Procrastination Station's blog.  These bags held a travel-sized packet of formula, a bib, diaper, wipes, and a disposable diaper mat.  All placed inside wonderfully decorated bags that were tied with fantastic green ribbons, this was a really neat touch.
The favors for everyone were delicious macadamia nut caramel salted chocolates inside cute little muslin bags saying, "All You Need in Life is a Friend Who Has Chocolate", creating a perfect parting comment that was sure to be remembered.
Credits –
EVENT DESIGN: My Party Parade
PHOTOGRAPHY: Stephanie Campagna Photography
CUPCAKES: Frost Cupcake Factory
FAVOR BAGS: Papermoonbykat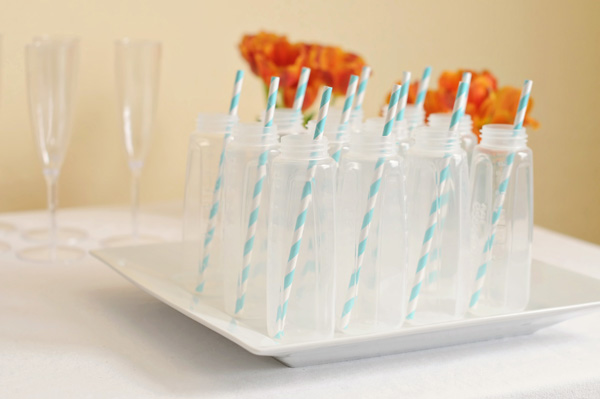 MORE INSPIRATIONS: