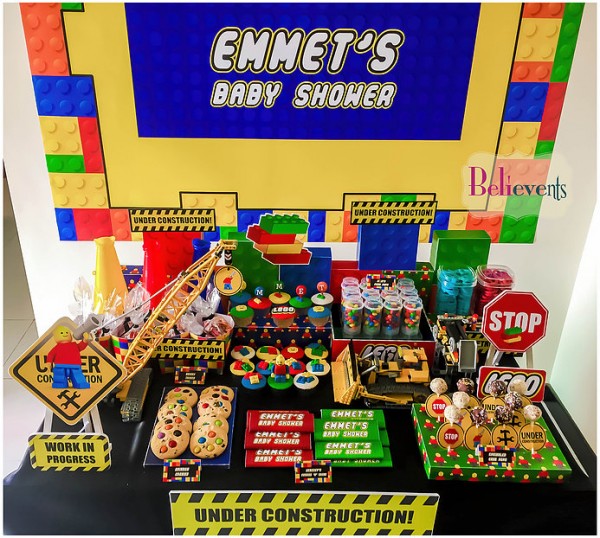 This Lego Construction Baby Shower was a perfect mix of classic fun and vivacious colors. With a phenomenal table created by Believents, every guest was sure to fall in love with all of the adorable details.
An exciting backdrop was made with the special baby's name on it, so everyone could clearly see who was being celebrated.  With a fantastic block, lego design, the colors and puzzle like qualities of the backdrop gave both a contemporary look and a nostalgic feeling for lego lovers.
The table had a black cloth base, allowing all of the vibrant colors on top to really pop.  A bold "Under Construction" sign hung across the front in black and yellow, showing the blending of the lego and construction themes in a fun way. To one side of the table a matching "Work in Progress" sign was set right in front of a massive lego crane.
Cupcakes sat in the center of the table on varying levels, allowing everyone to easily checkout the fantastic array of options to choose from. Each cupcake was a uniquely decorated lego wonder. Baby's name was even spelled out in tags across a row of the cupcakes giving a personalized look.
One fun treat that was as unique as it was colorful were M&M push pops.  In little clear plastic containers, the colors of the candies went vividly with the theme. Colored candy coated pretzels in blue and red brought a tasty and cute addition to the table. Chocolate covered cake pops with colorful sprinkles made a cute addition to the look as well. There were even personalized chocolate bars advertising the celebration beautifully.
Each of the snacks was labeled with tags that matched the lego construction theme while ensuring that everyone would know what was available to try out.
Credits –
MORE INSPIRATIONS