Emoji Theme Baby Shower Collection:
A baby shower is a happy celebration for a new mom and dad, and an upcoming bundle of joy. So, of course, the shower itself should have an equally jovial theme! It doesn't get any happier than an emoji themed baby shower, and we've compiled some awesome ideas to make this celebration as fun and memorable as possible!
Emoji Invitations
Emoji Decorations
Emoji Onesie Banner
Starting with great decorations is key, and with just about a million different emojis in existence, your options for décor are endless. You can actually involve your guests in the decorations by preparing a onesie making station and asking them to make a baby onesie with their favorite emoji on the front. Then, hang the onesies up across the party venue with cute clothespins. You can find Emoji design Iron On templates on Etsy. You will need to ensure files are reversed so that you can print on Fabric Transfer paper and iron onto a onesie or t-shirt. You can use Avery brand Stretchable Fabric Transfer sheets to print on onesies. Follow the instructions on the packaging of your Fabric Transfer paper.
Emoji Balloons
Balloons are a wonderful addition to any party! These special balloons feature the following emojis: wink, love, blush, kisses, and lol. Each balloon measure approximately eighteen inches tall and includes a printed emjoi face. While the balloons will be shipped to your door flat, they can easily be filled with helium at your local party store for a small fee. The balloons would look perfect as part of a display table and would also make a nice photo backdrop.
Emoji Digital Papers
You can find appropriate Emoji digital papers that you can print on cardstock paper for DIY cupcake toppers, confetti, banners, wrappers for bottles and napkins.
Throw some fabulous yellow pillows around the seating areas, and sprinkle sweet emoji confetti all over the tables. You can cutout emoji images you find on google to hang up all over the party space. You can never have too many of them! Make sure to string up some emoji lights to add an extra touch of happy ambiance, too.
Emoji Food and Drink
Putting together a yummy and aesthetically pleasing food set-up is super fun for this party theme. Baby emoji sugar cookies paired with silly poop emoji cupcakes are as hilarious as they are perfect in the motif of the shower. A multi-tiered emoji cake is always a good idea as a centerpiece of the food table, along with emoji cakepops, macaroons, and colorful goody bags full of candied treats. Keep the saltier fare and beverages just as colorful and easy to grab and eat as the sweets.
Emoji Cupcake Toppers
These emoji themed cupcake toppers are sure to be a cute addition to your ordinary cupcakes! The toppers are sold in sets of twenty-four and include six different designs. You will receive four of each emoji. Each topper measures approximately 1.5 inches tall. The cupcake toppers are made from high quality card stock and are attached to food safe toothpicks.
Party Straws
These paper party straws will be the perfect addition to party! The straws measure approximately nine inches tall and are sold in sets of twelve. Each straw is adorned with a small emoji decoration. There are four different emojis in total. If desired, you can order matching party favors. The straws would look lovely in clear mason jars and your guests will enjoy adding a bit of style to their beverages.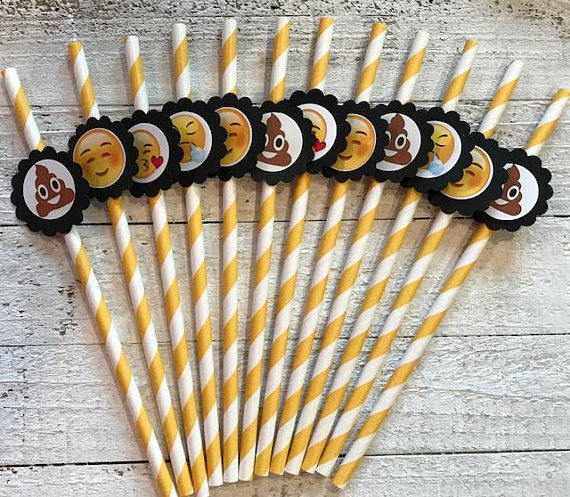 Desssert Plates
Wow your guests with these emoji themed dessert plates! These emoji plates are filled with positivity. The emojis include: smiling, laughing, and sunglasses. The plates are the perfect size for desserts, but they could also be used for appetizers. The plates are sold in sets of eight and measure approximately seven inches across. The plates can be ordered with matching table sets if desired.
Emoji Favors
Of course, party favors are a must, and with an emoji theme, you can really have a blast creating these. You can also make your own, well anything, with the help of emoji stickers added onto candles, glassware, soaps, coasters—you name it!
Emoji Cookies
While new babies are adorable and lots of fun, there is no doubt that the poop emoji will likely make an appearance at your emoji themed baby shower. These poop emoji cookies are sold in sets of twelve and measure approximately five inches tall. Each cookie is individually wrapped to maintain freshness and is tied with a coordinating yellow bow. Each package also includes a small poop emoji gift tag. If desired this tag can be customized to include the name of the baby being celebrated. The cookies are always fresh to order and are handmade. Each cookie is topped with royal icing. You have the option to order matching decorations if desired.
Emoji Games & Activities
Baby showers are known for having some really fabulous games and activities for guests. Decorating emoji frosted cookies, playing emoji-themed game such as baby bingo, and even a children's book emoji pictionary game, can all be really interactive for party attendees.
Incorporating crafting into party activities is always a good idea, too, as these can serve as both a fun activity, and a party favor that the guests can take home. Something as simple as a paint-by-numbers emoji art piece activity can make this baby shower unforgettable, and if the guests don't take their masterpieces home, the mom-to-be can keep them as a memory of the shower for herself.
When it comes to décor, food, favors, and engaging party games, you really can't go wrong with an emoji-themed baby shower. It's hip, fun, and what better way to ring in the joy of new life than being surrounded by an array of goofy smiley faces on the walls, in the food, and even on the wrapping paper for the baby gifts? It'll be the simplest, most entertaining, and incredibly memorable party you'll ever put on!