The Construction Site Theme Party by Sugar Coated Coated Candy & Dessert Buffets. So many fun ideas for a perfect for Construction Party!
This fabulous construction site theme party was designed for 3 year old Lincoln's birthday. Exquisitely detailed, from the caution boards interspersed throughout the goodies down to the frosting bolts on the cake, the fun starts when the guests walk in and are given construction helmets with their names on them.
Both the props – which include caution tape, customized signs, a dirt-filled wheelbarrow, and the themed cutlery (such as the shovel spoons, hammer knives and wrench forks)  help make the setup feel like an authentic construction site.
All the sweet treats are a delight to behold: from the cookies shaped like tools in a wooden tool box, sky blue cake pops, hazard colored macaroons; black and yellow cupcakes, jelly pots, chocolate mousse and assorted candies. The centerpiece cake is absolutely amazing and so creative.
Single-tiered and covered with a base layer of yellow frosting, with alternating black stripes on the side and a hazard sign bearing Lincoln's name on the front, the most amusing part of the cake was the incorporation of the birthday boy's own toys: the truck dumping chocolate rocks onto the top, and the digger about to grab the cake from the side.
Alongside the catering, a separate drawing area and a miniature digger for taking pictures in were also part of the arrangement. Such a fantastic and fun idea!
This event was a marvelous collaboration between Sugar Coated Candy & Dessert Buffets, responsible for the styling, and Bela Designs, who provided the stationery, printable items, backdrop, personalized chocolates, stickers and signs. The sweets – cake, macaroons, cookies and cupcakes – were courtesy of Cupcakes by Tan. Balloons from It's a Party, Hire it, Cover it and chairs from All For Kids Party Hire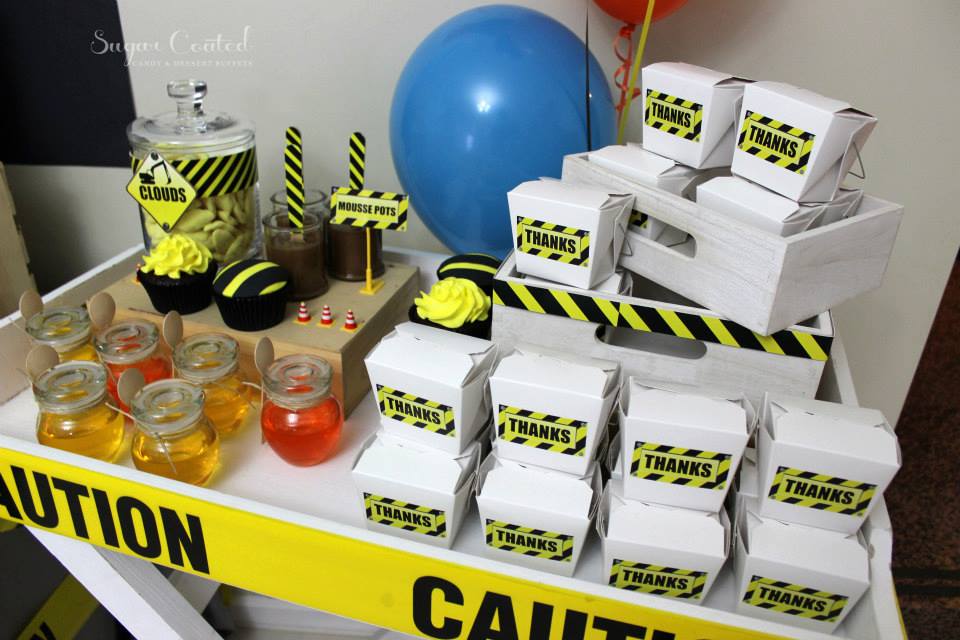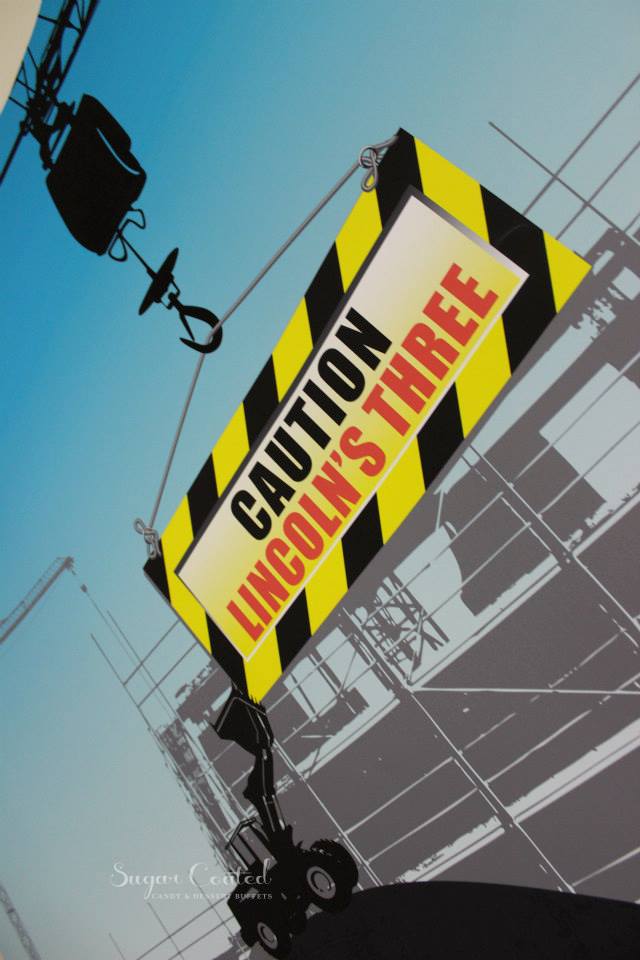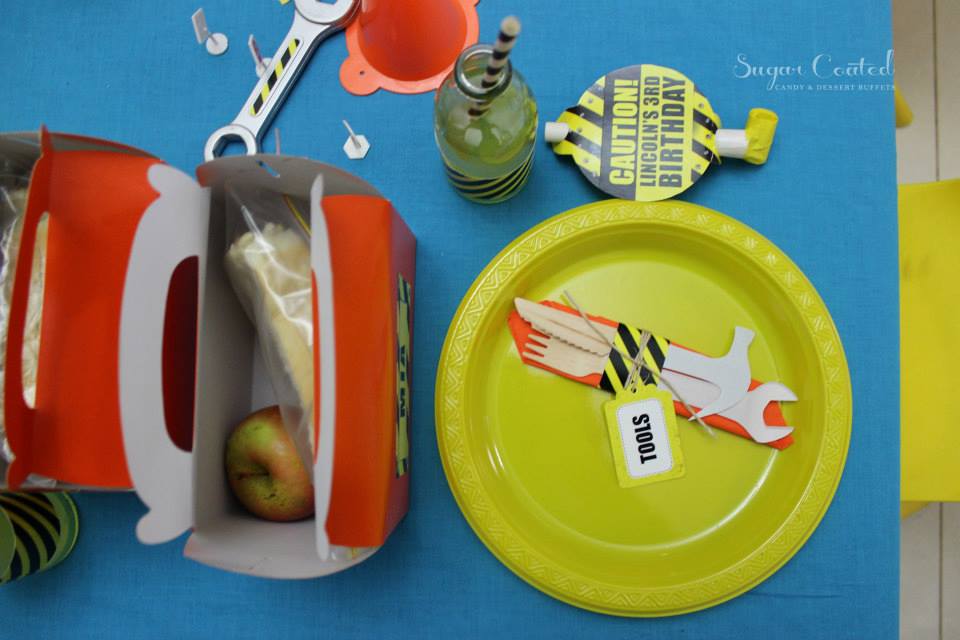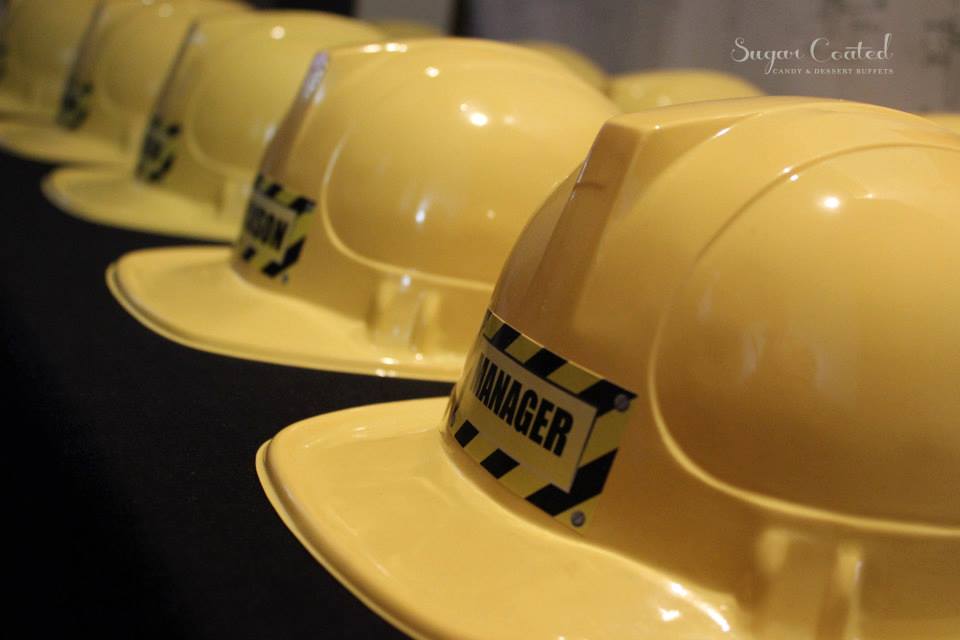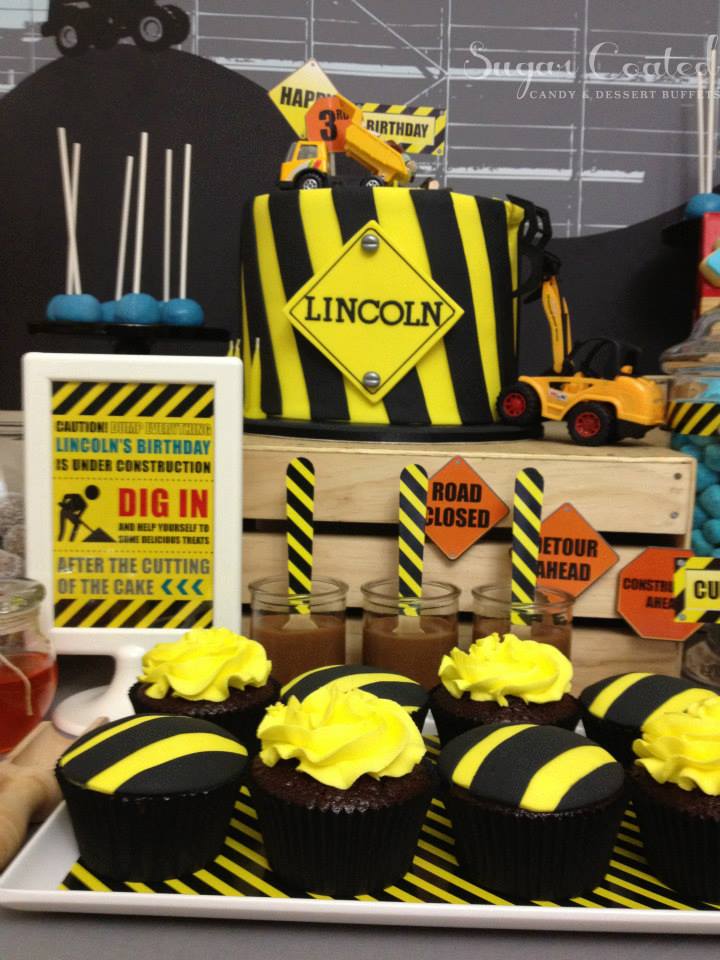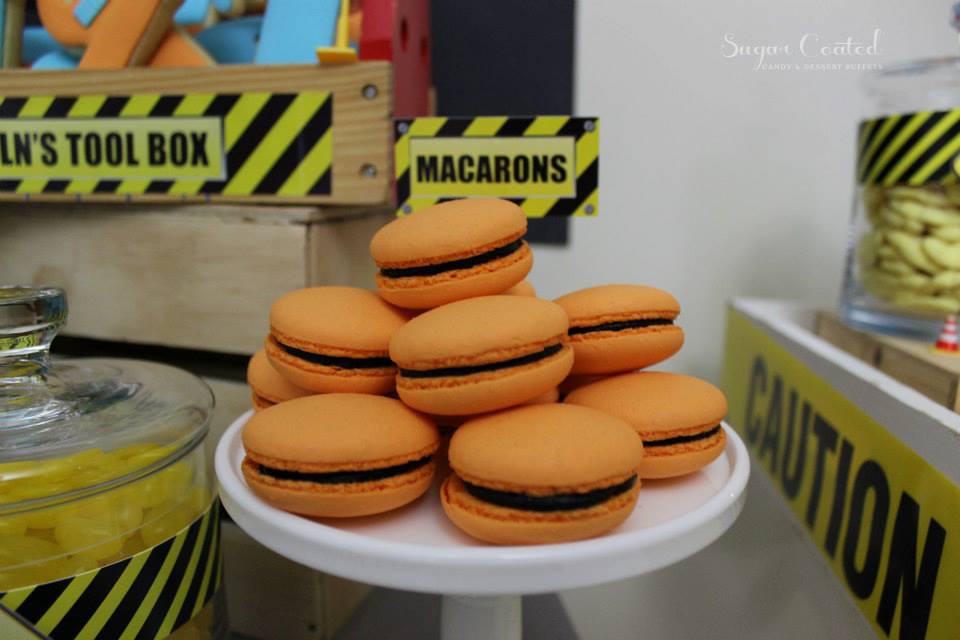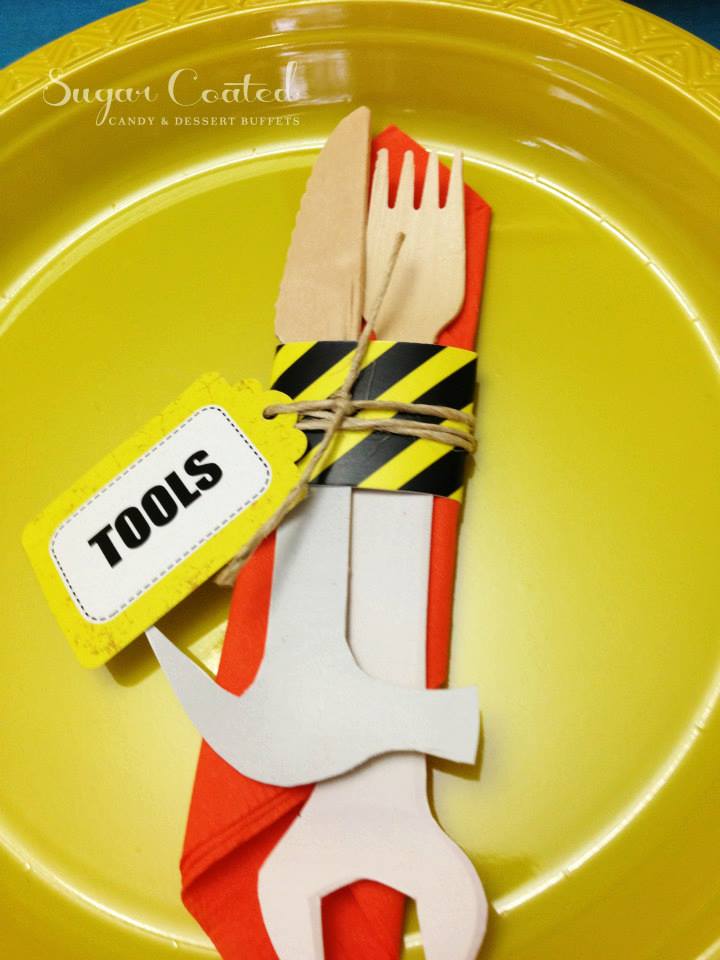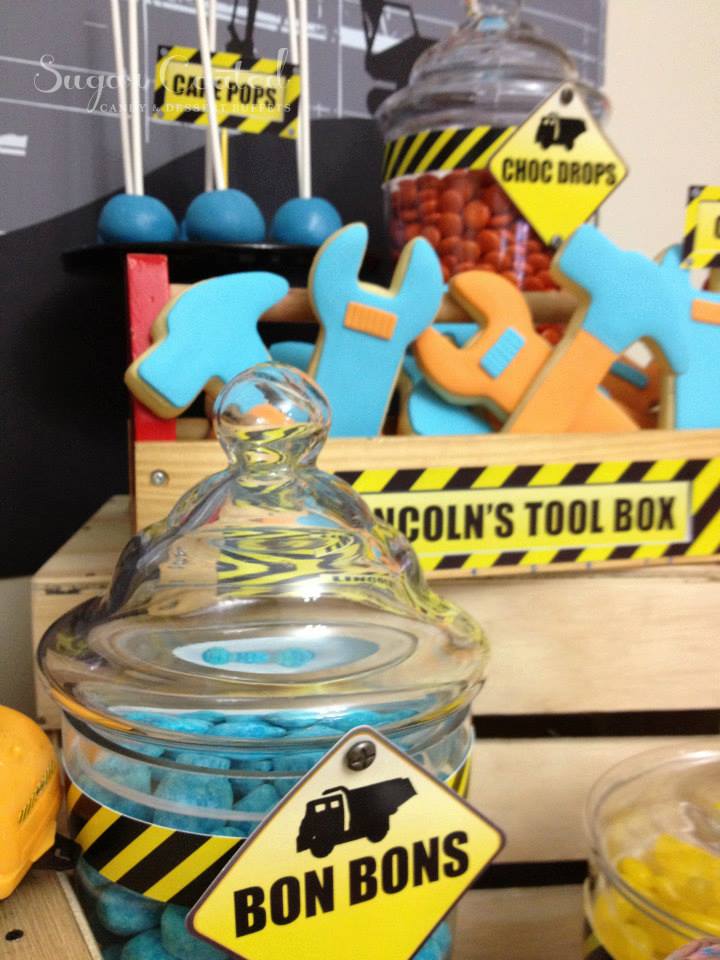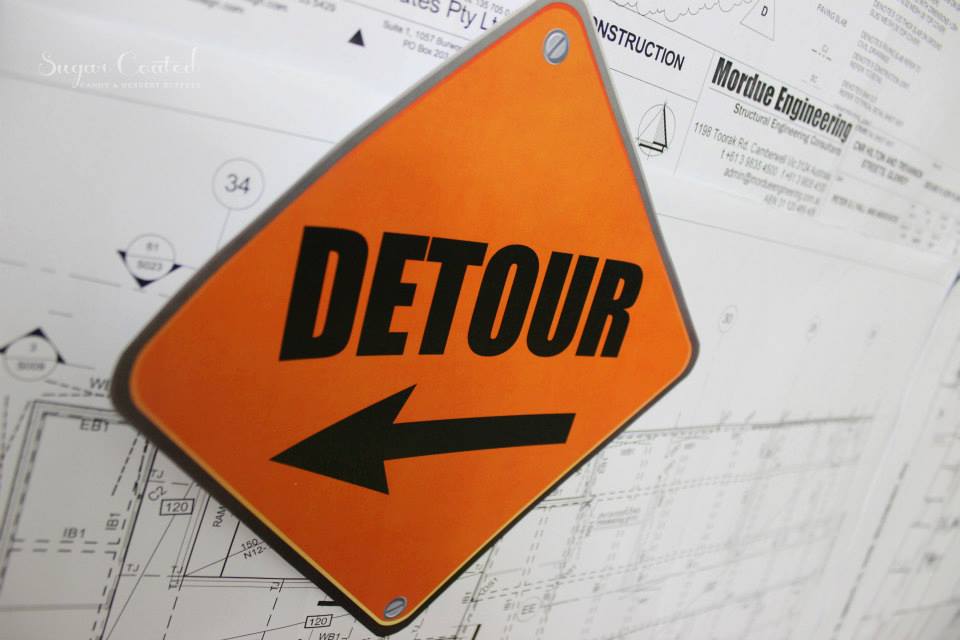 – including Construction Hat, Detour Signs, Caution Tape, Road Work Signs, Caution Cones