With the hugely popular LEGO movie out in theaters, LEGO themed baby showers are going to be hot this year. It's a great theme, no matter the baby's gender and a terrific theme for a couples shower.
Sure, you can go to any party supply store and purchase LEGO party supplies but it would be so much more fun (and way cuter!) to decorate with LEGOs.
Let's put on our yellow hardhats and see what we can build!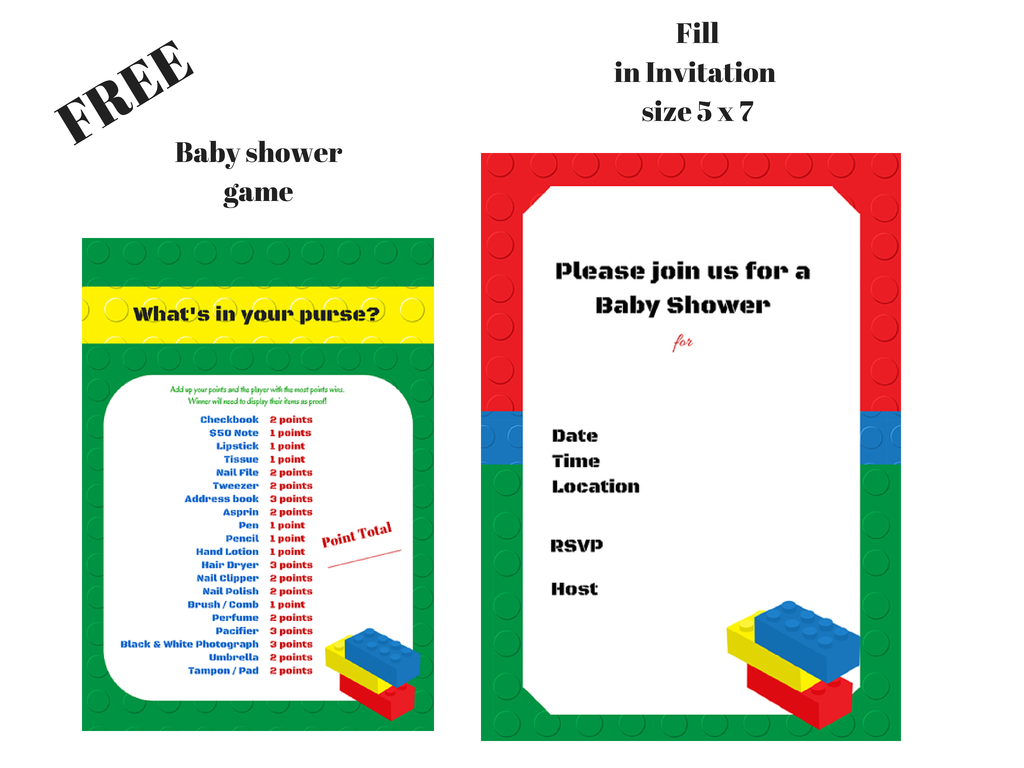 LEGO Baby Shower Decorations
What you can do to design a LEGO baby shower is as varied as LEGOs themselves. First, decide on the "look" you want for the baby shower. Originally, LEGO bricks were bright yellow, dark green, bright red, bright blue, white, and black. Now, LEGOs come in a wide variety of colors, including pastels. This wide variety allows you to choose a color palette that suits you perfectly. For instance, use the original LEGO colors if you want a shower theme that is festive and ironically LEGO. White and black bricks would be subtle and classic and would be a good choice if you want to mix flowers into your decorations. The LEGO website makes it easy to see all of the color choices and you can purchase bricks directly from them.
Building a simple square box from LEGOS can make a super cute flatware caddy. You can also build boxes around small vases if you want to add flowers or architectural leaves to your shower décor. Use a baseplate and some bricks to build cake stands. Vary the height of the cake stands to add interest to your table. Baseplates are the large flat boards that you would stand your LEGO buildings and people on. When I was little, I called it "the grass" because it was usually green. Now they come in many colors and sizes which make them great for building cake and sweets stands. The base plates also make clever table runners that you can secure your decorations to!
LEGO BANNER by Magical Printable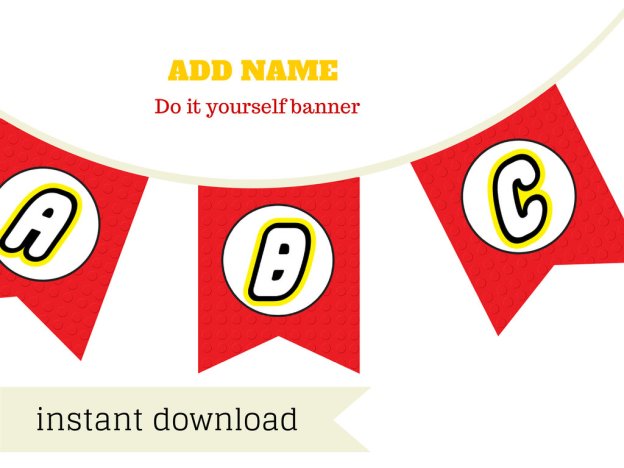 FREE LEGO Theme Printables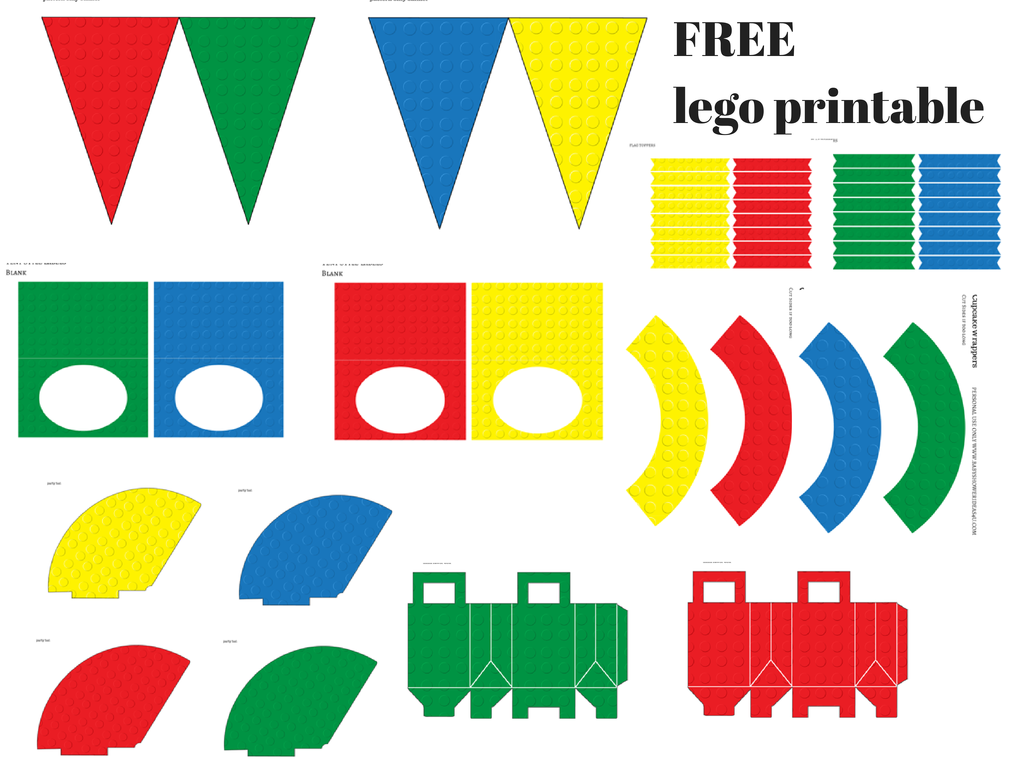 Baking & Food Accessories
You don't have to limit yourself to the LEGO bricks for decorating. There are some pretty cute LEGO figurines that would be perfect for a baby shower. One super cute one is a little brown bear with a red heart. What baby shower is complete without a cute brown bear! The bear is called LEGO Valentine but don't let the name put you off—it's charming for a baby shower. It's small, but it would look cute as a mini cake topper or if you use a base plate as a table runner, you can stand one at each place setting on the table. The lovey bear would work well with almost any LEGO color theme but it's easy for me to picture it with mostly white bricks and a few accents colors—maybe pink or purple, spring green, yellow, or blue.
Free Printable LEGO Background Posters & Stickers & Toppers by LEGO.com – Find more there!

Here are few of my favorites!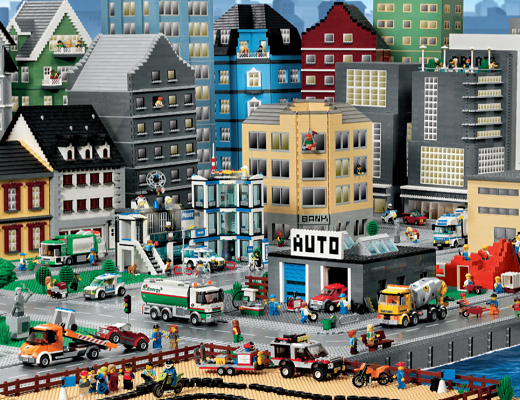 Another cute little guy is the LEGO Easter bunny. He's soft grey and holding a little basket. I think the grey color keeps him from looking too "Easter-ish." To me, he looks like an adorable spring bunny and would be perfect if you wanted to do a LEGO themed baby shower in spring colors. Pair him with bricks in white, lavender, spring green, and yellow to achieve a sunny, spring-y look that would be fresh and cheerful
Search according to popular LEGO themes –
There is one more adorable LEGO figure that would be perfect for a baby shower. It is the LEGO Christmas Rocking Horse. It is a white and black horse on a red rocker. It has no holiday markings and would make a charming little place card holder or treat topper. I hesitate to mention it because it is no longer available on the LEGO website but it is on Amazon.
My favorite How to Make LEGO Cakes by Rosanna Pansino | Cupcake by MyCupcakeAddiction | Cakepops by MrsCakealicious Videos via Youtube
Not all of your decorations have to be built from LEGO bricks. Take gift bags in solid colors and glue paper circles in matching colors to them to make LEGO brick party favor bags. You can also do this with rectangular shaped gift boxes. To really make them look like LEGO bricks, make sure the circles are in two neat rows. Another fun idea, if you are going for the iconic LEGO look, is to take empty baby food jars and spray paint them bright yellow, including the lid. With a black marker, draw faces on the jar to make large, LEGO-man heads. You can also do this with yellow paper lanterns and hang them in the corners of the room or in front of a window.
Here are some photos of LEGO Party by Amber of crazy little projects. Thanks to Amber for letting me post these amazingly inspirational LEGO party ideas.