This Beautiful Ballerina Baby Shower was designed by Bee-unike Events. With an elegant approach, each details of this exquisite event was sure to be remembered. The venue was quite large too, accommodating the guests easily. 
Using round tables, everyone fit comfortably and could visit with each other smoothly. The tables were each done in a pattern with pink and white alternating covers, which created a soft and sophisticated look throughout the room. All of the chairs were fashionably covered in white with adorable pink bands around them. For centerpieces, gorgeous metal wire mannequins sported tutus with a table number displayed beside them. 
The dessert station was a vision with layers of sheer fabric in varying shades from white to dark pink arranged in a canopy fashion to draw attention. Small, textured throw rugs added color and fun to the look too.  As a backdrop, a fantastic frame was artfully designed with a shimmering baby, ballerina silhouette which advertised the theme very sweetly. 
This treat table was stunning with shimmering pink fabric as a base, in layers for a soft effect. Tall, slim flower bouquets added a natural touch and the varying shades of pink and white blooms blended beautifully with the theme. On each side of the tower cupcake trees made it easy for guests to grab and go. The cupcakes were adorably frosted in pink with sweet dress toppers.  Cakepops detailed to look like ballet slippers matched the theme to perfection and they even had silver swivel sticks. There were also tasty sugar cookies shaped into ballet slippers for everyone to enjoy. The cake was a sweet delight with layers detailed in pink and white. It was topped with a pair of tiny ballet slippers, making it a perfect centerpiece to this tasty table.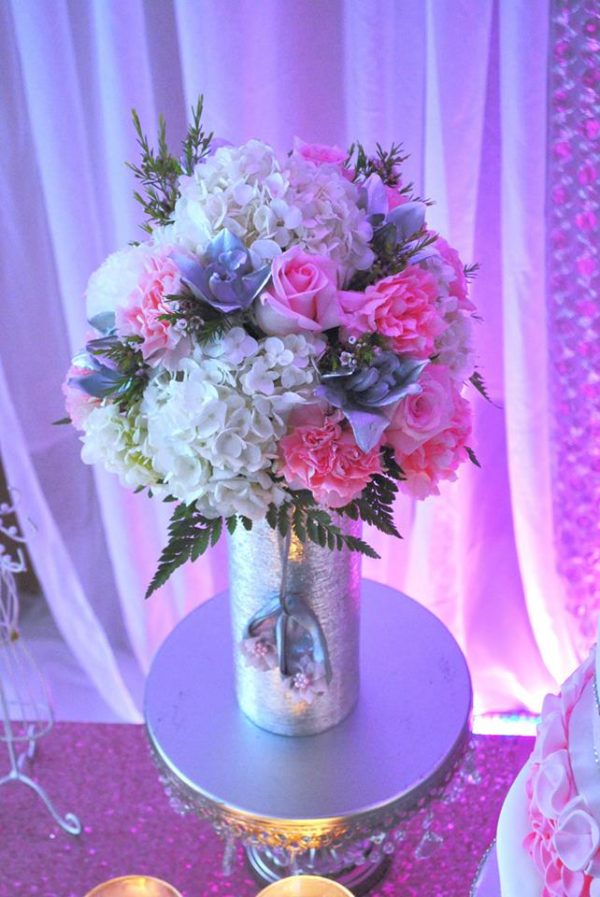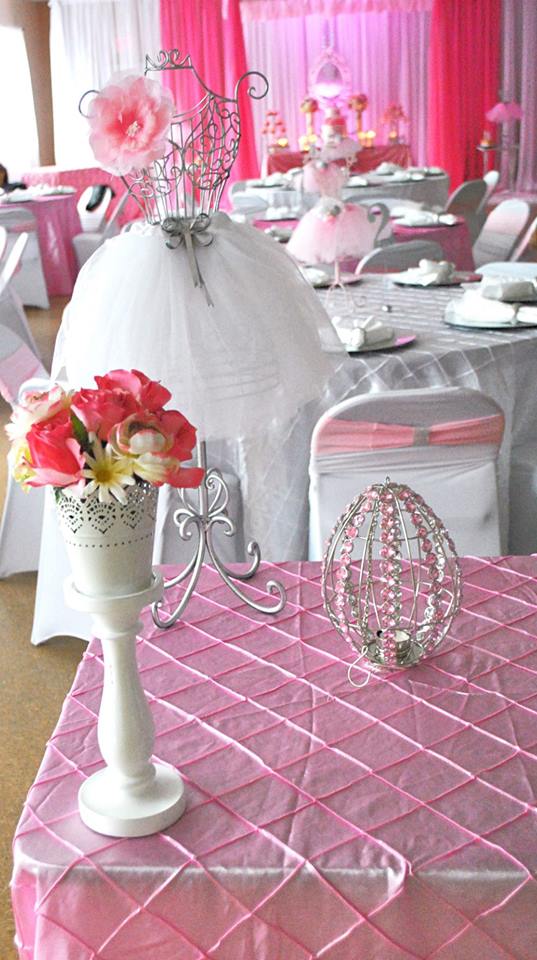 Credits:
Planning/design - Bee-unike Events
MORE INSPIRATIONS: