Pink Glam Baby Shower by Michelle and Josie of Josie Michelle Events.
This Baby Glam Shower was planned expertly by a great team, Josie Michelle Events!  Every single detail was taken care of, giving this entire event a sheek and glamorous appeal.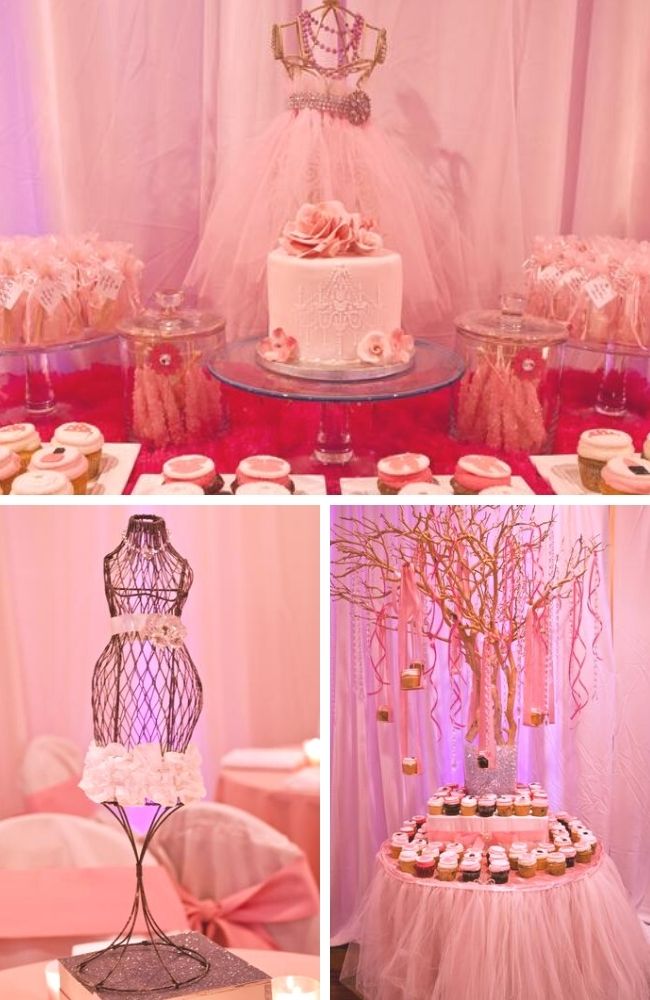 Pink Glam Baby Shower Table Setup
I love the table arrangement, how they were laid out in a slight scatter, the style you would see at special events like weddings.  It makes the room look nice and really elegant.
Each individual table was covered in a dainty pink tablecloth that set the mood for the entire appearance. All of the chairs were covered with white and wrapped with a ribbon, giving them a very upscale look.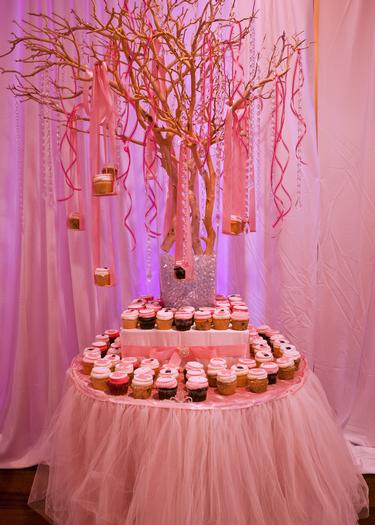 Pink Glam Baby Shower Centerpiece
The centerpieces were fantastic, some tables featuring large multi-colored bouquets that just lit up the room while others had a fantastic pregnant mannequin on an elegant box.  Each place setting even had a small votive candle that added the shimmer of flame, providing a nice relaxing feel.
Pink and Gold Throne Chair
And what party is complete without a throne for Mom to sit in while she is pampered? This vintage chair was covered with a bright pink satin fabric and the framing was an aged gold color that created a Victorian image.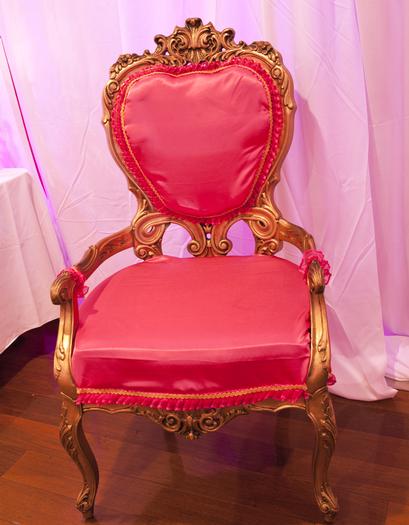 Ceiling Decorations
The ceiling was done up very nicely intermittent chandeliers that really put the "Glam" in this Glam Baby Shower. This close-up of the chandelier really shows the detailing in the decoration, layers of reflective beauty.
Glam Dessert Table
The signature table was a delight, with a little wardrobe hanger showcasing little outfits and shoes expertly placed.  There were even mini-bouquets that popped with their brilliant shades of red, pink, and ivory.
The dessert table was picture perfect, with a tree that had cupcakes dangling from ribbons and white lace surrounding the table itself.  With the cupcakes circling the tree and ribbons cascading about, this dessert looked divine – I love the extra touch added with pretty crystal garland. My favorite feature of this shower!
Pink Glam Baby Shower Cake
And the cake! This cake was phenomenal, not a single feature out of place.  The roses almost looked real, and a chandelier right on the front in a nice mauve color was a fantastic idea.
Credits –