There is nothing more magical than having a baby! If you're having a baby girl, a fairy themed baby shower is the perfect theme to celebrate the magic of a newborn baby. Pale pinks and purples make an excellent color scheme for a baby girl. It's time to spread your wings and fly because there is a baby shower to plan! Below are a few ideas to get you started!
Fairy Themed Banner
This intricate banner is the perfect decoration to add a touch of sparkle to any room! The banner is handcrafted and made of high quality cardstock. The decoration measure approximately 6.5 feet long. You can easily customize the banner to read the name of the baby being celebrated. The detail on this banner will leave your guests in awe. 
Fairy Themed Cake Topper
Every party needs a cake! This fairy themed cake topper is sure to make your cake the talk of the party!  The topper includes a small baby with fairy wings sitting on top of a peony flower. The entire flower measure approximately 5.5 inches wide. The image shows the topper in a pretty pale pink, however, if desired, the topper can also be ordered in lavender instead. While the topper is beautiful, it's also edible, so you will be able to choose whether to save or consume the fairy themed creation. 
Fairy Confetti
Confetti is a sure way to add excitment to any party! This confetti features pink and gold fairy shaped pieces. The confetti inclues seventy-five of each color fairy. This particular confetti measures approximately 1.5 inches tall, however, you have the option to custom order the size. You can also choose from a wide variety of colors to match the colors of your baby shower. 
Fairy Cupcake Toppers
If cake is not your style, you might choose to serve cupcakes to your guests instead. These cupcake toppers will transform ordinary cupcakes into beautiful works of art. The toppers are sold in sets of ten and measure approximately six centimeters tall. These toppers are single sided. While the picture shows the toppers in gold, you can request a custom order to match the colors of your baby shower.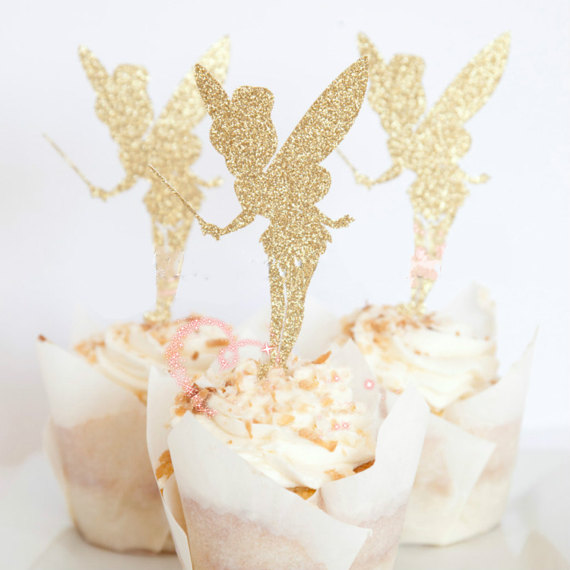 Fairy Shaped Soap Party Favors
If you're having a party, you will without a doubt need party favors for your guests! Your guests will love receiving a party favor that they can use! These soaps are handmade and include only natural organic ingredients. The soaps are made from fresh goat's milk and include the scent of rose peony. Each favor come prepackaged and ready to give to your guests, so there is no extra work for you! The packages are tied with gold ribbon and come with a personalized tag, which adds the finishing touch.