Royal Baby Shower by Fabulous Creations:
This beautiful Royal Prince themed baby shower was planned by Fabulous Creations. The party was filled with elegant decor that was fit for royalty. Each decoration was carefully picked to make this a party to remember.
The dessert table was full of intricately decorated treats. Adorably decorated baby rattle cake pops were displayed on ornate pedestals with dangling crystals. Each cake pop was covered with royal blue icing and included a matching bow tied to a gold stick. Rice Krispe treats were dipped in royal blue icing and covered with elegant gold accents.
At the front of the table, mini cakes were made with gold crowns and placed on small pedestals. A beautiful gold tray with dangling crystals was set in the center of the table to hold the cake. Guests could also choose from tasty red velvet cupcakes and other chocolate treats.  An assortment of candies were also displayed in clear glass jars.
The background of this royal prince themed party was stunning. A large sign with the words, "Welcome Little Prince" was placed behind a beautiful white chair that had gold accents. Underneath the chair was a fluffy white rug. Next to the chair was a small table that was covered with a sparkling royal blue tablecloth. On the other side of the sign were oversized baby blocks that spelled the word "baby" in shiny gold letters. This area served as the perfect spot for a photo opportunity.
Behind the dessert table, a large gold crown served as the perfect place to hang elegant royal blue curtains. Tall vases also held wonderfully arranged blue and white flowers. A large wooden cutout displayed the baby's name in royal blue at the front of the table. Another layer of sheer white curtains made for a perfect royal background. The display was made complete with a sparkly gold tablecloth.
The guest tables also fit right in with the theme. Each table was covered with a royal blue table cloth and gold table runner. On top of the table gold plates were adorned with crisp white napkins. The tables also included similar flower arrangements to the dessert table with blue and white flowers. The flower arrangement even included a special gold crown coming out of the top.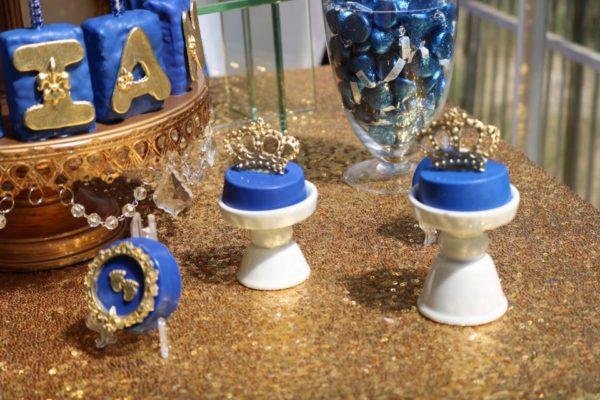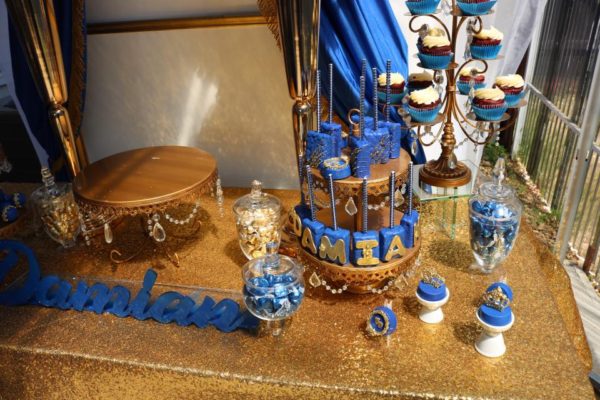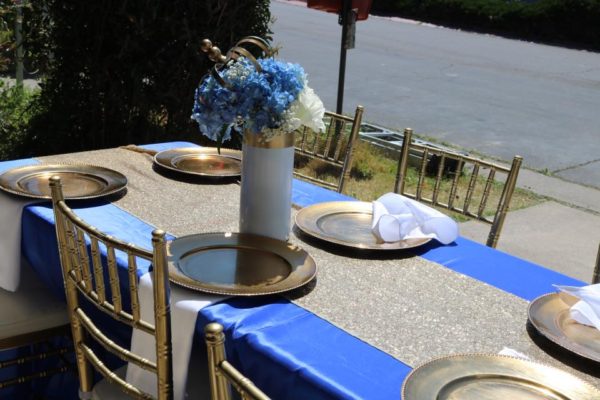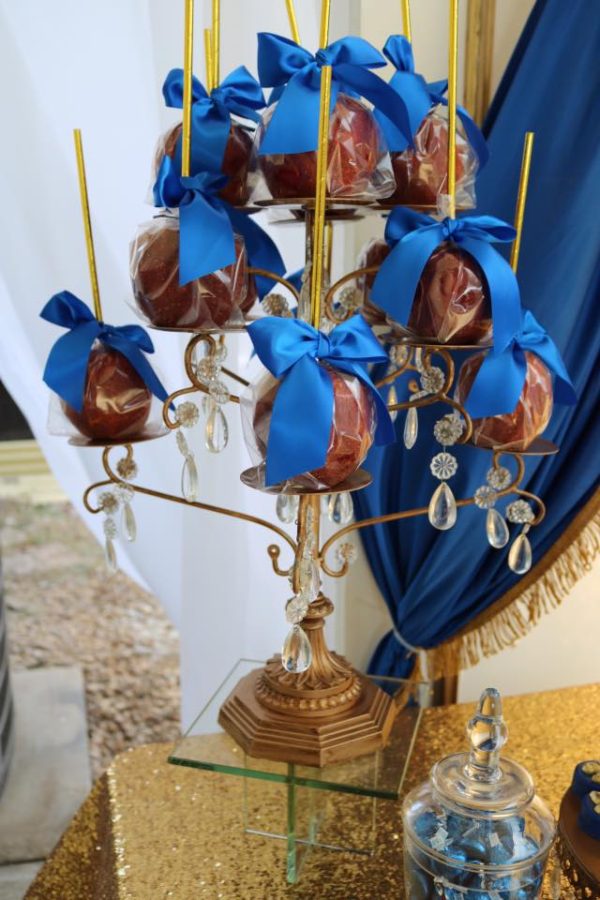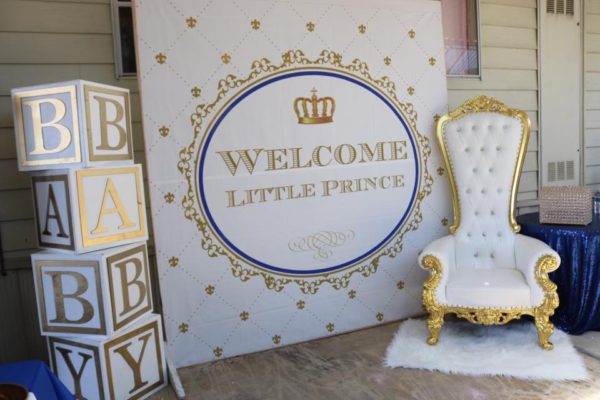 More inspirations: Sleek Royal Prince Baby Shower | Crown Prince Baby Shower