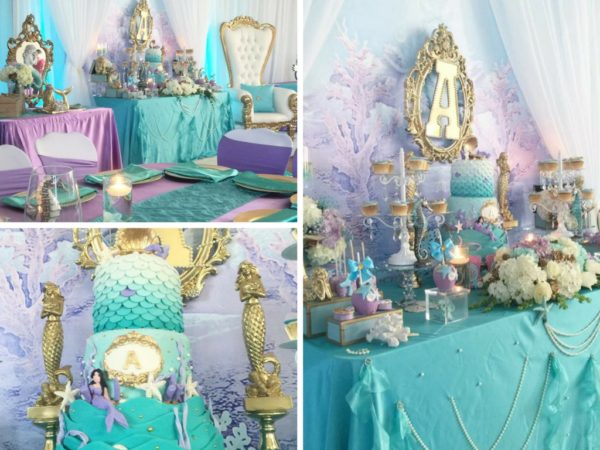 This Beautiful Golden Mermaid Shower was a stunning success with a lovely blend of sea tones that any mermaid lover could enjoy. My Little Angel Decorations created an elegant and magical adventure for this shower. At the dessert buffet, an entire section was dedicated to advertising this Mermaid Baby Shower theme in gorgeous fashion.  Long, sheer white fabric was draped curtain style around a fantastic coral backdrop. The light tones of the artwork went smoothly with the fun sea green color of the buffet table cover. A neat touch that added to the elegant effect was the addition of strands of pearls around the front of the table. Flowers in purple, white and blue gave a lovely pop of color and a natural look.  At the center of the backdrop a massive golden letter, "A" was wrapped in pearls and made a lovely intro to this event.
The treats were an incredible blend of color and detail that really made this sea-loving theme stand out. Candied apples were covered in a soft pink color and had fun sea decor including little starfish on them. They also had little blue ribbons tied around attached sticks to give a cute effect.
The cake was three layers of beauty, each layer individually detailed to create a full under the sea look. Scales around the top layer added to the mermaid decor and it was even topped with a golden clam.
Throughout the venue, fantastic golden mermaids advertised this lovely theme perfectly.
The guest tables were a vision with white covered chairs and purple bands.  Each place had a golden charger and sea green napkins which matched the sea green runner.  A centerpiece with a seahorse in a glass made a neat addition to the decorations.  Candles added a soft touch of lighting and elegance as well, floating in glasses of water.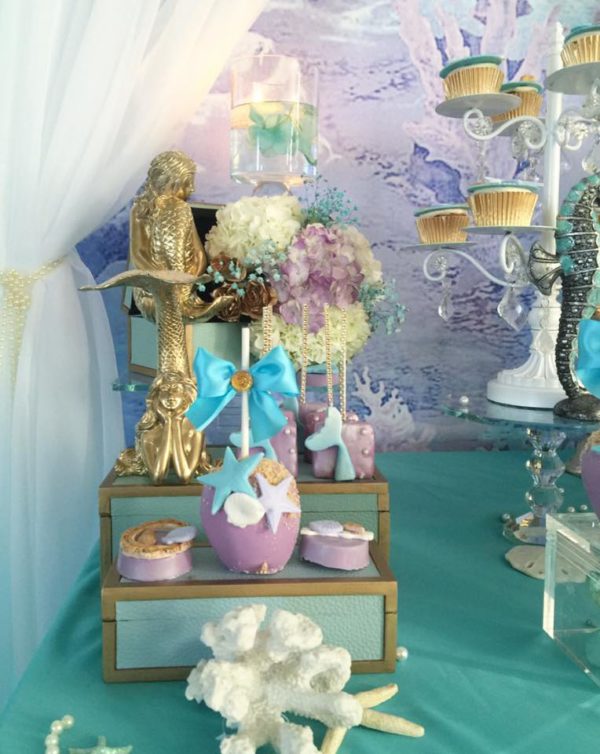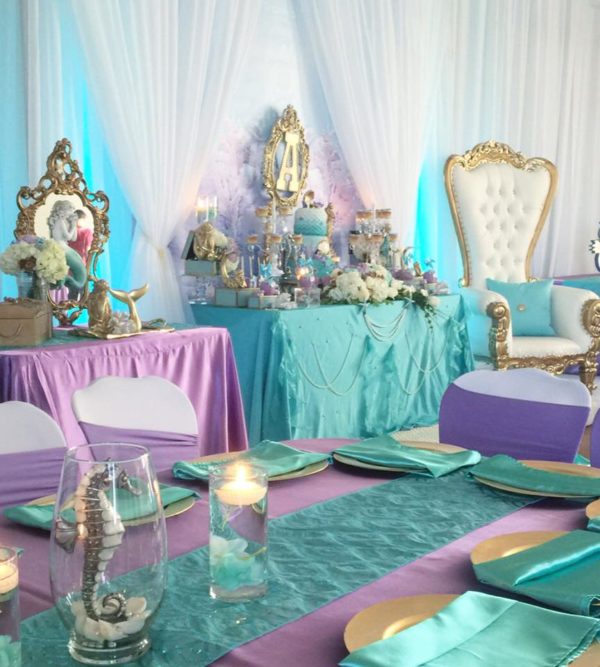 Credits:
MORE INSPIRATIONS: