Shabby Chic Alice in Wonderland by Stacy of Lemonade Moments.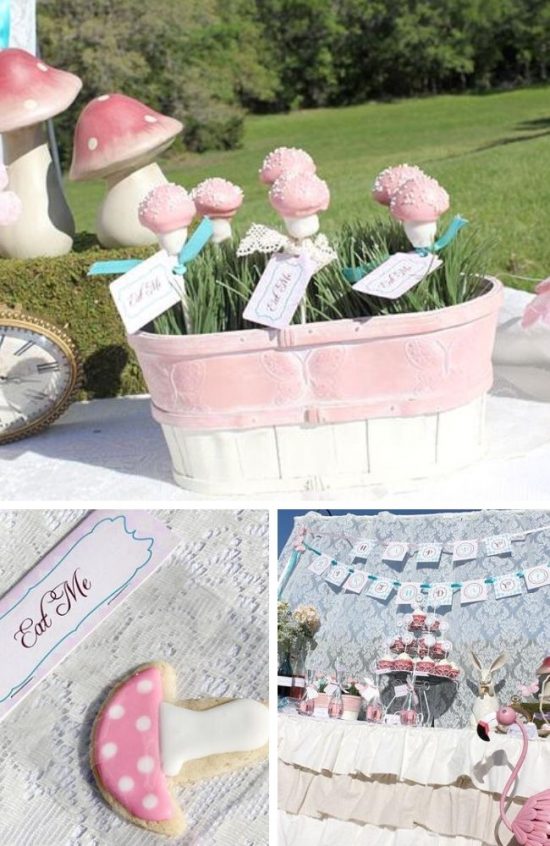 This beautiful Shabby Chic party was very detailed, well laid out and would make a great baby shower.  Stacy Zeledon and her friend from Honey Hush Cakery were in charge of making a dessert table to remember and they pulled it off with ease.
This dessert table started out with a wonderful ruffled front that layered to the ground with a coupling of white and crème clothes that gave a very elegant feeling to the layout. In front of the table there was a fun flamingo that introduced the Alice in Wonderland theme with a touch of pink.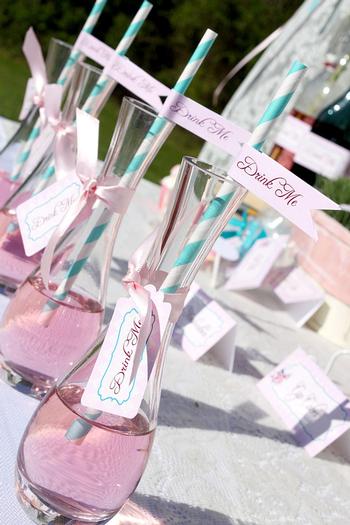 Draped as the background of this dessert table was a fantastic vintage lace cloth that really drew attention.  An adorable banner was hung with flag letters spelling out "Happy Birthday" showcasing the event which would also work well for introducing a baby shower.  The letters were hung with cute little ribbons that had butterflies on the ends.
The beverages at the event were perfection. The cups were actually little vases that gave an ethereal feeling with some pink lemonade and tags that look just like you would imagine them to be from the Alice storybook.  The straws were blue & white stripes adding a lovely touch.
One of the fantastic treats for this event was the mushroom truffles.  They were covered in pink frosting with white sprinkles and actually placed in a pot with faux grass, just an incredible amount of detailing. There were some dipped marshmallows that were put into the pink frosting and sprinkled as well so they matching the mushrooms perfectly.
The thank you gifts were wonderful.  Each guest received a perfectly polka-dot, frosted cookie in a baggie and tied off with a fun tag that said, "Thank you for coming to my very merry un-birthday."
Credits – www.lemonademoments.com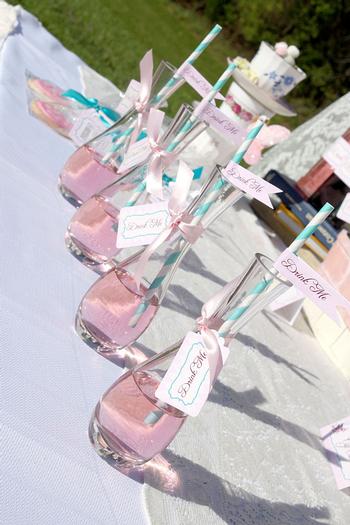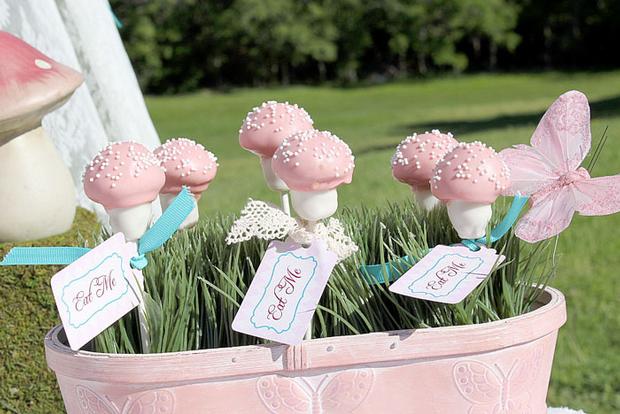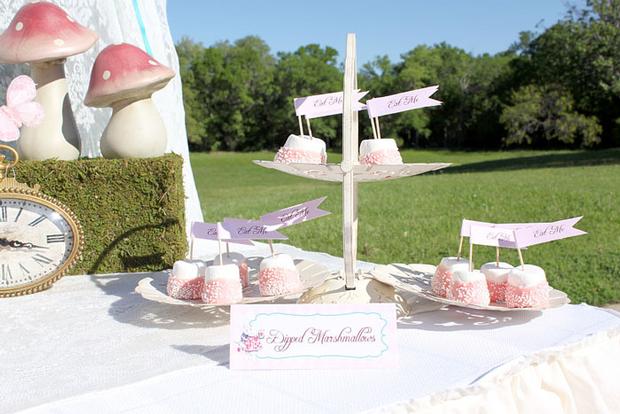 Look for more ideas –