A Mad Hatter from Alice in Wonderland inspired baby shower tea party would truly be an unforgettable event. Here, you're mixing the ultimate, whimsical nostalgia with the magical, fun feel of welcoming a new born into this "mad, mad world"!
From all the best teas, to fashionable tea cups, to scrumptious cakes and treats, prepare to wow all your guests with this adorable theme.
Alice in Wonderland Baby Shower Invites
If the baby shower is for a tea party, then featuring some teacups and pots would be a must on the design of the invitation. With a diamond checkered pattern background, your invitation is ready to go!
Alice in Wonderland Baby Shower Decors
Decorating for a Tea party in Alice in Wonderland theme can be easy — If you are after decorations that is more intimate and relaxed, you could stick with plenty of teapots, cups, pastel, and peonies! Specifically, cuttings of classic English garden flowers in shades of ivories and pinks are a must, while corresponding treats like soft pastel-hued macaroons, tarts, scones, and bright-colored fruits pair perfectly with the tea party theme.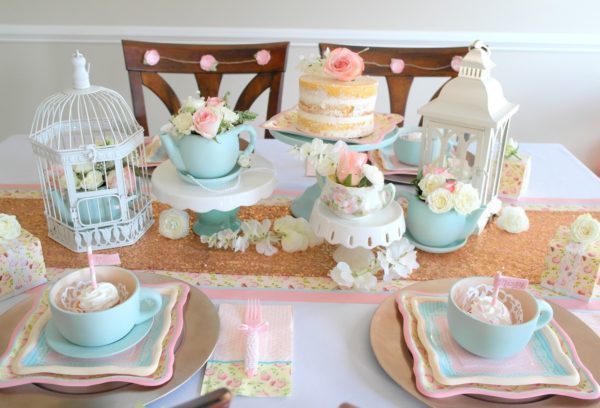 For guests that aren't a huge fan of tea, refreshing pink lemonade will work just fine, along with a simplistic, chic main event cake in mild and delicious flavors of crème and vanilla.
You could serve cupcakes in decorative cupcake wrappers or even teacups, put the best little flower arrangements in wrought iron birdcages, and mix in a little tarnished gold and bronze metals in the form of frames around famous quotes from the Mad Hatter, or even party accents such as keys or servingware.
Tutu Table Skirt
Tutu skirt can be used for the main table. Using Alice's dress as inspiration, Sweets Indeed created a stunning table skirting with a baby blue tutu that wrapped around the table and then layered a laced apron over the top.
Free Alice in Wonderland Backdrop Poster
Decorate the background of the dessert table with this free Alice in wonderland poster backdrop by Magical Printable.
Mini Mat Hatter Hats
If you're wondering what you could have for a table centerpiece, these bright and crazy little Mat Hatter hats could be used as part of the centerpiece. A simple flower arrangement could turn into something amazing with these little hats.
They are also perfect for use as a cake topper and you could even dress it up on a headband with hot glue so that the guests can wear them during the event.
Alice in Wonderland Baby Shower Favors
The easiest way to make favors that flows with the theme would be to make or purchase tags with images and famous quotes from Alice in Wonderland. The simplest favors would still look amazing with the added touch of your personalized tags!
Alice in Wonderland Baby Shower Games
Tea Party Mad Libs Game
Of course, no Mad Hatter themed event is complete without a Mad Libs game, so be sure to gather around guests for this memorable activity to commemorate this special day.