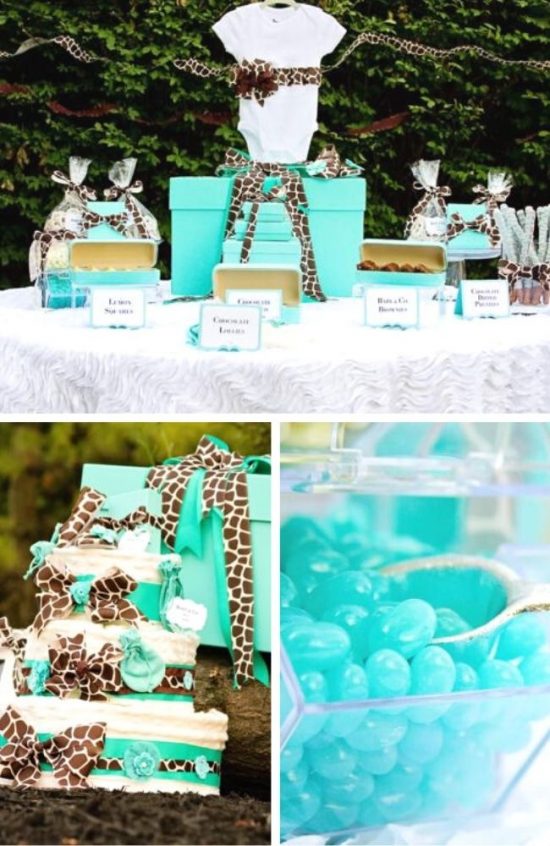 Tiffany & Co Baby Shower by Christina of Something Chic Party & Event Design.
The Baby & Co. Tiffany inspired baby shower has got to be one of the most chic and modern party ideas presented in a while. There are so many reasons as to why this theme should be the theme for your baby shower. Such as how the giraffe print correlates so well with the Tiffany blue color palette throughout the whole shower.
My other favorite element is how the party desserts were displayed in Tiffany blue porcelain boxes, how adorable! And the giraffe print ribbon in which was used to compliment several of the party features, like the cake, the boxes, other finger foods and more. The French macaroon tower was absolutely adorable, with each level something different, the excitement never ended. Using the tiny Tiffany blue flower to accent the giraffe print baby shoe was so brilliant, it added so much to the baby shower. Just like little 'Baby & Co. Est. 2012' signs in each individual cupcake, such dedication to detail.
Natural elements of the backyard was used in decorating for the thank you and the gift station which is so brilliant. Having the giraffe prints really makes you feel like you are out in a nature. It creates a fun feel to the Tiffany & Co. inspired baby shower theme. There is a Tiffany inspired diaper cake sitting at the gift station looking amazing!  It was custom made by Something Chic Party and Event Design.
Credits:
Styling, Diaper Cake- Something Chic Party and Event Design – www.christinamariechristian.com
Crib Shoes- Rock Kandy Kids
Giraffe Onesie- Emelias Mom's Boutique